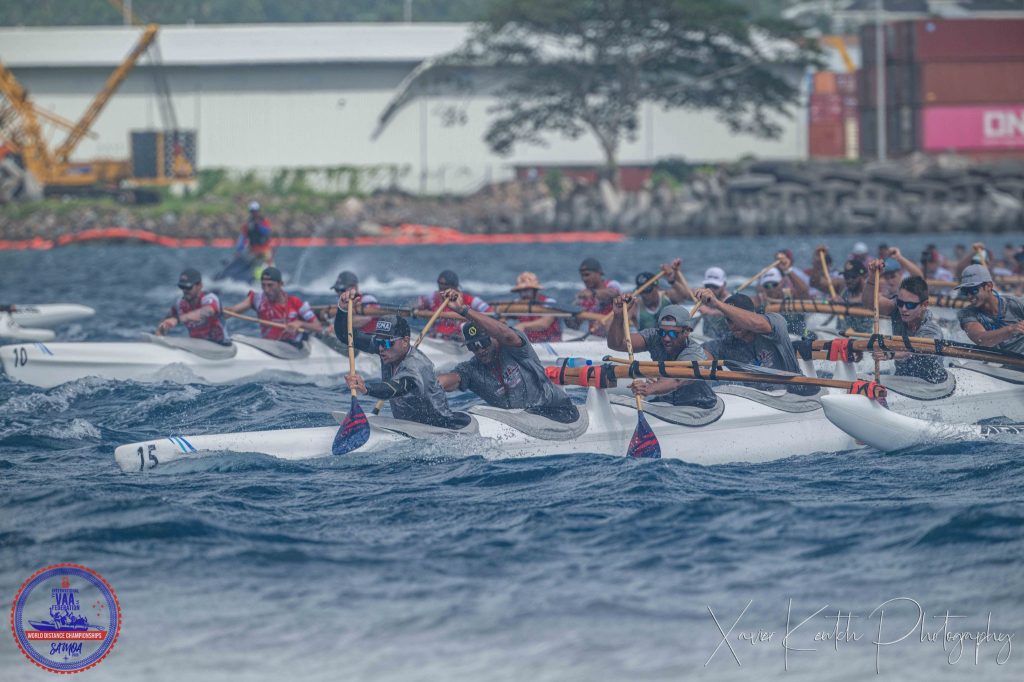 Last month, 120 Aotearoa Waka Ama paddlers returned from Samoa after battling it out on the beautiful waters of Samoa for the 3rd IVF Va'a World Distance Championships, 10-18 August 2023. The competition was fierce with 27 countries from around the world taking part in the weeklong event. Countries such as Hawaii, Tahiti, Canada and Australia sent strong contingents to the world championship providing some competitive racing. While the competition on the water was electric the level of aroha poured into the event from the host nation of Samoa and organising committee (Samoa Outrigger Canoe Club) was second to none.
Aotearoa was represented in the team (V6) events from the Junior 16 to the Master 70 category and in single-person (V1) events from the J16 division right up to the Master 75 category – across both men and women divisions. This also included our Para Mixed team and 3 Para Men V1 paddlers. Paddlers from around Aotearoa have braved the winter months and weather events to train for peak performance in Samoa. This training paid off with a medal haul of 8 gold, 13 silver, 3 bronze, and an overall strong performance from all Aotearoa representatives.
There were many amazing moments from the event including the 8 gold medals across the following events; J16 Women V6, J16 Women V1, J19 Women V6, Open Men V1, Master 40 Men V6, Master 40 Men V1, Master 50 Women V1, Para Men VL2 V1. In the J19 V6 Women and J16 V1 Women, Aotearoa were promoted to first place after Tahiti incurred penalties due to technical infractions. These penalties were not without controversy but were applied within the race rules.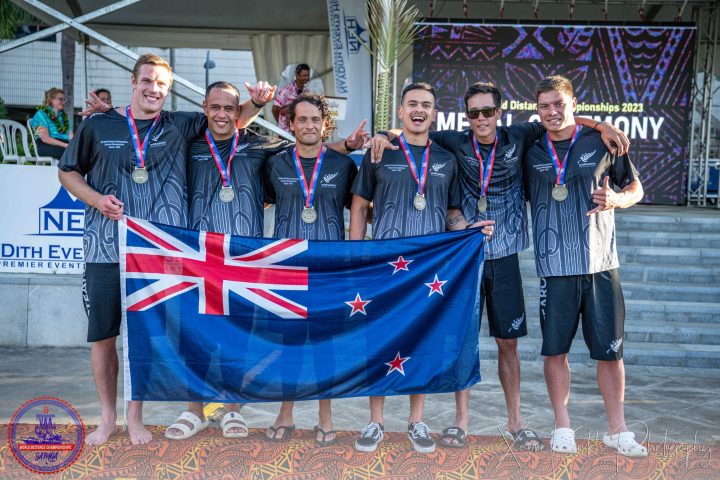 The event wasn't without its challenges with some rough conditions affecting the scheduling and canoes for a number of the days, however a resilient Aotearoa contingent still displayed a high level of paddling skill and sportsmanship. Aotearoa topped the overall medal tally for the event; the last World Distance Championship was held in Mooloolaba 2019, with Aotearoa placing 4th on the medal tally. It is clear to see that our Aotearoa paddlers have been working on their distance racing since then with an awesome achievement across the contingent, including high placings for those just missing out on medals. Medal or not, we are so proud of the achievements of our paddlers at this event and it is a true reflection of the high calibre of paddlers we have here in Aotearoa.
Waka Ama NZ would like to acknowledge our kaihoe (paddlers) and their whānau who have sacrificed, trained and fundraised their way to Samoa – thank you for being a part of our team and representing Aotearoa with pride. A special mention to the coaches, managers and supporters of each team who continue to do the mahi behind the scenes to allow our paddlers to do what they need to do on the water. Waka Ama NZ is proud of all Aotearoa representatives who were a part of this worlds campaign and acknowledge the hard work put in.
Finally, thank you to our fellow Va'a paddlers, the International Va'a Federation and especially the event hosts and the beautiful people of Samoa for your amazing hospitality and sharing your whenua and moana with us – fa'afetai lava, ngā mihi nui ki a koutou katoa!
 A special mention to the sponsors of the Aotearoa contingent – Pure Athletic and Tai Paddles.
The next IVF Va'a World championships will be the Elite and Club Sprint Championships held in Hilo, Hawaii 2024, following this the next IVF Va'a World Distance Championship will head to Brazil in 2025.
All results – http://www.ivfiv.org/2023-results.html
NZ Waka Ama Team – https://www.facebook.com/NZwakaamateam