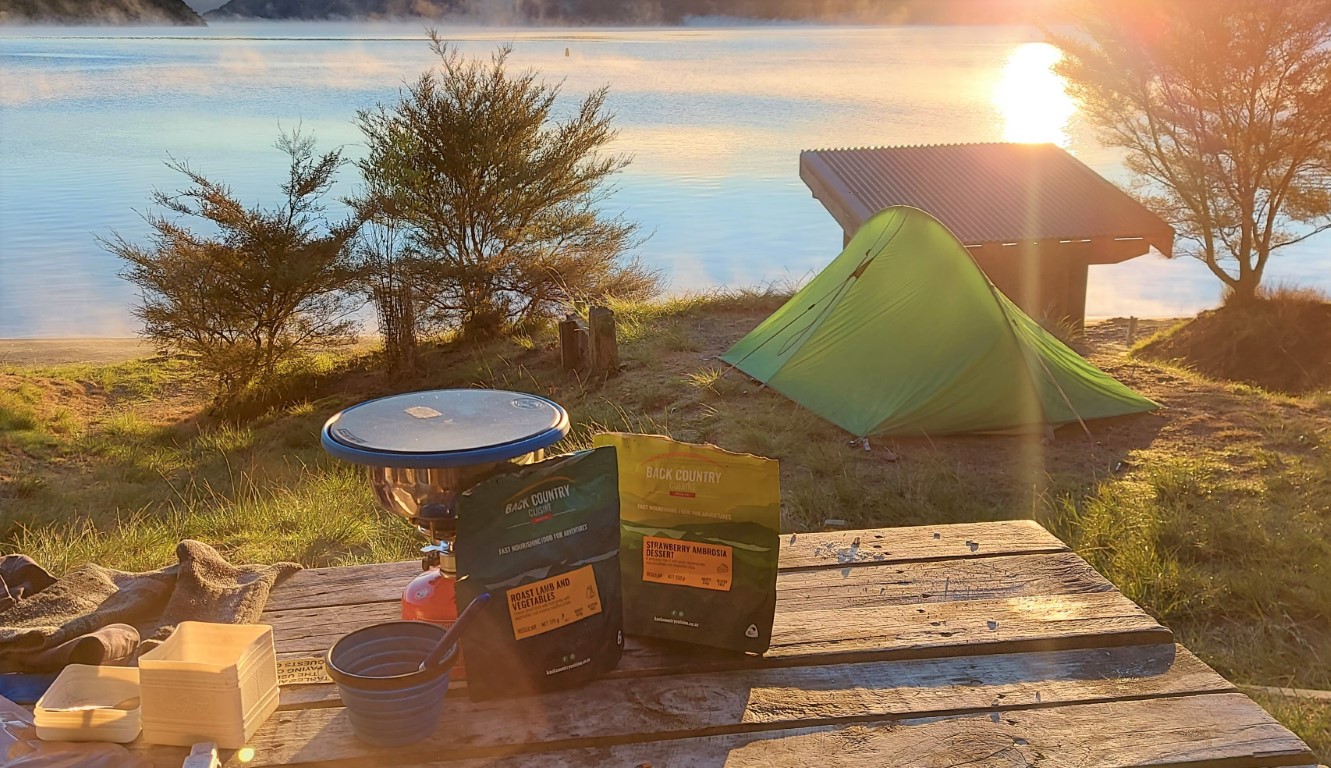 I have been a bit reluctant to try out the Back Country range after a bad experience some years ago but I have always envied the high calories-per-gram meals, much lighter than what I usually carry in my pack.
So, after watching fellow adventurers tucking in on a recent multi-day tramp, I put my prejudices away and packed some for a mid-winter overnighter on the Tarawera Trail.
My bad experience goes way back to a four-day trip taken almost two decades ago when apart from finding the taste quite average, I always finished the meal and then found myself looking around for the main course. As everyone knows good food and a good tramping experience go together. Spending several minutes trying to fork out microscopic particles from the bottom of a packet that you did not really enjoy, does nothing for morale.
Well, I can truthfully say a lot has changed.
Hats off to the Back Country Chefs – later that day I still found myself scratching around with the fork into the corners of a packet of Roast Lamb and Vegetables, only this time it wasn't because I was hungry but because it tasted so good! Not only does the food taste great, but I was full to the point of making a bit of an oinker of myself.
To confess I did cheat a bit. I always pack a fresh vegetable, usually a carrot, which I cut into small pieces and boil with the water before pouring it into the bag. This time however the meal made the carrot taste better, instead of the other way round. I also enjoyed the meal looking over one of those priceless NZ scenes, a glassy-calm Lake Tarawera in the last of the twilight, with temperatures heading down to minus 2deg C. The meal was tasty, warming and most importantly, filling.
Although I wasn't hungry, I was tempted to try the Strawberry Ambrosia dessert, as it sounded so appealing. I boiled more water and filled the packet. By this stage it was too dark to see what I was eating but the chefs should be proud. A little later having done the dishes (a knife, fork and spoon) and feeling quite contented I lay back and did some star gazing. I was hoping to enjoy Matariki, but it was well hidden by the mighty Mt Tarawera.  I didn't really care. I was feeling so good I enjoyed the milky way instead before sliding back into the tent and the warmth of my sleeping bag.
The following evening back in civilisation, instead of wasting time shopping, I enjoyed a three-course meal of the Malaysian Chicken soup followed by the Teriyaki Beef and Noodles which I had packed as emergency food. I finished the meal with the Banana Smoothie that I had intended to use while MTB the Redwoods.  I did add another carrot to the Teriyaki, but I am an unashamed fan of Back Country Cuisine.
Eric Skilling 2021