Olympic champion Kjeld Nuis followed up his Beijing heroics with another incredible feat as the Dutch speed skater shattered his own speed world record by 10kph after breaking through the 100kph barrier with a 103kph mark in Tynset, Norway on Thursday.
– The 32-year-old from Leiden has enjoyed a prolific career in one of the most popular sports in the Netherlands with multiple European and World Single Distance gold medals as well as Pyeongchang 2018 gold medals in 1,000m and 1,500m, the same distance which he defended in February.
– Nuis set a world record four years ago in Sweden with 93kph and, this time, a new shield was developed in a wind tunnel behind which Nuis could skate to improve his chances with Dutch speed skating legend Erben Wennemars performing a number of tests with it at a deserted airport.
– For the record attempt, a 3km-long natural ice rink on Norway's Savalen Lake was the venue this time around with a Dakar Rally car also employed with the "wind catcher" behind it to crucially keep him out of the wind.
– Nuis said: "That 100kph limit kept gnawing at me. And how nice is it to do that exactly four years after the last Games? I'm in great shape and so I had to skate that 100kph. I was literally flying over the ice. Every little bump felt like a threshold. Sometimes I even got really loose from the ice. Skating that fast is technically challenging and requires precision. Moreover, I skated more than two kilometres on each attempt, which I never do in competition. So today's tactic was to skate as far as possible into the wind catcher, so that I had enough energy left to make the acceleration from 92kph to over 100 kph. It was very hard on my body. This is really the maximum that is possible on skates."
– Coach Wennemars, who won several World gold medals of his own in a long career, explained: "Four years ago we had a dream about how fast we could go. Maybe 100kph, but that was not based on anything. Through improvements in terms of ice, preparation and communication, we succeeded. But 100kph is so hard! When you see how fast you go on the ice, it really is bizarre. It was exciting. We couldn't go any faster."
– At the wheel of the Dakar Rally car was American trailblazer Seth Quintero who – in 2021 at the age of 18 – became the youngest driver ever to win a stage before winning an astonishing 12 stages this year.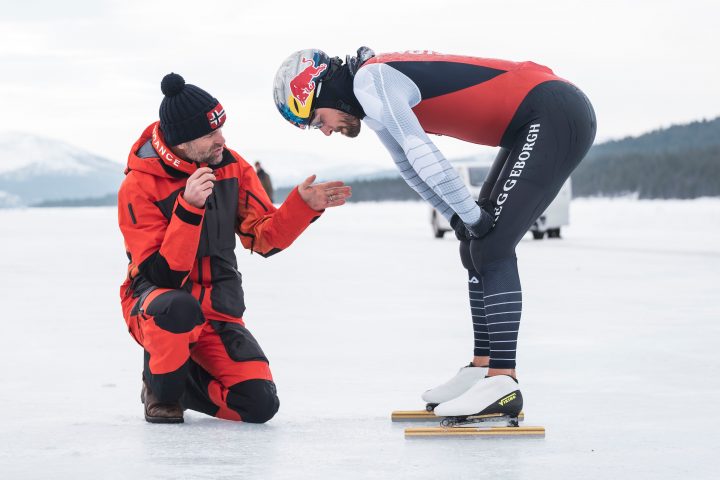 – The 19-year-old Californian revealed: "The biggest challenge for me was to accelerate in the right way. I've also never felt so much tension at such a low speed. On the other hand, while riding on the ice, I couldn't imagine anyone achieving that kind of speed with their own legs."