Features
Trending
DANCING ON A DIFFERENT STAGE
WHOOMPH! I was thrown onto the snow for what seemed like the tenth time, I struggled to stand up as another 80 kilometer an hour wind gust tore over me. My husband and fellow climber, Andrew Peacock, reached down to grab the strap on my backpack and with a hefty jerk, hauled me back to my cramponed feet as the gust subsided. No words were exchanged, we just shrugged, turned and continued on, mutely following our guide ever upward on a steep slope toward the summit of 'Single Cone' peak high in the Remarkables Range of New Zealand. I grabbed at the hood of my Gortex jacket, vainly trying to stretch the fabric over my face and stop flying ice pellets from stinging my cheeks as the wind gathered strength once more.
New Zealand, Otago, The Remarkables. Nick Morgan is guiding Sabina Allemann and Hamish McKay to the summit of Single Cone.
We were on the last day of what had started out as a technical ice-climbing course. On the south island of New Zealand however, you don't dictate the daily schedule, the weather does, and suitable conditions lasted for only three days of ice climbing before our indefatigable guide put a contingency plan into action. A new goal was devised for our small group of five climbers but as I leaned forcefully into the wind, my ice axe handle planted deep into the crusty snow, I ruefully recalled that battling gale force winds hadn't been mentioned in that plan.
I'm a ballerina, or rather I was…I took my final curtain call on the stage of the opulent San Francisco Opera House after a 20 year professional career. My life is very different now; I married an Australian doctor and adventure travel photographer, moved to Australia and have become a dedicated outdoor enthusiast. Climbing, biking and hiking, especially in the mountain regions of the world, have become my new physical outlets. Although I have dabbled in ice climbing (in Sounkyo Gorge on the island of Hokkaido, Japan a few years ago), and enjoyed it, my proficiency is at a beginner's level. I was keen to use the opportunity of a winter trip to New Zealand to revisit this demanding but fun form of climbing but I was wary. Wielding sharp implements while climbing a steep ice face can do some real personal damage if things go awry. When I discovered that 'Adventure Consultants' offered a 5-day course aimed at developing some solid ice climbing skills I signed up hoping the weather and ice-making gods would align to allow for some great conditions.
The Upper Wye Creek basin was the setting for our course. A comfortable winter tent camp had been set up and stocked with food and was only a short but exhilarating helicopter flight away from Queenstown airport. Water run-off down the cliffs at the head of this pretty valley freezes solid in a good winter, forming ice cascades of varying lengths and difficulty and providing a good location for the instruction and experience that I needed. There was doubt initially about whether temperatures had been low enough in the previous few weeks for the ice to thicken up sufficiently, but as we flew in and I got my first glimpse of the blue ice runnels from the helicopter it was clear that there was enough ice there for my needs.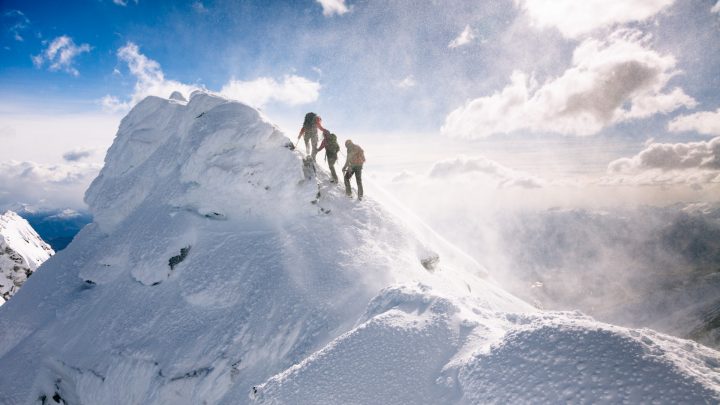 As challenging as it is, or perhaps just because it is, I enjoy throwing a heavy pack on my back and heading up a steep slope to a climbing objective. Which is just as well because that was exactly what was needed to reach the ice, elegantly sculpted by nature, on which we would be climbing. Our guide, Nick, went through all of our gear. Helmet, check; crampons, check; ice tools, check; harness, check; warm but dexterous gloves, check and the list went on.
Finally it was time to climb. Nick secures a rope above me to the cliff  (a top rope), and another of our group acts as my belayer so if I were to slip and fall – as long as I don't accidentally hack through the rope with my sharp tools – it wouldn't be far and I'd be completely safe. Nick gives a few pointers but is relatively silent as he watches me. Kick, kick, I try to get my crampon points securely into the ice. "Keep your heels down" he says, I reach my left arm up and swing the ice axe firmly, "not too hard" comes the advice from below. Shards of ice scatter everywhere. I repeat the process, now right arm up, kick, kick, and up I go. Slowly my body remembers that I have done this before. People often say I must have a 'leg up' (pardon the pun) when it comes to climbing after life as a dancer and I agree this may be partially true, but like all technical activities, nothing comes without practice and I don't feel particularly graceful this first day back on such a slippery slope.
The next day, still on top rope, I receive an unwanted freezing shower from water dripping off the many stalactite formations above as I enjoy the first route of the day. Hmmm, I realize it's getting slightly warmer in the valley already. That's not ideal. I enjoy the challenge of a steeper angle on this route and feel a bit more 'balletic' as I stretch a leg across a small gap to place two crampon points into a solid chunk of ice. Trusting it will hold I rock my weight over the top of that foot and lever upward toward the picks of my ice axes planted in the ice overhead. I hear the click of a camera shutter. Andrew hovers nearby, suspended on a rope from an anchor of ice screws above us, and captures the move before asking me to repeat it a few more times! "Just to make sure I got it", he grins.
Encouraged by my progress I ask Nick if I can get on the 'sharp end' of the rope and step up to leading a climb. He's nonchalant and nods. With the rope below me the consequences of a fall are greater but I spy a short, low angled ramp of ice with only one bulge to overcome. That will be my chosen test. I will need to stop and place a few ice screws for protection along the way. That is one of the so-called 'dark arts' of climbing because it's never comfortable teetering above the ground on small bits of metal embedded a few millimeters into ice while using one hand to twist a tube of sharp edged titanium into that ice at just the right angle.
Although the tents have been blasted by cold strong winds at night, the past couple of days have been mild for winter and so the ice is now a bit thinner. I hesitate briefly; do I really want to do this? An internal dialogue about risk versus reward is a healthy part of the activity of climbing. The desire for reward and the sense of control over risk wins out and I tie into the rope.
With the first few swings of my ice tools I dislodge dinner plate sized chunks from the top layer of brittle ice. Moving upward I shout out a warning to my belayer to watch me carefully as I struggle to find solid purchase in the better ice underneath. Technically the climbing is not too difficult and I continue on and manage to get an ice screw into a decent section of ice. I can relax somewhat after that but then an attempt to do the same just below the steeper bulge section further on fails miserably. I'm not sure what to do, the ice cracks around the metal and the screw is too long to place elsewhere in what is thinner ice. I take a deep breath and decide to go for it. Climbing on seemed a less daunting task than down climbing the brittle ice. A few careful tool placements and the flexibility of a ballerina to make a high step over the bulge gets me to a safer spot and then the top was easily reached. Raised eyebrows greet me when I reach ground level again, "that was a long way between ice screws Sabina!"
As luck would have it because a storm system moved in, that was the last chance I would get to lead on ice. We stuck it out in the valley for another day but it was too windy, too warm and the ice was getting too fragile for safe climbing. Instead of reclining in the tents all day we went for a wander up the slope to an icy wonderland. At a large overhanging cliff a beautiful cave has formed where glistening ice chandeliers hang from the edge of the rock. Protected from the weather we dawdled, transfixed by these large translucent, crystalline structures which provided the perfect back drop for an afternoon of photography with Andrew in a magical setting. The next day we were chased out down the valley by a front of howling sleet and rain.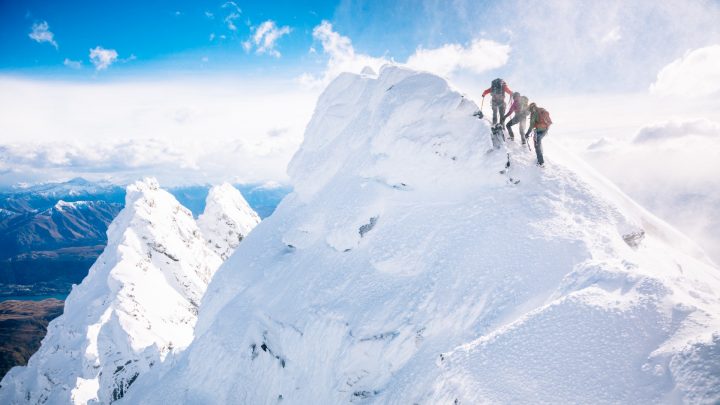 On the last day of the course the sky is crystal clear, but a glance to the peaks towering over Queenstown reveals spindrift spiraling off the top – a sure sign of strong winds up high. "It seems pointless going up there" Andrew exclaims but Nick assures us that it's possible to climb Single Cone in ANY conditions. Challenge accepted I quietly think to myself.
The wind has a biting chill to it as we spill out of the car – the only car – at The Remarkables ski field parking lot. The ski lifts are closed for the day because of the forecast. I grab my backpack and scurry to the warmth of the nearby toilets to put on more layers and sort my gear. Nick says the climb should take about five or so hours  and I want to make sure I've packed enough food, water and extra clothing to cover that period and then some. A steady pace is set and our small group trudges its way silently upward on the easy snow slopes before eventually gathering at a prominent saddle below our objective. From there it's easy enough to access the ridge we will follow to the top. The saddle though acts to funnel the wind into a concentrated stream and as I set off in Nick's plugged steps I suddenly find myself thrown to the ground by a blast of high velocity frozen air. My balletic poise was good for nothing in such an environment!
Once on the ridge the going becomes even more difficult as we battle to stay upright in the most powerful gusts of wind I've known. Nick is resolute though and it's safe because the terrain is straightforward, so onward and upward we go. The only real hurdle to overcome is a snow filled 80-meter couloir leading to a short but narrow summit ridge. Just before the gully we decide to rope up, lest one of us should accidentally take flight during one of the gale force blasts while on the precarious final section. Nick confidently guides us onto the ridge and after a few exposed, buffeted and exciting steps we are congratulating each other on the 2320-meter high summit of Single Cone.
"Challenge met," I mentioned to Nick. As far as mountaintops go, and I've been lucky enough to stand on a few, this one is superb; beautifully positioned to take in spectacular views of Lake Wakatipu, Queenstown, and the magnificent Southern Alps. Slowly spinning around, arms aloft, I almost took a bow, it did after all feel like a grand stage, not the same as that I was once used to, but nature's stage, perhaps the most satisfying one of all. It was a fitting end to a challenging and fun week for an ex-ballerina.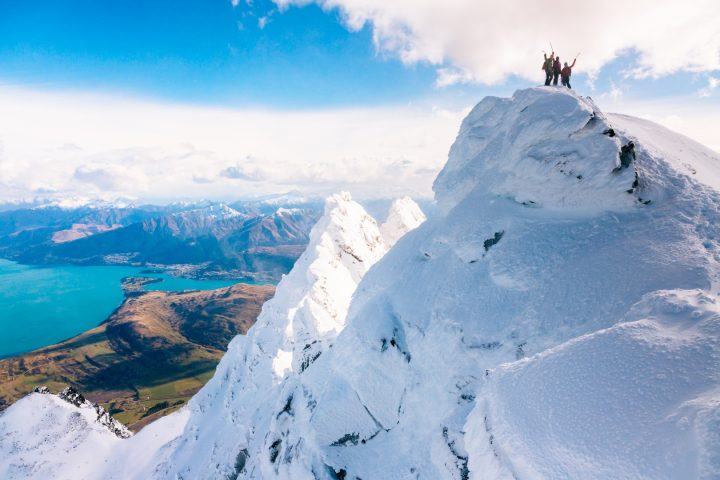 FACT FILE:
For more information on their ice climbing and other courses got to the Adventure Consultants website: http://www.adventureconsultants.com
Queenstown is touted as the adventure capital of the Southern Hemisphere so you will be hard pressed to stay indoors when there is so much fun to be had outside!
Things to do in winter in and around Queenstown:
Freeze your face off on an exhilarating jetboat ride down the Shotover River
http://www.shotoverjet.com
Nordic skiing and dog sledding at The Snowfarm
http://www.snowfarmnz.com
Downhill skiing at The Remarkables or Coronet Peak
http://www.nzski.com/mountain.jsp?site=theremarkables
http://www.nzski.com/mountain.jsp?site=coronetpeak
Of course there's always bungy jumping
http://www.bungy.co.nz/kawarau-bungy-centre/kawarau-bungy
There's no shortage of places to refuel in Queenstown after a hard day outdoors.
Try the following that we personally 'tested'!
'Atlas Beer Cafe' is tucked away in Steamer Wharf and is a locals hangout with a great selection of beers on tap and tasty affordable meals
http://atlasbeercafe.com
'The Botswana Butchery', also lakeside offers a great $15 lunch deal in a lovely spot
http://www.botswanabutchery.co.nz
If you like anything chocolate 'Patagonia' is a must!
http://www.patagoniachocolates.co.nz
From issue 187