Events
Höll delights fans with dominant downhill win in Leogang
EVENT 🥇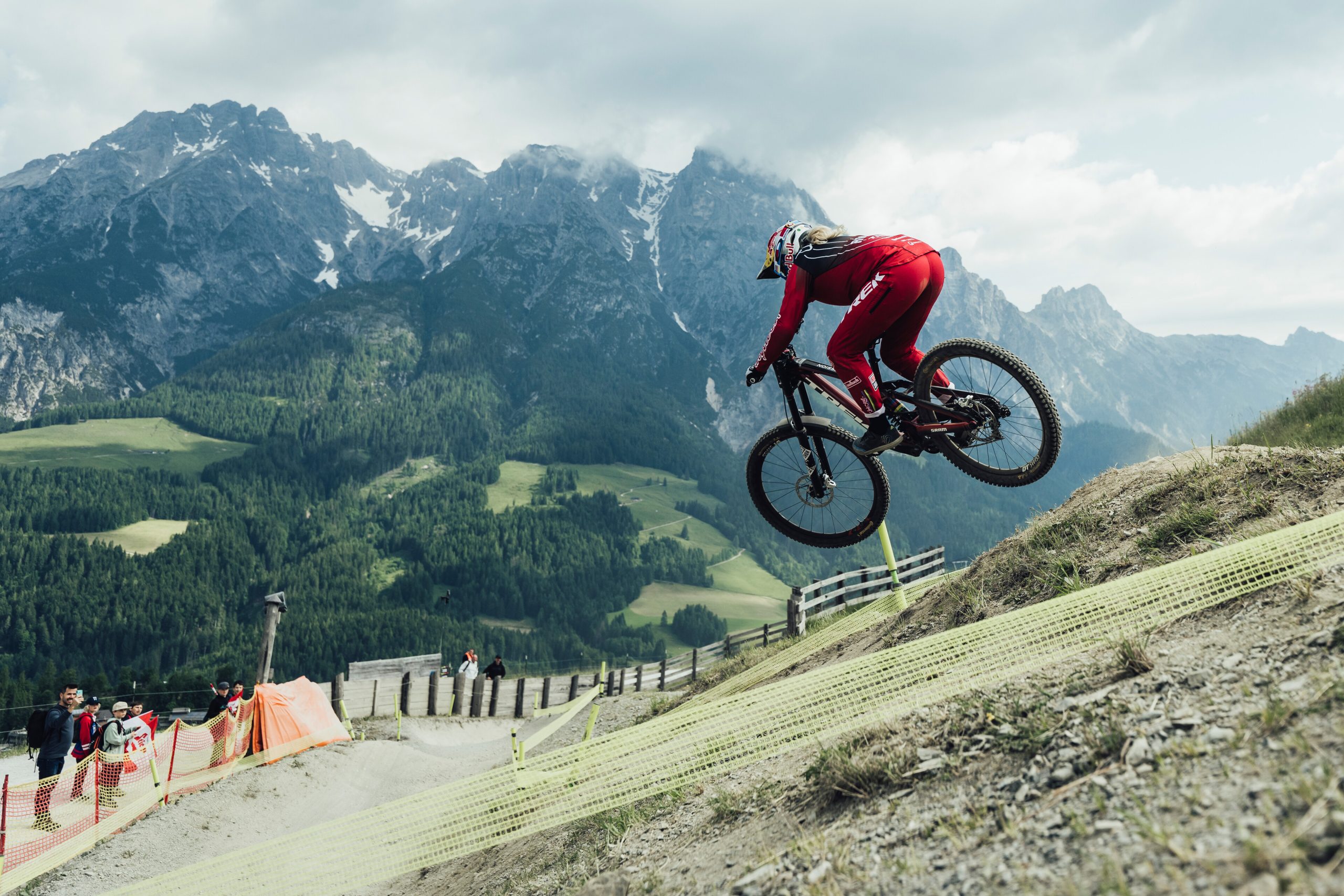 Austrian secures a first Elite World Cup win on home soil.
Vali Höll produced a sensational performance at the UCI Mountain Bike World Cup in Leogang as the Austrian rider finished four seconds ahead of her nearest rival, while Frenchman Loïc Bruni finished second in the men's Elite race.
– Having struggled to find her best form in her home race since moving to the Elite class, Höll laid down a marker as she triumphed in the semi-finals with a seriously fast time.
– When the finals got underway it was 18-year-old Gracey Hemstreet who laid down an early marker as she set the time to beat. Another junior, Phoebe Gale, then went even faster before that vastly experienced Rachel Atherton claimed the lead.
– With just three riders remaining, Atherton was still in the lead but Swiss star Camille Balanche, who is always a threat in Leogang, then produced an incredible run to finish three seconds ahead of the Briton.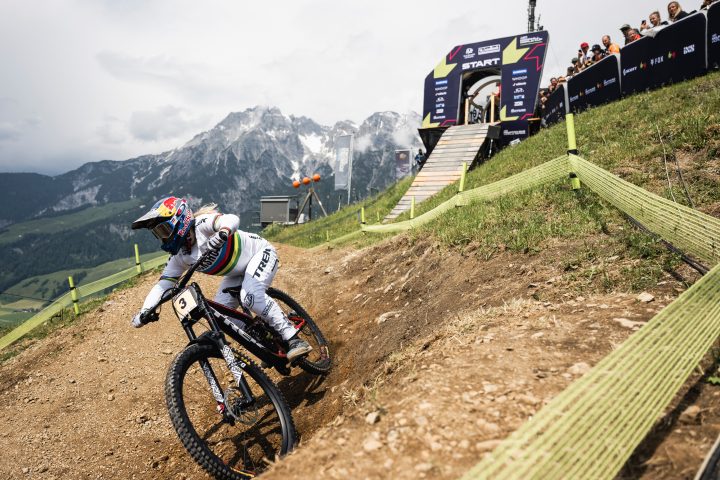 – Nina Hoffmann looked as though she would take the lead as she stormed down the challenging track, but a mistake in the woods ended her chances. Höll then went out last and was full of aggression as she produced a dominant display to claim victory by more than four seconds.
– Höll, 21, said: "Leogang is such a hard race for me. Last year was a disaster, I've never been so down and doubted myself. Then, after Lenzerheide, I was so lost, I didn't know what to do but it all just clicked this week. To finally win here feels so good."
– In the men's race, Canada's Finn Iles set the standard in the semi-final and was hoping to improve on his fifth place finish lat time out in Lenzerheide.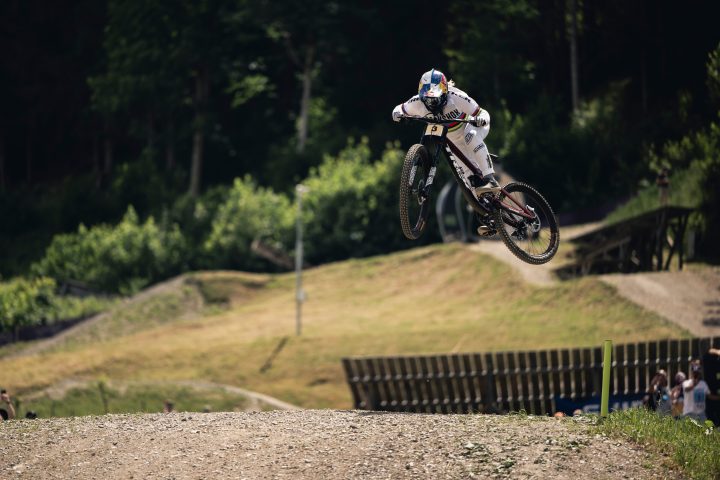 – Once the final's got underway, it was home favourite Andreas Kolb who set the pace as he became the first rider to go under three minutes and claimed the lead by a huge 2.313 seconds.
– At this stage there were still six riders remaining but neither Thibaut Daprela or Luca Shaw were able to threaten the Austrian's time.
– Canada's Jackson Goldstone threatened to take the lead as he expertly conquered the first few sections of his run, but he lost some time in the final split and was second with two riders still at the top.
– Bruni was the second to last rider out of the gate and the Frenchman made a fast start before also falling back in the final sector and having to settle for second place. Iles knew he would have to push hard to gain the win but a few small errors cost him dear as he missed out on the podium by finishing in fourth place.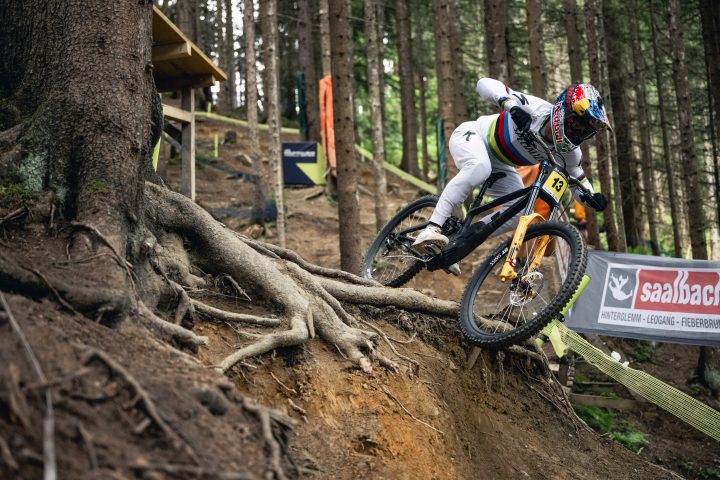 Women's DH result
1. Vali Höll: AUT 3:23.222
2. Camille Balanche SUI +4.303
3. Rachel Atherton GBR +7.334
4. Monika Hrastnik SLO +7.603
5. Phoebe Gale GBR +7.852
Men's DH result
1. Andreas Kolb AUT 2:59.335
2. Loïc Bruni FRA +0.680
3. Jackson Goldstone CAN +0.911
4. Finn Iles CAN +1.451
5. Luca Shaw USA +1.713
2023 UCI MTB World Cup women's DH standings
1. Camille Balanche SUI 680 points
2. Rachel Atherton GBR 616
3. Valentina Höll AUT 592
4. Nina Hofman GER 430
5. Monika Hrastnik SLO 380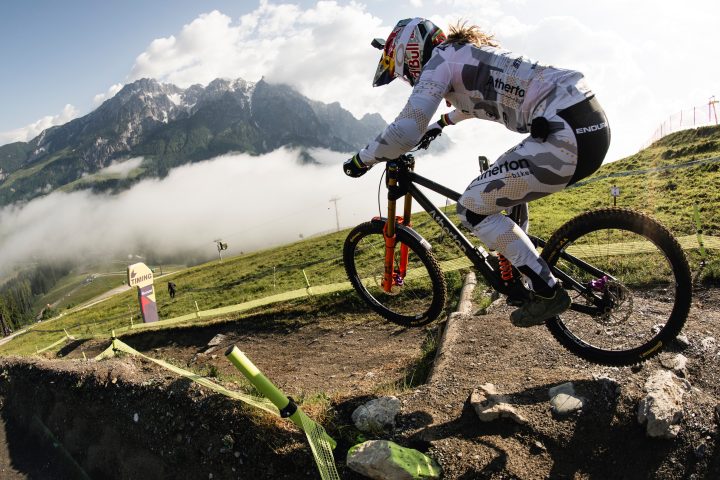 2023 UCI MTB World Cup men's DH standings
1. Loïc Bruni FRA 595 points
2. Finn Illes CAN 494
3. Loris Vergier FRA 486
4. Andreas Kolb AUT 476
5. Jackson Goldstone CAN 441