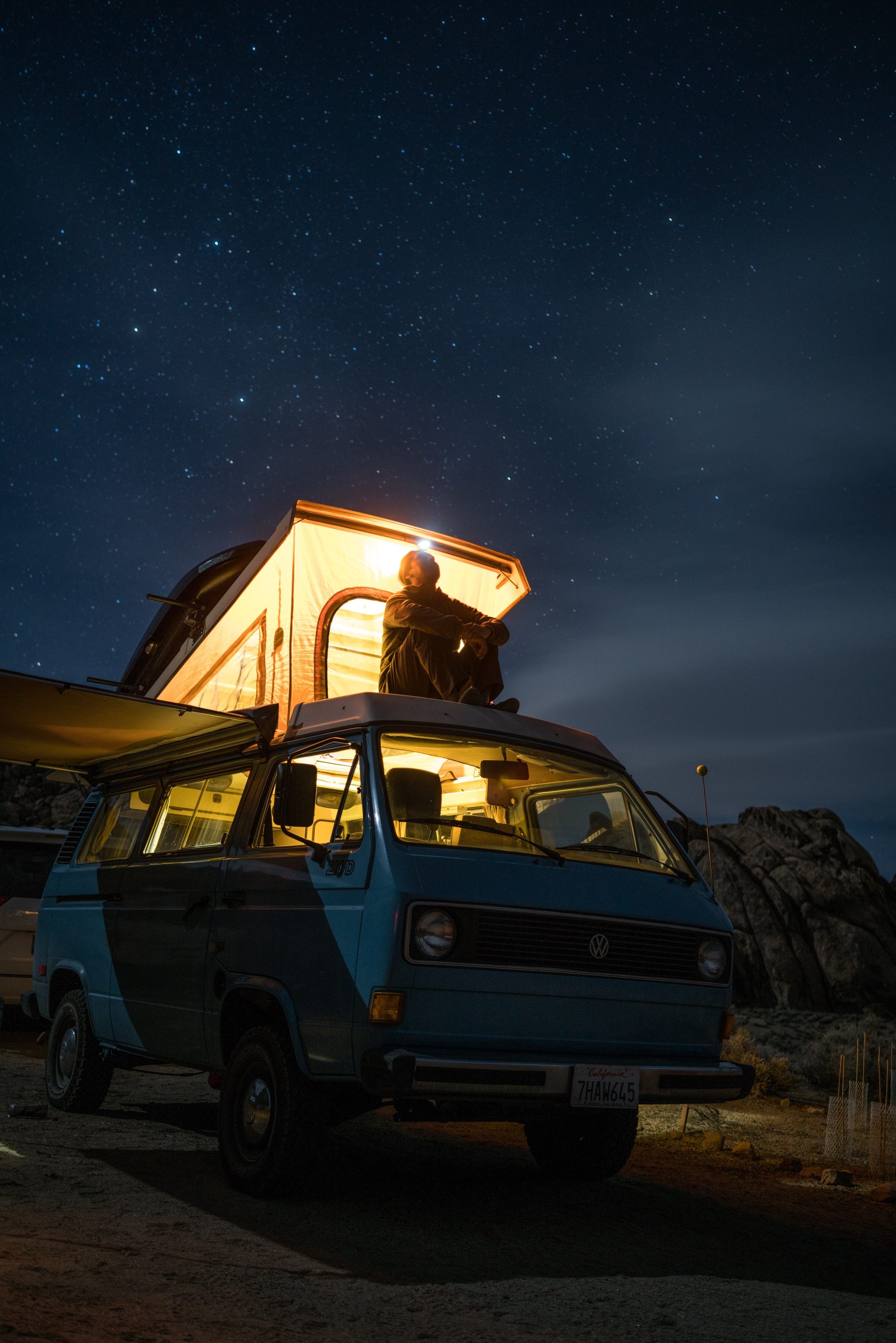 Karma, Karma has a pretty funny way of making life work, putting people in the right place at the right time. We had a decision to make, chase our career and move New York or buy a van and see the world. Well a few months later, unbeknownst to us, buying a van was the best decision we could have ever made, not only because van life is awesome but also because there was a pandemic coming and moving to New York would have been a nightmare.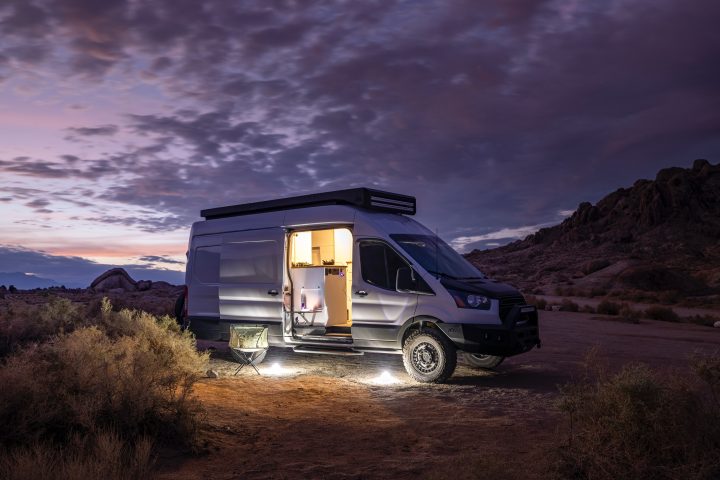 Drew Glickman: I am from Templeton, California. I work as a freelance cinematographer filming everything from brand content, reality tv, and documentaries. Traveling has been a passion of mine since I was small. When I was younger my family would travel the west coast and camp anywhere from the sierras to Baja Mexico. These early trips installed the love of travel in me. Since then I have searched out every way to travel for cheap and see the world.
Brittany Henning: I am from Aiken, SC. I also work as a freelancer in event marketing. I never really started traveling until I met Drew, but ever since our first trip to Thailand four years ago I'm addicted.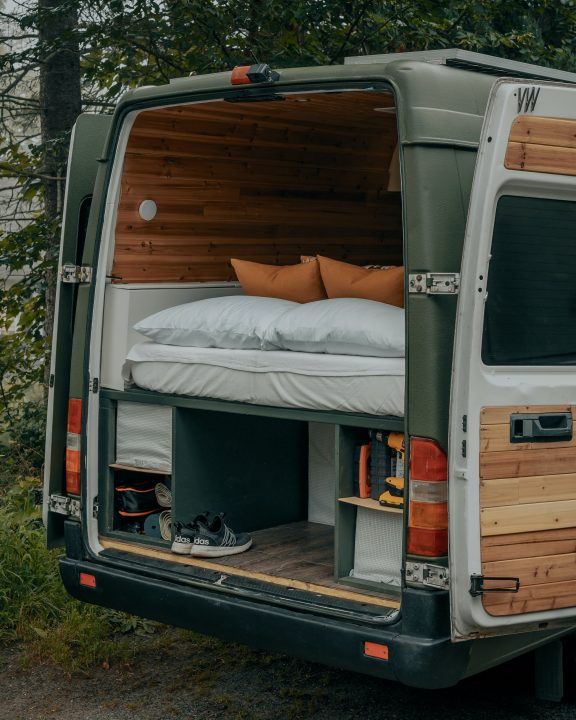 About a year ago, we started looking through Facebook marketplace trying to find an upgrade to our 1998 Toyota Tacoma. Drew built a bed in the back of it with storage and a camper shell on top. It was perfect for short road trips, but no way we could live in it. We wanted something more. We came across a 2004 Sprinter Van 2500 with a 140 inch wheel base. We drove all the way to Charlotte, NC to pick up our new home. Drew, being 5'10, specifically wanted this van so he could stand up in it without bumping his head. It's small enough to parallel park in a a big city, but big enough to live in. Perfecto! Ten months, $8000, and one million Home Depot trips later we had our new home customized the way we wanted it. Drew and his dad built everything from scratch with the help of Youtube Vanlife Build videos. Their motto: "90% thinking, 10% working.
As we hit the open road the first day you could only imagine the feelings and energy that was going through us. The excitement of what's to come, the sadness of what we are leaving behind and the fear of the unknown are only a few. That is, until about 3 stop lights from our old drive way that we got rear ended. Luckily there was no damage but it sure got us started into what Vanlife is realistically like.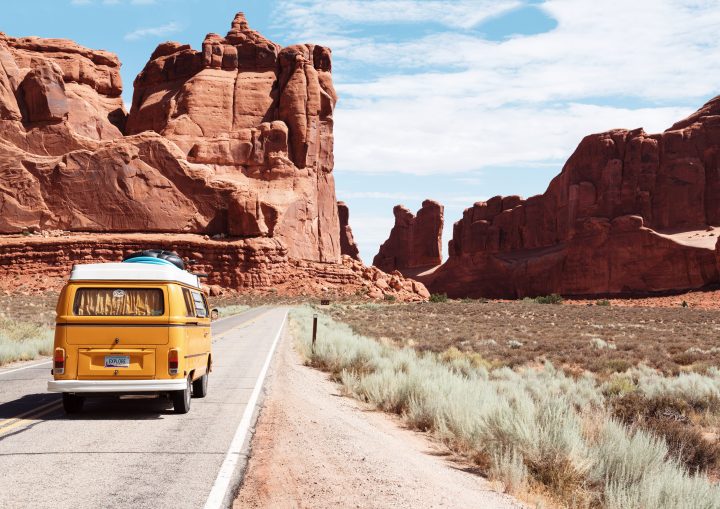 What is full-time Vanlife like you ask? Oh man, it's exhilarating! Not everyone is cut out to live this way. There is nothing like driving down the highway with no air conditioning, seeing the Colorado River, and jumping in. There is no schedule and we are free to explore whatever we want whenever we want. Just the other day, in the Sedona desert we looked at each other and said "Let's climb up that mountain and do yoga." It was far away from everyone and so peaceful.There are no rules and we can live in whatever state we want to and have no obligations. The more terrifying moments come the longer you live like this. As we find places to sleep (Walmart parking lots and rest areas) we never know who might come knocking at our door at 3am. A cop telling us to leave? A scary man threatening our lives? We just never know. We also have the anxiety of driving around our entire life that could be taken from us at any second. Our van is our house/car with everything we own inside. All of these moments put together are what makes Vanlife so exciting and we wouldn't want it any other way.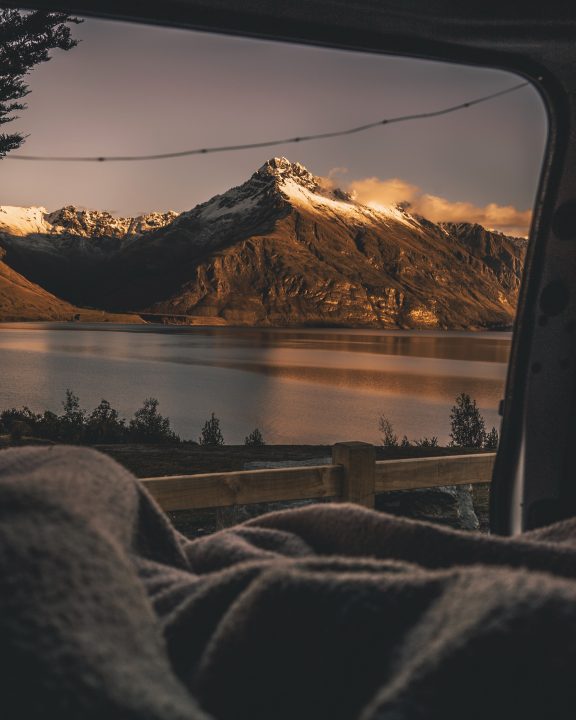 There are challenges and there are rewards. Everyone asks us, "Do you still love each other?" Yes we do, but we have both struggled living with another human in such a small space. "Why didn't you clean your dishes?"  "You're going the wrong way!" "You killed my succulent!" I could go on, but our four year relationship is definitely being tested every day and we look at it as just another experience. Other challenges we face are: keeping things clean and occasional boredom. Cleaning is hard when you have limited amount of water to wash dishes. We have three 6 gallon water tanks, but it still doesn't seem to be enough. Bugs LOVE to fly in the second you open the door. It's a fun game of "who can catch the moth before it disappears and we find it in our bed later". We have picked up reading a lot more since we don't have a tv to binge watch every show on Netflix. Drew plays the mouth harp and I play the ukulele to pass the time. These challenges are nothing compared to the rewards we receive in exchange. We have traveled all over the world, but our wanderlust is never fulfilled fully. Every city has a story and we want to read every one. From hiking next to grizzly bears in Alaska to wake boarding in Brazil. We hope to take our home on wheels to it all.