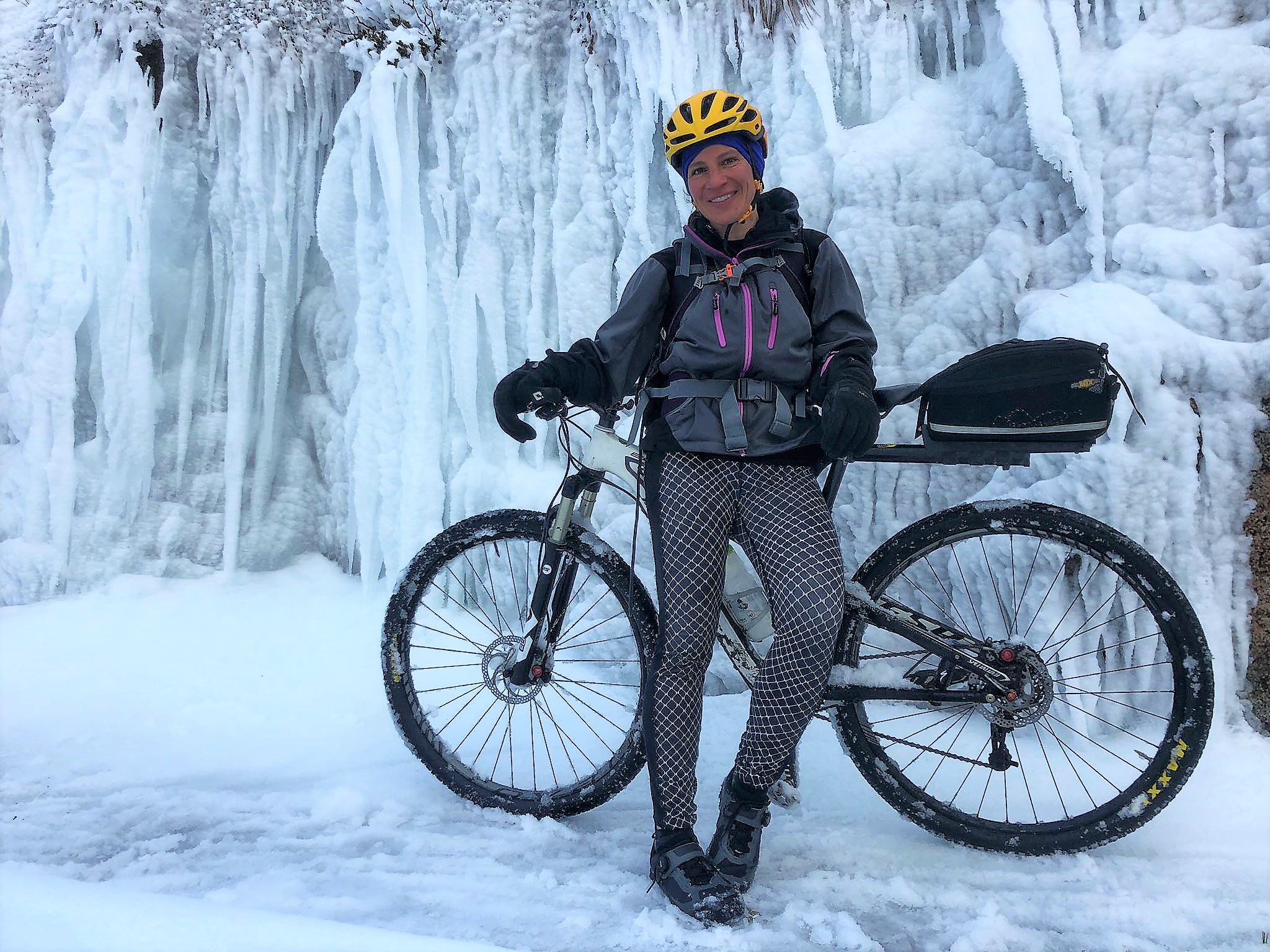 Do you have a favourite ride, tramp, or route that you have done several times and never grow tired of it? I do. For me, I am fortunate to have the Old Ghost Road in my backyard and naturally, I have done it several times either via running, tramping and mountain biking (including before it was the "OGR"). It is a pretty hard track to beat. It has a diverse range of wilderness-porn on offer; native beech forest, open alpine vistas, rocky outcrops, virgin untouched bush, and the fantastic Mokihinui Gorge. It is a natural adventure bliss ball.  Whenever I have family or friends visiting, an obligatory jaunt even just part way up the track, is a regular feature and always a surefire wow-factor outing that I never get bored of.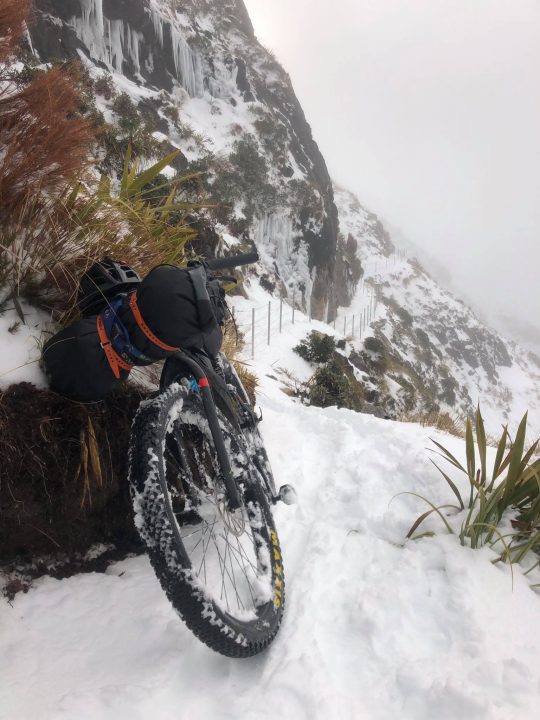 As we were heading into spring, it felt like it was time to do another dash through the Ghost. My riding partner Craig wanted to ride all 3 of the West Coast tracks (Ghost, Heaphy and Paparoa), so we started with the Ghost. The original plan was to ride it over 2 days. Day 1 was from the Lyell through to Goat Creek hut, which is the small, rustic DoC hut about 8km south of the Mokihinui Forks. This section made up about 57 km of the 85km track. Day 2 was to be a shorter day, just 28km, passing by the Forks and then out the Gorge to the Seddonville end of the track. From there, it is a further road ride to finish at my house, north of Westport.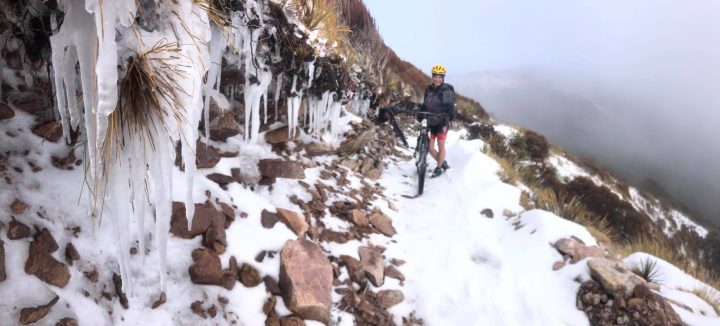 The spring weather had been brisk, and so we were expecting some snow over the short alpine section of the track, maybe 3-4km along the highest part. The timing of the ride coincided with school holidays, so we were keen to get up and through to Goat Creek Hut in order to avoid the bigger crowded huts. We knew we had to make good time if we were to encounter some snow which can be slow to cross, however we were not too concerned about it significantly affecting the ride.
We started riding from the Lyell end around mid-morning and were surprised to see snow quite early on, about 7-8km in. This was both intriguing, and a little worrisome because of how low the elevation was. I began to wonder what was in store as we climbed. We soon found out. At 18km when we arrived at the Lyell Saddle Hut, the snow was thick, very well-established and not showing any sign of getting lighter. It was a fine day and ironically not cold at all, even when I got the giggles and fell over into the cold white fluff. Attempting riding through the snow was impossible, at least for us. We lowered our tyre pressure and gave it a few tries, but it was completely futile. So, it turned into a hike-a-bike day, and a long one at that. The distance from the Lyell Saddle Hut to the Ghost Lake Hut is about 12km. We pushed our bikes the whole way. The first 6-7km of climbing up to the tops was actually pleasant but I was worried about getting cold, especially my feet which were saturated the whole time. Also, I was not that bike fit so I started to doubt if I was getting into something over my head with the challenging conditions. I had never experienced anything like that on a bike which is ironic, being raised in Canada. Where I come from if there was snow, you donned skis, not mountain bikes!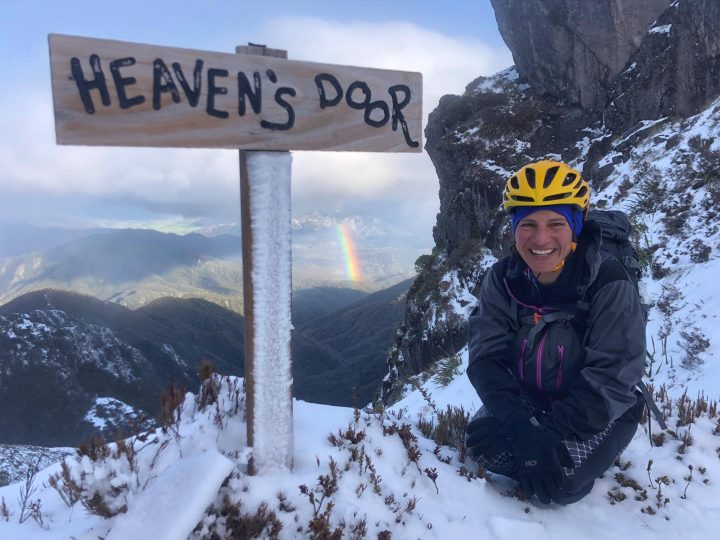 To overcome any self-doubt, I simply put my mind over matter practice into gear which is something that I am very familiar with. Just like any challenge, we broke it down and just put one foot in front of the other and carried on pushing through with a good attitude. We were well-equipped with our gear, and we are both strong athletes.
The open alpine section was exhilarating and exceptionally beautiful. There were deep banks of snow and massive icicles most of the way. The temperature was chilly but we stayed warm by laughing and getting stuck into the physical work of pushing and lifting our bikes through the snow. We had a fair bit of weight to push, especially Craig, due to our gourmet food and a few cans of IPA beer we had on board. It was actually really fun!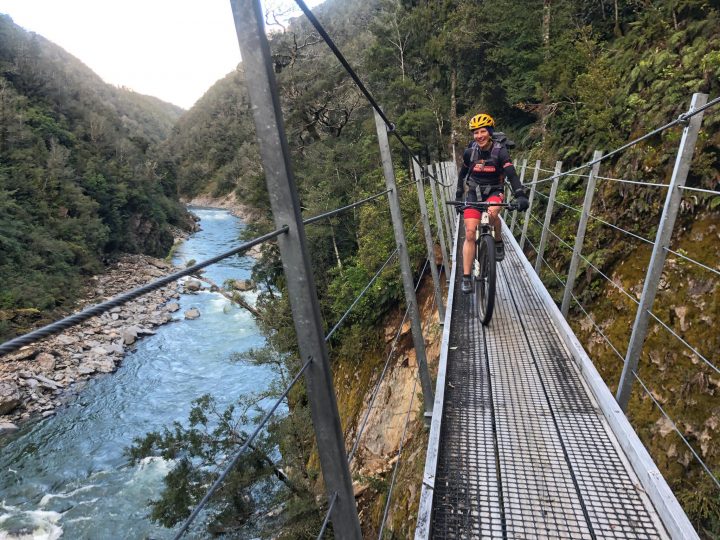 We arrived at Ghost Lake Hut by late afternoon, much later than planned, and clearly needed to bunk in for the night. There was no way we could have made it to Goat Creek hut because the low elevation of the snow meant we still had several kms to push through. The hut was pretty full with trampers so we camped out in one of the unheated sleep-outs which was fine once we got into our sleeping bags.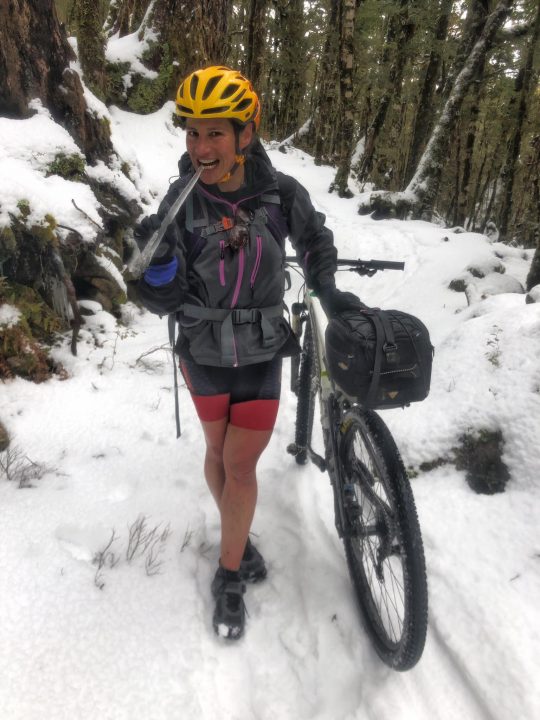 The next day we set out for more pushing through the snow past the Skyline ridge, down the steps and another couple kms down the descent towards the Stern Creek Hut. Altogether, we covered about 17km of snowy hike-a-biking. Once we hit dry ground, we had a little celebration, pumped up our tyres and rode away like the wind. The snowscape made this trip a memorable one, and certainly turned the familiar ride into a very different and unique Old Ghost Road experience.
Happy trails!
Powergirl Em
By Emily Miazga, M.Sc. Clinical Nutrition, 3x Coast to Coast World Multisport Champ and Creator of Em's Power Cookies