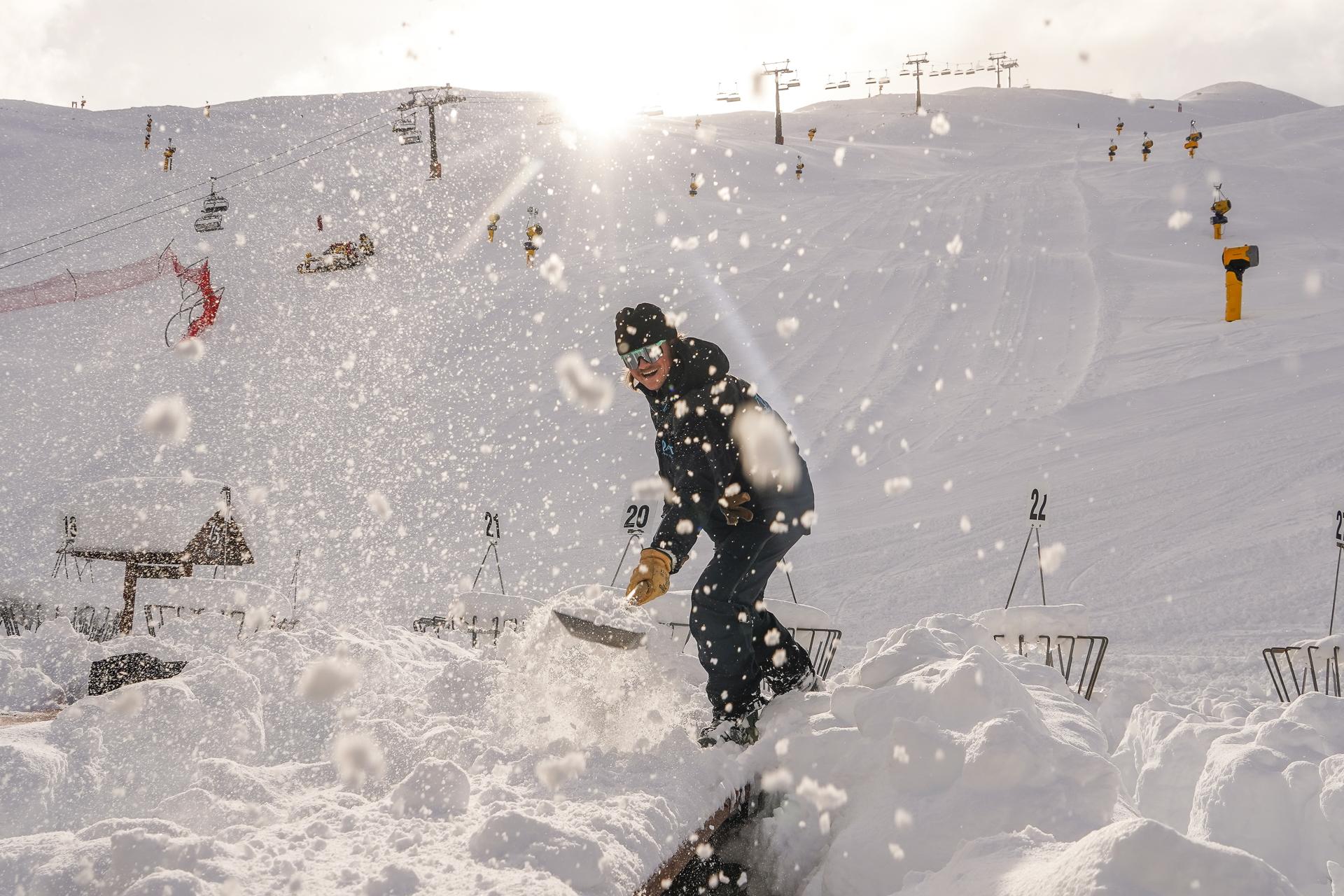 Queenstown, New Zealand (14 June 2022) –  Queenstown received its biggest snowfall in years over the weekend, with the mountains surrounding the alpine town blanketed in over 1.5m of snow in places.
The snowfall indicates an epic ski season ahead and the Southern Lakes ski areas are in their final stages of preparations.
Cardrona and Treble Cone GM of Experience Laura Hedley says this is one of the best starts they've seen in decades – and it's going to be a winter to remember.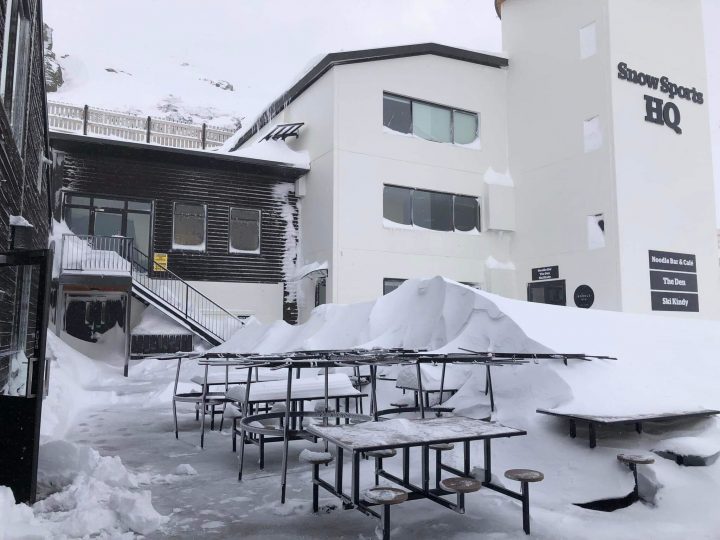 "We opened Cardrona Alpine Resort over the weekend but following the massive amounts of snow, we are preparing to open McDougall's in the next couple of days and will progressively open the rest of the mountain over the next week," says Mrs Hedley.
Coronet Peak is also opening early, a day ahead of schedule on 16 June, and kicks off night ski on 22 June. The Remarkables will open on 18 June while Treble Cone is set to open on 25 June.
"It's a great feeling to have this much snow so early on in the season – over the weekend about 120cm of snow dumped at Coronet Peak and 90cm at The Remarkables. That gives us the most snow on record for our opening days. Our on-mountain teams are raring to go this week and we're looking forward to getting out there," says NZSki CEO Paul Anderson.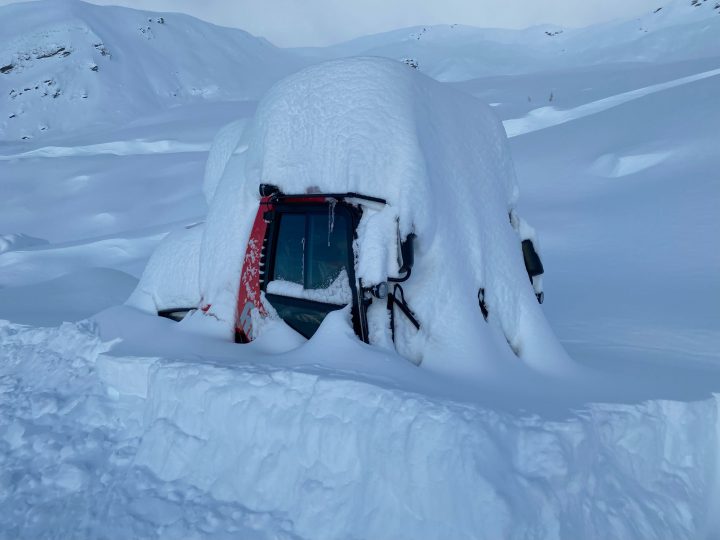 "The powder looks incredible, and we cannot wait to see our Kiwi and Australian snow fans enjoying our winter wonderland," says Destination Queenstown Marketing and Communications Director Sarah O'Donnell.
"Queenstown is the Southern Hemisphere's leading four-season resort, the skiing is world-class and our region offers an unrivalled range of winter experiences on and off the ski fields. We look forward to having skiers, boarders and winter lovers here soon for their snow adventure and ski holiday," adds Mrs O'Donnell.
Scheduled ski field opening dates:
Cardrona – 11 June
Coronet Peak – 16 June
The Remarkables – 18 June
Treble Cone – 25 June
Coronet Peak is Queenstown's closest ski area and is a 20 minute drive from downtown. World-class facilities, superb conditions and spectacular rollercoaster terrain make Coronet Peak an exciting destination for snow lovers of any ability. Experience magnificent views, a stunning base building, fantastic on-mountain facilities and state-of-the-art snowmaking. Coronet Peak has an epic line up of events for winter 2022 highlighted by its 75th anniversary with a week jam-packed full of activities, both sporting and social from August 17 – 21. Australian hip-hop legends Hilltop Hoods are set to headline on of the season's biggest night ski parties on July 27, followed by First Base's Vintage Après Soiree party on July 29. Be sure to head over to Heidi's Hut where the incredible new deck has been added to give that European Alps vibe.
The Remarkables is a true alpine experience, just a 45-minute drive from central Queenstown and is perfect for the whole family, from beginners to advanced skiers and boarders. Expect incredible facilities, dreamy terrain, and stunning snow all season long. A big line-up of exciting events are planned for the season ahead, from music at the updated Ice Bar – including First Base's Vintage Après Soiree party on July 30 – through to freeride and park events. It's going to be another great season at The Remarkables!
Cardrona Alpine Resort has a laid-back and friendly vibe, deep snow cover, wide open slopes, serious half pipes, steep chutes and an extensive terrain park for freestylers, great family facilities, and on-mountain accommodation. Cardrona is an hour's drive from Queenstown. Having only briefly operated before the 2021 lockdown, Willows at Cardrona is arguably still New Zealand's newest inbounds terrain. Willows is made up of two bowls of undulating intermediate terrain spanning 65-hectares and provides boarders and skiers with a totally new aspect, facing Arrowtown and Queenstown.
Treble Cone (TC) is the South Island's biggest ski area and a favourite for advanced skiers and snowboarders with the longest vertical rise in the Southern Lakes, two large basins, great off-piste terrain and stunning views. The ski area is a 90-minute drive or a short 15-minute flight from Queenstown, and a free mountain shuttle is available from the base of the Treble Cone access road. In addition to Cardrona, TC has moved over to a new online system this season – meaning more time on the slopes and less time waiting in line for tickets. Both mountains have also increased their focus on sustainability with free mountain shuttle services and hitchhiking spots up each mountain. They also promote a pack-in/pack-out culture and don't sell anything in their food and beverage outlets with packaging that needs to go to landfill.