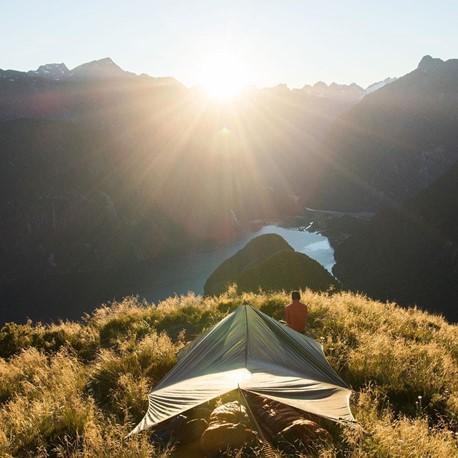 New SS22 Collections: Rab & Lowe Alpine expand the use of recycled materials
British outdoor brands Rab and Lowe Alpine (owned by Equip Outdoor Technologies Ltd.) are proud to announce their new Spring/Summer 22 collections. As part of their efforts to make their brands ever more sustainable, there is a significant increase of recycled materials throughout the range. As well as the apparel collection, recycled fabrics and materials can now be found in Rab sleeping bags, the new Rab packs and the new Lowe Alpine packs. The use of recycled materials not only reduces pressure on natural resources but they have a smaller carbon footprint than the use of virgin materials, thus contributing to the brands' aim to be Net Zero by 2030.
Among the new Rab and Lowe Alpine SS22 products containing recycled fabrics and materials are:
The new Solar Eco and Solar Ultra sleeping bags
These new synthetic sleeping bags are the premium choice, made with 100% recycled outer and recycled insulation. They face an advanced concertina style construction, which maximises air trapping to boost loft and warmth. Ideal for camping, backpacking and mountain trekking, especially in cold and changeable weather.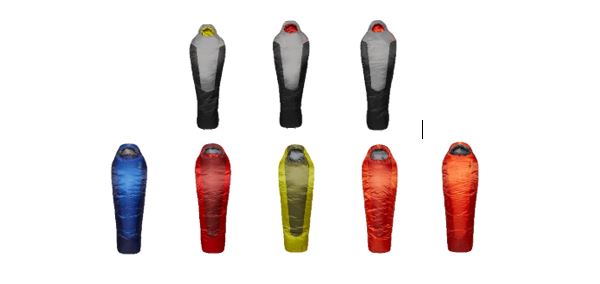 The updated Neutrino and Alpine sleeping bag collections
Delivering a high warmth to weight ratio and now built with recycled outer fabric and featuring a PFC-free DWR, the updated Neutrino down bags are lightweight in your pack and on the planet.
The Alpine bags are premium duck down bags with a slim fitting shape. Featuring Pertex® Quantum fabric and a recycled nylon outer and lining, they offer a good balance of comfort, weight and warmth on high altitude missions.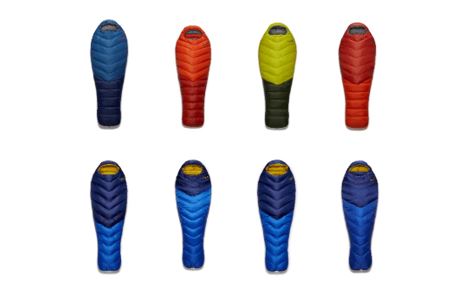 The Kinetic Ultra Jacket
The Kinetic Ultra Jacket is a stretch waterproof running jacket built with Proflex™ 3-layer fabric made from recycled polyester. Offering breathable and lightweight protection whatever the weather, it is an essential put-on, keep-on layer designed for dedicated mountain runners.
The new Rab packs
For SS22, Rab is going to round out its offering of mountain gear, launching its own range of technical mountain packs. Built with recycled materials, Rab packs are designed for those counting grams and travelling at pace. Lightweight with a progressive style, they are optimised for clocking vertical metres in all conditions.

The Lowe Alpine Sirac pack family
For adventure backpacking and mountain treks, the new Sirac is a fully featured pack with advanced back construction, built with recycled materials. Robust, sturdy and designed with a comfortable carry, it's perfect for moving your world across varied terrain. Available in six different sizes.

Recycled fabrics in Rab's and Lowe Alpine's collections
– In 2019, Rab introduced the world's first GRS (Global Recycled Standard) certified down into their range. P.U.R.E. Recycled Down is a high quality, sustainable solution that uses fewer resources to produce than virgin down, and prevents unnecessary waste from going to landfill.
– In 2020, 34% of Rab's fabric contained recycled materials. That's 10 times more than 2019.
– In AW20, Rab updated its iconic Microlight and Cirrus ranges, using 100% recycled outer and linings and 100% recycled insulation.
– In SS21, Rab has launched its own down collect and recycle scheme, together with the down recycling experts at Minardi Piume. This is a pilot in the UK and will be expanded to other territories if successful.
Rab and Lowe Alpine are now swapping out virgin materials for recycled fibres where possible, in everything from shells and pants to fleeces and backpacks. In partnership with brands like Pertex® and GORE-TEX®, the design team is developing fabrics containing varying levels of recycled content that still perform to the highest level. By 2030, at least 50% of their fabrics will contain 100% renewable or recycled content.
More details on Rab's and Lowe Alpine's strategy for increasing the use of recycled materials and their aim to reach Net Zero by 2030 can be found in their 2021 Sustainability Report.
To purchase RAB and Lowe Alpine products go to https://www.outfittersstore.nz/