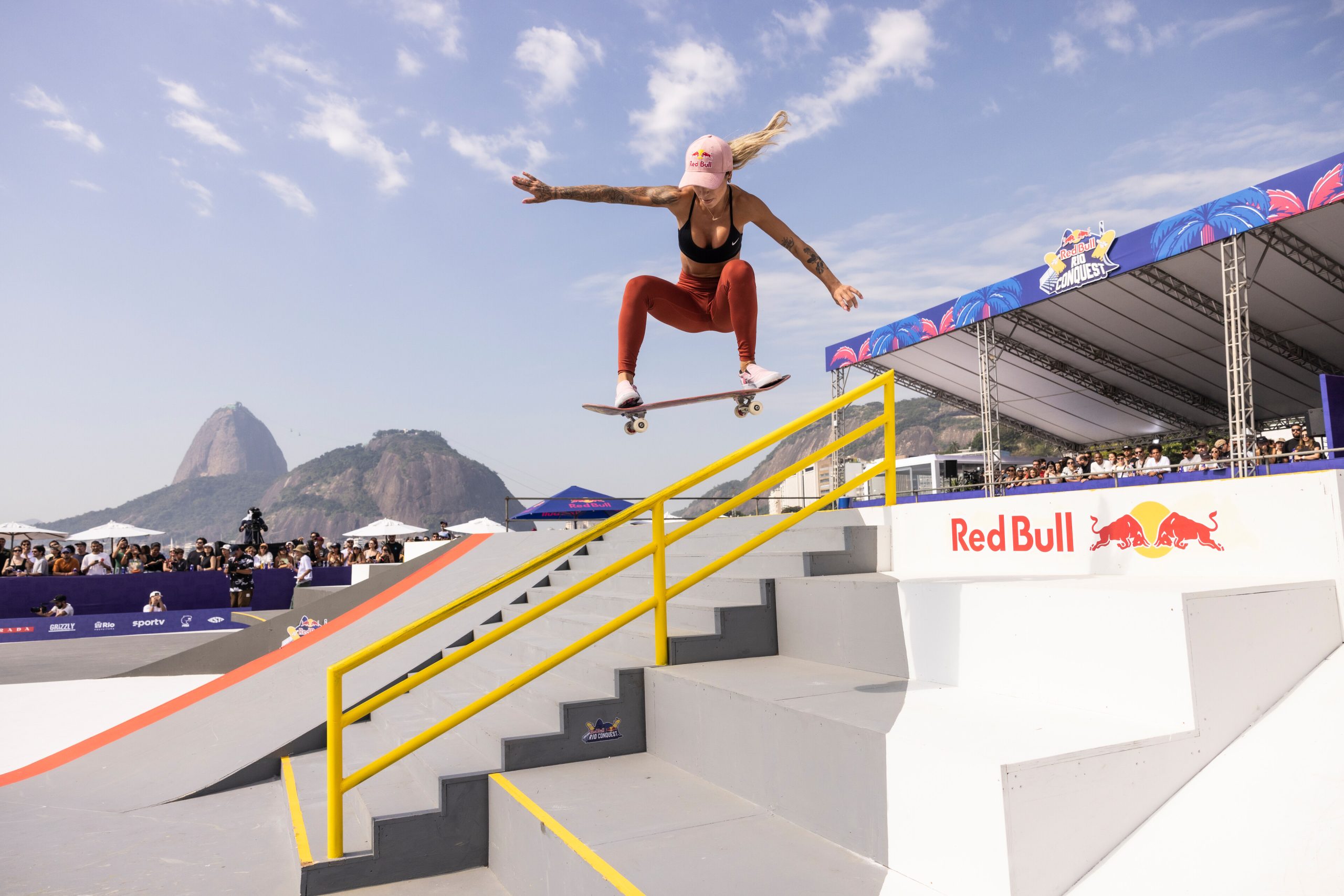 This weekend was met with an incredible display of competitive skateboarding in a stunning skatepark on the sands of Rio De Janeiro's Botafogo beach. Appearing for the first time in Brazil, Red Bull Rio Conquest garnered in over 1000 spectators to watch skateboarding's elite athletes battle it out on Saturday (27th) and Sunday (28th). With a mix of Brazilian and international Olympic athletes, twenty-four skateboarders went head to head in the iconic Red Bull Rio Conquest park, which recreated Rio's most famous street sk
ate spots in one course. Taking first place for the Men's category was Gabryel Aguilar, and Roos Zwetsloot for Women's.

The competition format was a highlight of the weekend, with skaters going head to head in each heat, only to be judged on who would advance into the next round. The Women's category featured big names such as Aldana Bertran and Leticia Bufoni, but coming out on top was Olympian Roos Zwetsloot (NED), who had to knock out Gabi Mazetto for the first place title.

"It was amazing to be here and win the competition. I was super excited to see the skatepark itself, the incredible city and feel the energy of the crowd. There were big names competing, like Bufoni and Mazetto, and it makes this achievement even more important", said Roos.

In the men's category, the lineup featured a heavy roster of talento, including Gustavo Ribeiro, Giovanni Vianna, Lucas Rabelo, and young upcoming talents such as João Alves and Eduardo Neves. Gabryel Aguilar had incredible runs during both days, and clinched the first place title, despite competing with a broken truck in the last minute of his run.
"The feeling is indescribable. I just know that I'm happy and grateful. It's always great to be back in Rio to compete. In the finals, I was able to do my best tricks to win, and it worked" said Aguilar.
Bufoni in action, city spots honored
The journey of Rio Conquest began on Saturday (May 27th), with local and global athletes skating the qualifiers and competing head to head to advance, especially Leticia Bufoni, who reached the semifinals of the competition.
The grandstand was packed with attendees, who gathered on Sunday to watch the competition with a stunning view of the Sugarloaf Mountain. The event was curated by Brazilian skate legend Cezar Gordo, and the obstacles in the course paid tribute to the iconic skate spots from Rio de Janeiro, including Borda do Gringão, Nilton Santos Stadium, Zumbi dos Palmares Monument, Cornetas, Barão do Rio Branco Monument, Praça Mauá, Linha Amarela Railing and the Big Four. The competition was judged by Anthony Claravall, Karen Feitosa, Larissa Carollo, Roberto Valadão and Rogério Mancha.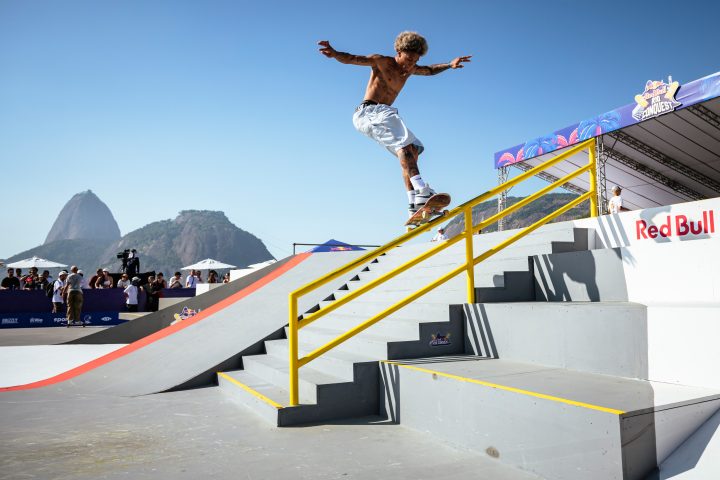 Red Bull Rio Conquest Rankings below:
Female Category
1st place Roos Zwetsloot (NED)
2nd place: Gabriela Mazetto (BRA)
3rd place: Vitória Mendonça (BRA)
Male Category
1st place: Gabryel Aguilar (BRA)
2nd place: Giovanni Vianna (BRA)
3rd place: Brayan Coria (MEX)
Competitors:
Female Category: Aldana Bertran (ARG), Ariadne Souza, Candy Jacobs (HOL), Carla Karolina, Charlotte Reyes (CHI), Gabriela Correa, Gabriela Mazetto, Isabelle Menezes, Itzel Granados Flores (MEX), Kemily Suiara Ribeiro da Cruz, Leticia Bufoni, Lorena Fernanda Teixeira de Souza, Maria Clara Reis de Almeida, Maria Eduarda de Oliveira de Araújo, Rafaela Murbach, Roos Zwetsloot (HOL), Valentina Petric (CHI), Virginia Cavalcante Fortes Águas, Vitória Bortolo, Vitória Mendonça e Viviane Orlando da Silva
Male Category: Bruno Silva da Costa, Denner Brooklyn, Eduardo Neves, Gabriel Lopes Bila, Gabriel Ribeiro (POR), Gabryel Aguilar, Giovanni Vianna Galera, Gustavo Ribeiro (POR), Jake Wooten (EUA), João Lucas Alves, Jonathan Vieira Domingos, Leandre Sanders (EUA), Lucas Rabelo, Lucas Silva Carvalho, Marcelo Batista de Oliveira, Matheus Mendes, Samuel Jimmy, Trevor McClung (EUA), Vinícius Costa da Silva, Yuri Facchini e Zion Wright (EUA).