Features
The awesome power of Huka Falls
READ 📖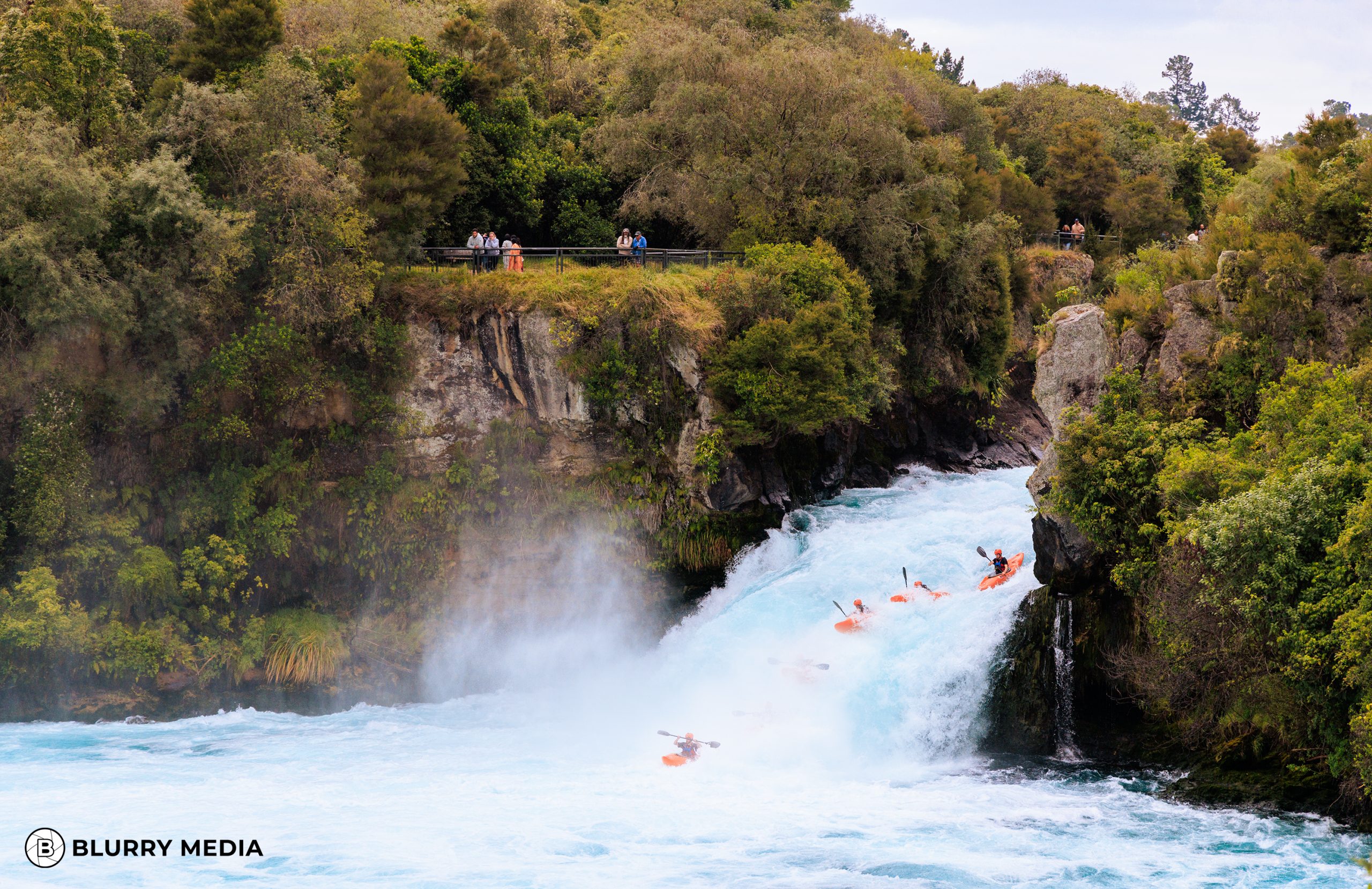 "It's nothing to some, everything to others. It's a deadly tourist attraction and yet, an easy ego boost. It can be the pinnacle of kayaking for some and an overhyped playground for others. It can be dangerous and fun at the same time. It can create its own aura, myths and legends and perhaps it shouldn't.
 When you're in there, you're surrounded by tourists and cheering friends yet completely alone. You realise how small you are within the power of nature, and yet, when you clear the last drop, you feel like you've just tamed the beast, desperate to risk it all again."
Taranaki based kayaker, Jonny Kennedy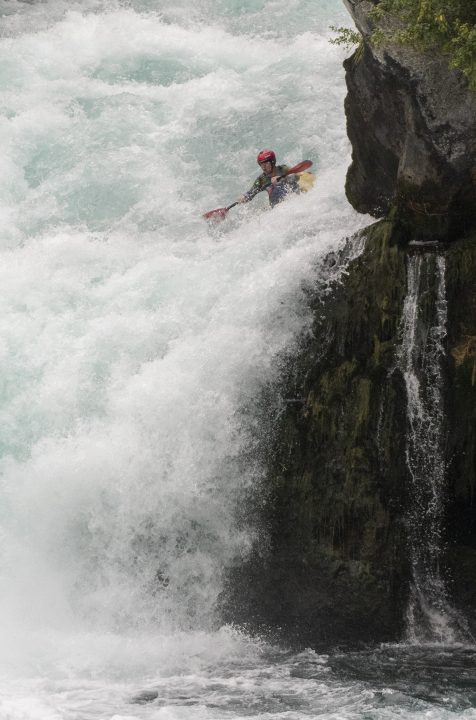 As a photographer, I get to live vicariously through the adventures of others. Don't get me wrong, over the years I've hung off the end of a top rope and stood chest deep in an ice cold river, all in pursuit of that perfect shot. But when it comes to kayaking, I'm well out of my depth, preferring to spend much of my time as a mountain guide in and around Tongariro National Park.
Being a Taupo local, I don't visit Huka Falls that much, but when a fellow guide messaged me one morning to say that he and a few mates were going to run the falls, there was no question, I had to be there. While my wife Debs (who's the better looking half of our photography business, Blurry Media) set herself up on the bridge to capture the action in the gorge, I positioned myself at the lower lookout to catch them going over the drop.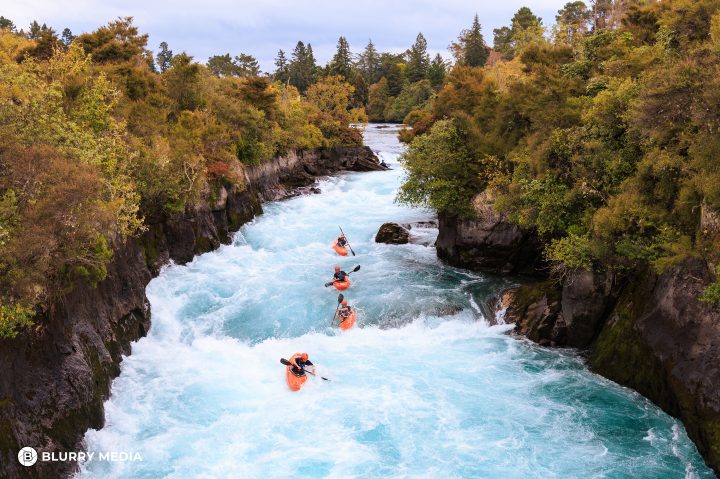 Now I have to admit that from the sidelines, these guys made it look easy, each of them doing three back-to-back runs in quick succession which was great for the crowds in the 'grandstands' and great for us taking photos. But don't be fooled, Huka can be a challenging run that changes radically at different flows. On this particular day, the flow was at around 82 cumecs, well within the supposed 50 to 120 cumecs 'safe' range. Just 24 hours prior to this however, the river had been at 278 cumecs. Think about it, that's around 280,000 litres per second, enough to fill a 50 metre Olympic pool every 9 seconds, all pumping through a gorge that's just a few metres wide.
So what's it like to run Huka at high flow? One person who knows all too well is Greg Oke who, along with Nick Kerkham, made the first descent back in 1981. I managed to catch up with Greg who admits that even now, retelling the story some forty years later still brings back the shakes. Such is the power of Huka Falls.
How did that first descent come about? Turns out that in December of that year the guys had come up from Palmy to spend a weekend playing at Fulljames/Nga Awa Purua Rapids. Unfortunately their plans had been scuppered by an issue at the control gates which were left wide open and couldn't be shut for some reason. As a result, flow was in the high 200s and Nga Awa Purua was completely blown out.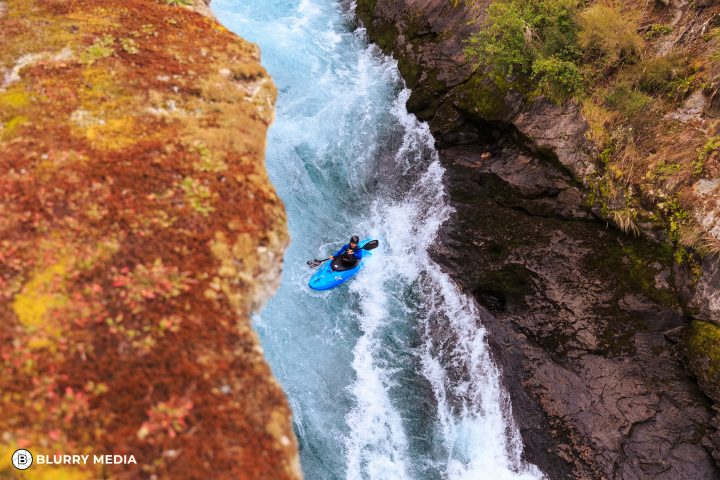 Heading home from the weekend and with Nick feeling "antsy and bored" they stopped in to have a look at Huka, something they'd done countless times before without ever seriously considering doing the run. Only this time was different as Nick looked at Greg and said, "Should we do it?"
At that point it wasn't about ego or box ticking. As Greg puts it, it was simply "the right time, the right day and everything felt right." Once they committed, there was no room for thoughts about a negative outcome. Trusting their skills (they were both highly ranked NZ slalom paddlers at the time), and their understanding of hydraulics, they picked what they thought would be the best line and went for it.
In the end, they did two separate runs, choosing to be at the bottom for each other. Greg's lasting memory was the force of the water blasting him in the face at the top of the drop before he disappeared into the inky darkness of the boil. Sadly, Nick passed away in a car accident quite a few years back so he's not around to share his experience first-hand.
But the story doesn't end there. If it had been up to them, the guys would have simply gotten into their car and quietly disappeared with nothing more than a sense of personal achievement, and an epic story to share with their mates. As it turned out, the President of the NZ Canoeing Association at the time happened to be at the falls taking photos, and when he realised what they were about to do, he raced down to the lower lookout to capture them going over the drop.
Unsurprisingly, these photos found their way to the press and the guys ended up being featured in the Herald and on TV. This gave them some notoriety as well as a bit of unwelcome attention from the NZ Water Safety Council who weren't happy that "a couple of randoms" had done this irresponsible act. In the end, the furore died down and Greg and Nick's place in New Zealand kayaking history was cemented.
Since that first descent, Huka Falls has been run many times and in numerous ways from tandem to hand paddling and even on a bodyboard. Obviously a lot has changed in the last four decades in terms of gear and kayaks in particular, which are now a far cry from the Olymp 6 fibreglass slalom kayaks the guys used back then. To some extent, this has made runs like Huka Falls a lot more accessible to more kayakers who want to tick it off their bucket list. In this regard, Greg does have a few words of caution.
"People need to respect any piece of water at any time. Be honest about whether your skillset meets what you're about to do and never paddle a rapid just because your friends are doing it. Trust your intuition on the day."
And he's talking from experience. Still on a high after running Huka Falls, and feeling like he could conquer anything, Greg started to chase after more first descents. Around 8 weeks after Huka, he had a bad feeling about a particular run but, against his better judgement, did it anyway because other guys were doing it. In his words he "made a mess of it" (I got the sense that it was probably a lot worse than he was letting on) and got a good kick in the ego which he reckons he probably needed.
But he's still here, still passionate about the sport and still paddling at the very respectable age of 61. He only paddled Huka Falls the one time and has never seriously considered doing it again, but you only have to do it once to be the first.
1163 words