Features
The Milford Track
Tired legs, looming deadlines and a Christmas adventure on the world's finest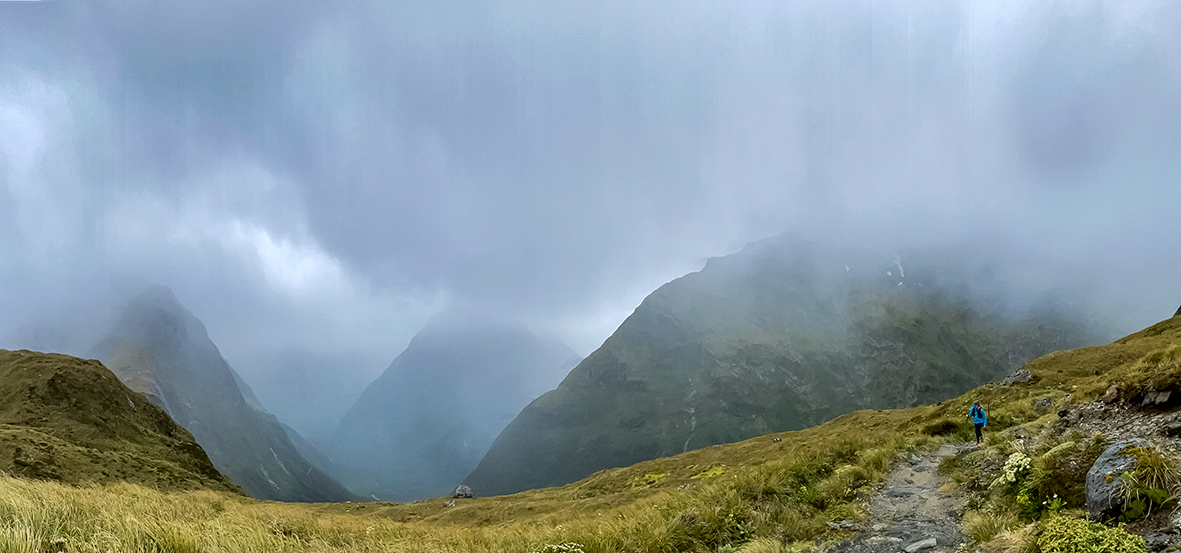 Words and photos by Derek Cheng
"If you've got any sprint left in you, go for it."
Steph and I were 1500m from the Glade Wharf, the head of Lake Te Anau, and she was imploring me to leave her behind. We'd run some 60 km in the last nine hours, including 1800m of elevation, and we were late for the last boat leaving the wharf for civilisation.
But it was Christmas Day. Would there be some Christmas magic in the air? Would the boat captain—knowing of two runners on their way—decide to wait for us?
I was utterly exhausted, but I "sprinted" across the pristine grounds of Glade House, a private lodge. A slight uphill as the trail re-entered the forest triggered a flurry of heaving and guttural grunting. I cried out at the first glimpse of the lake, not in delight at the discovery of a waiting boat, but in case a captain who's about to leave might hear it and wait a tad longer.
My legs were aflame. The lungs were screaming. The tank was empty. Hazy hope was the only thing driving me onwards.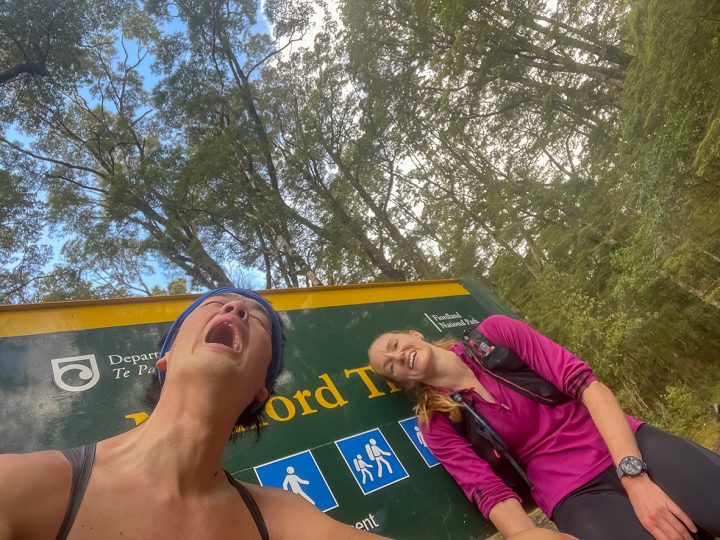 The Milford Track is touted as the finest hike in the world. It spans 53.5 km from Sandfly Point, at the edge of Milford Sound, to Glade Wharf on Lake Te Anau. It's a trophy for trail runners, not just for the distance and the scenery, but also the logistical challenges.
It entails two boat rides, the first being a 10-minute trip from Deep Water Basin in Milford Sound to Sandfly Point. Making the second ride—from Glade Wharf to Te Anau Downs, on the main road—is the crux. Missing it means hiking over Dore Pass, a 1200m climb up and over inhospitable terrain, followed by hitch-hiking from the roadside.
Then there are the fitness demands and the forecast, which wasn't ideal: steady rain, with snow at the highest point—Mackinnon Pass. We could have waited for more agreeable conditions, but why not celebrate Christmas Day, which also happened to be Steph's birthday, with an adventure?
There were four of us at the boat ramp at 7am on Christmas morning, which dawned with surprisingly clear skies and cool, crisp air. Two of our quartet were dubious about making the 4pm boat at Glade Wharf, so they arranged to run a section and then return to be collected from Sandfly Point a few hours later.
Steph and I had no such reservations, breaking into a quick trot that seemed easy to maintain, and one which, we decided, would give us more than enough time. We even visited Mackay Falls and Bell Rock, the former an impressive cascade, the latter a rock lump that's been hollowed out and flipped upside down by the river forces of several decades.
The first section follows the banks of the Arthur River up an immensely glaciated valley. Every so often, it opens up to reveal imposing granite walls and steep, verdant valleys, a reminder of the dramatic weather forces—it rains about seven metres a year—that shape New Zealand's most rugged landscape.
After downing some scroggin and electrolytes at Dumpling Hut, 18 kilometres in, we soon arrived at the turn-off for Sutherland Falls, the country's highest waterfall. Without much thought, we both agreed that we had a substantial cushion of time. What if they're the most exquisite falls in the history of humankind, and we didn't go?
The path crossed undulating terrain before arriving at the 580m-high falls. The thunderous sound at the base is akin to the lift-off of the most gargantuan space shuttle, while the sheer impact of the water on the rocks at the base is enough to send a stiff breeze under your jacket and into your chest.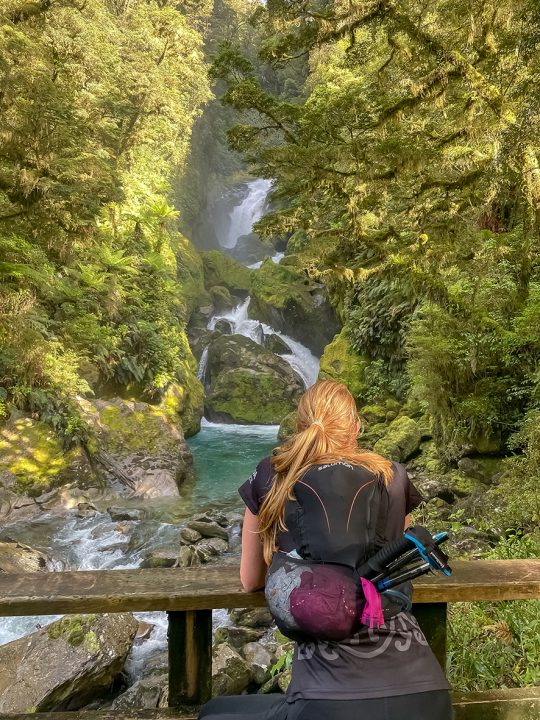 Returning to the main trail about 50 minutes later, we now faced the steep ascent through Clinton Canyon to Mackinnon Pass. Spirits were high, despite the first spits of rain, as we power-walked past kidney ferns, mountain daisies and Mt Cook buttercups.
At the top of the pass, as the clouds closed in and snow flurries started falling, we realised that the rest of the day might not be the leisurely stroll we anticipated. But we still thought that three hours for 25 km of downhill was very doable.
The path down, however, was rocky, and care had to be taken to avoid face-planting. And by the time the track levelled out to a gentle downhill, The Wall had materialised: the point in an ultra-run when the face starts to grimace with every step.
Flowing conversation turned to silence as we ground down the kilometres. Every time we passed a post telling us how far we had to go, we quietly calculated the required pace. It became clear we weren't going to make it unless we could suddenly start running four minute-kilometres. Hope shifted from making it by 4pm to having a boat captain willing to wait for us simply because it was Christmas Day.
With about three kilometres to go, Steph verbalised The Wall with two simple words: "My legs."
"… are machines," I replied in an effort to summon some encouragement. But my own legs were on the verge of collapse, and I couldn't help but add: "Tired machines."
We pressed on. As we crossed the last bridge and the grounds of Glade House, we couldn't help but notice the crisp, white linen on luxurious beds. It was from here that the final sprint was on. Visions of a boat-master, beaming with delight as we ran into view, kept the legs pumping right to the end.
There was no boat, of course, or even a hint of a boat's wake to suggest a recent departure. It was 4.45pm, and the wharf was predictably silent. Steph and I collapsed into a mix of joy and disappointment, as well as relief that we didn't have to run anymore.
It didn't take long to decide that Dore Pass was a no-go. We'd seen it from the track, its steepness prompting a non-family friendly phrase from both of us.
Our legs could barely endure anything more than slow, feeble steps, so we hoped—declared, even—that Glade House would revive our faith in the Christmas spirit. I had my credit card with me. No price was too high to allow us a shower and a bed.
We staggered back to the lodge, removed our shoes and entered a warm dining room with a freshly-stoked fireplace. We explained our predicament to the manager, Walter, but he put us firmly in our place.
"It'll cost you $3000" were the first words out of his mouth, followed by a stern sentiment of "no, under no circumstances". Steph played the birthday card, but this was a man who lacked an ounce of Christmas cheer. When Steph jokingly inquired about any spare steaks, he replied earnestly that they only had venison and salmon, pre-ordered from Queenstown, for a precise number of guests.
I considered further ways to convey our desperation, to plead for some compassionate flexibility, but Walter's resolve was unshakable. Steph looked longingly at a steaming kettle on the counter. Tea was not offered. Nor was water. We left, utterly deflated.
Outside the lodge, some more sympathetic workers explained that the lodge operated via DOC concessions and wasn't permitted to host anyone who just waltzed in. They seemed almost willing to sneak us into the staff quarters for the night, but we knew there was nothing left to do but walk a further 3.5 km to Clinton Hut.
As we did, we discussed all the ways we would have happily rewarded Walter with Christmas well-wishes and bottles of single malt every year, had his response been more charitable.
Just as our Christmas hopes seemed thoroughly extinguished, the trampers at Clinton Hut restored it—gloriously. We hobbled in to the random and wonderful sight of two of our friends, who cooked us a dehydrated beef teriyaki meal and then added cashew nuts and dark chocolate. Complete strangers offered us gourmet potato chips, a vegan sausage with mashed potatoes and peas, and extra clothes including magnificently thick woollen socks for the night.
Andrea, the DOC warden, welcomed us with so much warmth that she must have studied Walter's disposition in order to convey its antithesis. She had spare bunks and blankets, and we were welcome to them, as long as we promised to sort the bill later. (DOC charged us $150 each for the night, a stiff penalty for our visit to Sutherland Falls.)
The morning offered further proof of the awesomeness of human beings. We were given cinnamon and raisin porridge and vanilla chai tea—enough to joke about running back to Sandfly Point. We reciprocated their generosity by taking out everyone's rubbish.
The morning boat was due to arrive at Glade Wharf at 1130am. As we slowly walked back, we hatched plans to punish Walter. Hide rubbish in every room in the property? Leave a scatological gift where he'd least expect? Sneak into the kitchen and lick every piece of venison and salmon?
The devil caricature of Walter was, of course, a convenient fantasy. He was just doing his job, and the nuances of his response were amplified by our own fatigue and unrealistic hopes. Walter was dutifully vacuuming the dining room as we walked by, and he gave us a friendly wave, which we returned.
There was no boat at the wharf when we got there, but we were 18 minutes early. It soon appeared and, after it docked, the staff gave us scorched almonds and blueberries. Steph's partner, they told us, had been in touch and was waiting patiently at Te Anau Downs.
It had been a Christmas—and, for Steph, a birthday—to remember. The adventure had tested our limits, treated us to stunning scenery, and had briefly obliterated our faith in the Christmas spirit—only to then see it refreshingly revitalised.