Features
Whatipu Caves and Pararaha Valley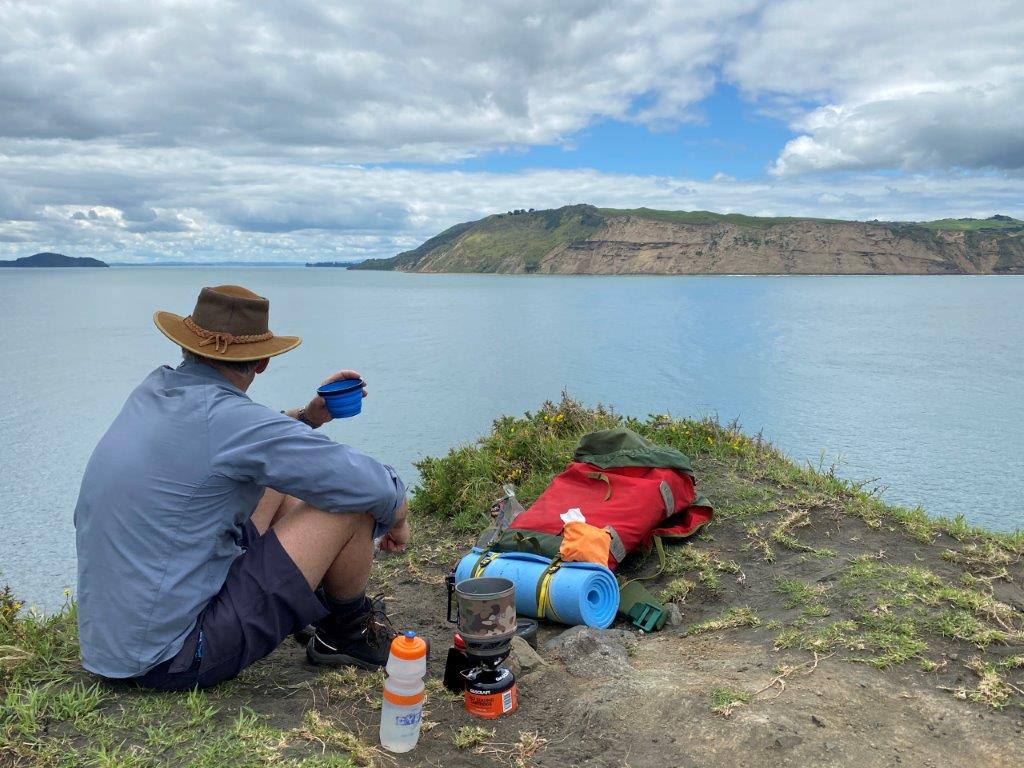 The West Coast at Whatipu is such a unique place – the constant roar of Southern Ocean swells crashing onto a black-sand coast, brooded over by crumbling cliff faces. No maiden-hair ferns or daphne bushes here, this is a place of hardier nikau, harekeke flax and cabbage trees and as we would find out, almost impenetrable stands of kanuka, gorse and blackberry.
We would also discover this place was being enjoyed by some very unwelcome exotic mammals.
If the West Coast were a character, at times it would be a beautiful Polynesian maiden with jet-black hair and shining dark brown eyes but lose respect and it quickly transforms into a Siren with dire consequences. It does not care what your intentions are – it sets the rules. Respect it and you will be amazed by its beauty.
So, in early spring with the promise a few warm days, light northerlies and a mid-day low tide we set off for Whatipu at the mouth of the Manukau Harbour. The Gibbons and Zion tracks along the cliff tops were still closed and a trip along the beach did not really appeal, so our intention was to tramp to Karekare along the base of the cliffs about a kilometre inland from the coast. Our goal was to make it to Karekare Point by the midday low tide. Easy.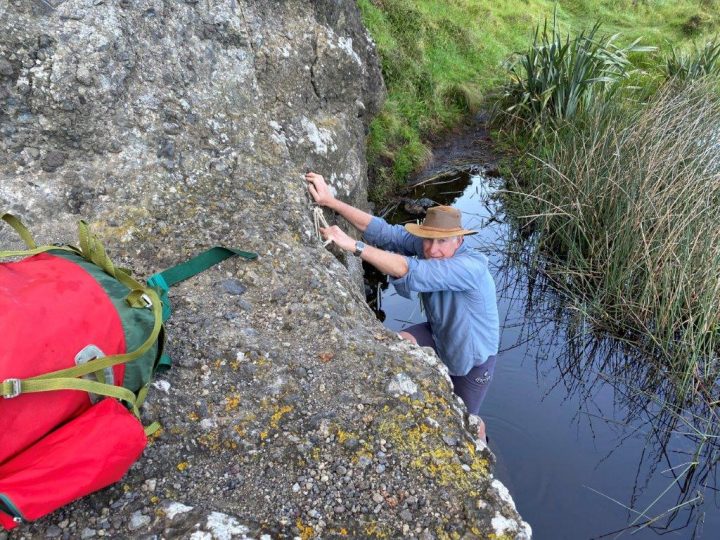 After arriving a little later than expected, we didn't think too much about what would turn out to be a painful mistake – we hadn't packed full gaiters. We set off in a bit of a hurry and as so often happens we unintentionally took the short path to the beach, emerged from the low scrub, stopped and stared, amazed by the view in front of us.
Rugged Paratutai Island dominated the skyline to our left, Te-Toka-Tapu-a-Kupe (nine pin rock) in the distance ahead of us. A gentle offshore breeze was holding up some quite small, very un-West-Coast looking surf, but in the far distance we could see the swells breaking on the infamous Manukau Bar. The vastness was stunning.
We felt drawn to Paratutai Island and found the battered remains of the 1880's wharf and jetty, with a view to the deceptively calm waters of Wonga Wonga Bay. After scrambling up the foothills of Wing Head we were rewarded with 270-degree vista. From Cutter Rock and Pararaha Valley to the north-west, South across the black sands of the bay to the Manukau Bar and East across the Manukau Harbour to West Auckland, all looking glorious in the spring sunshine.
Whatipu is the name of the Taniwha that once resided here which only adds the aura of the place. This was far too spectacular to leave in a hurry and with the weather forecast looking even better for tomorrow, we chose to change plans so we could spend some more time here. We would camp the night at the designated campsite at the Caves and continue onto Karekare tomorrow. It would turn out to be an even better decision than we realised.
After enjoying an early lunch on Wing Head, we sat sipping hot coffee and gazing out at the priceless view. It was well over an hour later before we made our way onto the Caves Trail, an easy hour or so walk along a well-worn path.
Although I knew of the existence of the caves, I had no idea how many and how large they were. The first cave quickly drops to less than two metres high and then we had to leave packs, turn on torches and scramble a few metres into the darkness.
The other caves just get bigger and more spectacular as you head north.  To give an idea of scale the aptly named Giant Cave is so large that the locals held formal dances back in the late 19th Century. Even with several metres of sand now filling the floor of the cave, it must be one of the largest I have ever seen in New Zealand, certainly one of the most easily accessible.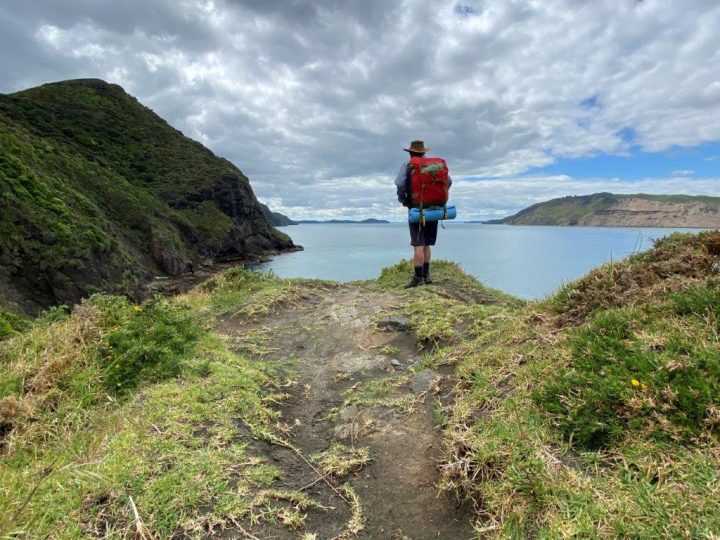 Children would love this place so plan for 2 to 3 hours. Bring along cycling helmets. And torches.
Much later that afternoon we set up camp and climbed a short track and settled down under some Pohutukawas and enjoyed a dinner of Go Native butter chicken and mash. Below us a black swan and Pukeko were feeding in a small pond in front of Windy Point. Thick cloud on the horizon spoiled the sunset a bit, but we eventually settled in for the night to the sound of a couple of Moreporks trying to outdo each other. A great way to finish a memorable day.
Next day was as promised, bright and clear with almost no breeze. The downside was a dew fall that was wet enough to have been a decent rainfall.
I had been warned of a "tricky little climb" at Windy Point, the entrance to the Pararaha Valley. As it would turn out "tricky little climb" was a typically understated kiwi description  – standing on rocks set in shin high water, the climb was only just over 2 metres high, but very vertical with cracks that were not tramping-boot-friendly. For my partner anyway. My Keen Targhee III handled them easily –well ok, maybe not entirely easy but certainly a lot easier than it looked.
Once we had clambered over the ledge the scene before us was mind blowing. Almost as if we'd stepped into some secret valley.
The well-worn track that had led to the caves was now covered in knee-high kikuyu grass and would soon disappear altogether.  Huge rocks and boulders lay just below the cliff next to us. The cliff itself was bare, crumbling rock that had been dealt to by centuries of wind and rain. Further north the lower reaches of the cliffs were thickly covered in pohutukawa and nikau. Ahead harekeke flax, ti kouka cabbage trees, kanuka and gorse covered the undulating valley floor.
We could still hear the distant roaring of the Tasman Sea but here in the valley there was no wind, making the stillness eerie. Very eerie. It was easy to imagine Jeff Goldblum and Sam Neill desperately stumbling across thick matted kikuyu ahead of us, an angry T-Rex in tow.
This is another reason why we go tramping. Five centuries ago, this valley was used by Te Kawerau a Maki people to grow kumera which were stored in pits protected by the steep faces of hills to the south of Whatipu. Right now, it felt like we had stepped into something only recently discovered. I imagined how even more magnificent it would have looked before the logging of the massive Totara, Kauri and Rimu began in 1880's.
Although the thick kikuyu made it reasonably heavy going, there were numerous faint tracks, and it was clear from the number of baits set that a few people made the trip here. At the time I didn't really think too much about the several tracks that seemed to be disappearing into thickets of kanuka.
Every small rise we walked over led to a different scene and we soon reached the large pond fed by the Taranaki Stream. The pond itself was glassy calm, with a couple of paradise shelducks calmly moving to the other side as we approached. It looked so amazingly peaceful.
It was becoming difficult to find a single track that headed north. They all criss-crossed the thickly matted kikuyu and we often found ourselves in bog if we ventured too far from the base of the cliffs. After having to backtrack several times around clumps of gorse or kanuka and climbing over pohutukawa branches at the base of the cliffs, we eventually reached Ohaka Head. Then it became difficult. The inland route was very steep and getting steeper the further we north we ventured. Below the bluff was a waist high pond with a floor of thick mud. If we were going to make it to Karekare in time we had to head to the beach, over a kilometre away.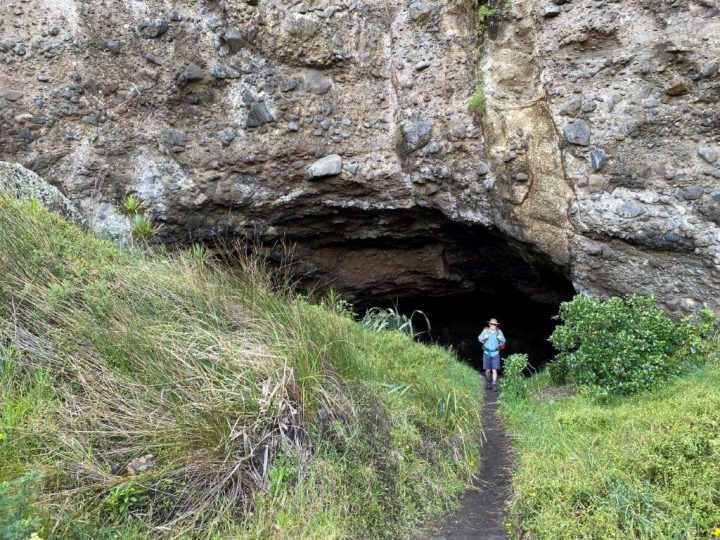 We backtracked yet again until we seemed to be clear of most of the bogs, stopped for a snack and quick coffee (shout-out to those Jet Boil folk) and headed out across the marshlands.
It was then that I came across a large patch of flattened grass and it became clear who was making the many tracks through the grass and into thickets. I am no highly experienced pig-hunter but is obvious that many trotting swine have free reign in this place.
It was slow, heavy going as we would our way around thick kanuka and impenetrable clumps of gorse. Knee-high grass was interlaced with blackberry – how I missed those full gaiters. It was well over an hour later before we emerged scratched, bruised, hot and hungry onto the black sand of the beach.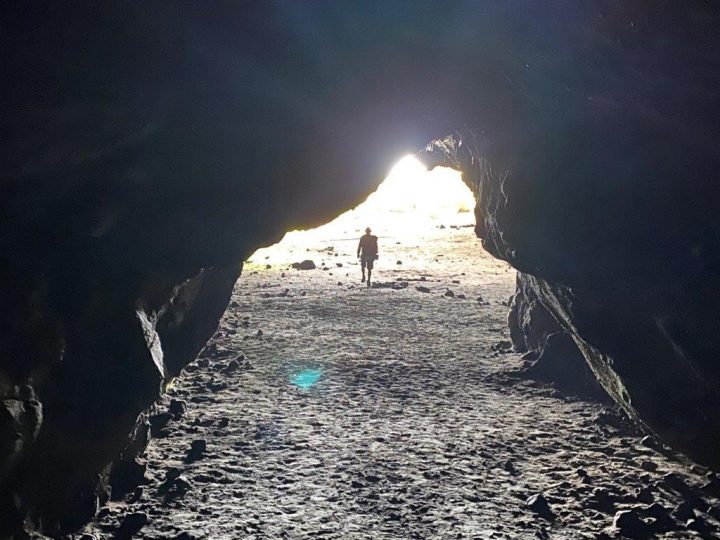 We knew we had run out of time. Time to show that respect and head home.
Even so, we were in high spirits as we headed back along the beach to a night at the Whatipu Lodge camping ground, a fresh cold shower, followed by some spaghetti bolognaise (love those Go Native chefs) and a well-deserved glass or two of red wine.
Click on the name to see what products I choose to use
Thanks to Macpac, Go Native and Keen
Eric Skilling