Features
A BIG Swim Swim
256 km Clutha River from Wanaka to the Pacific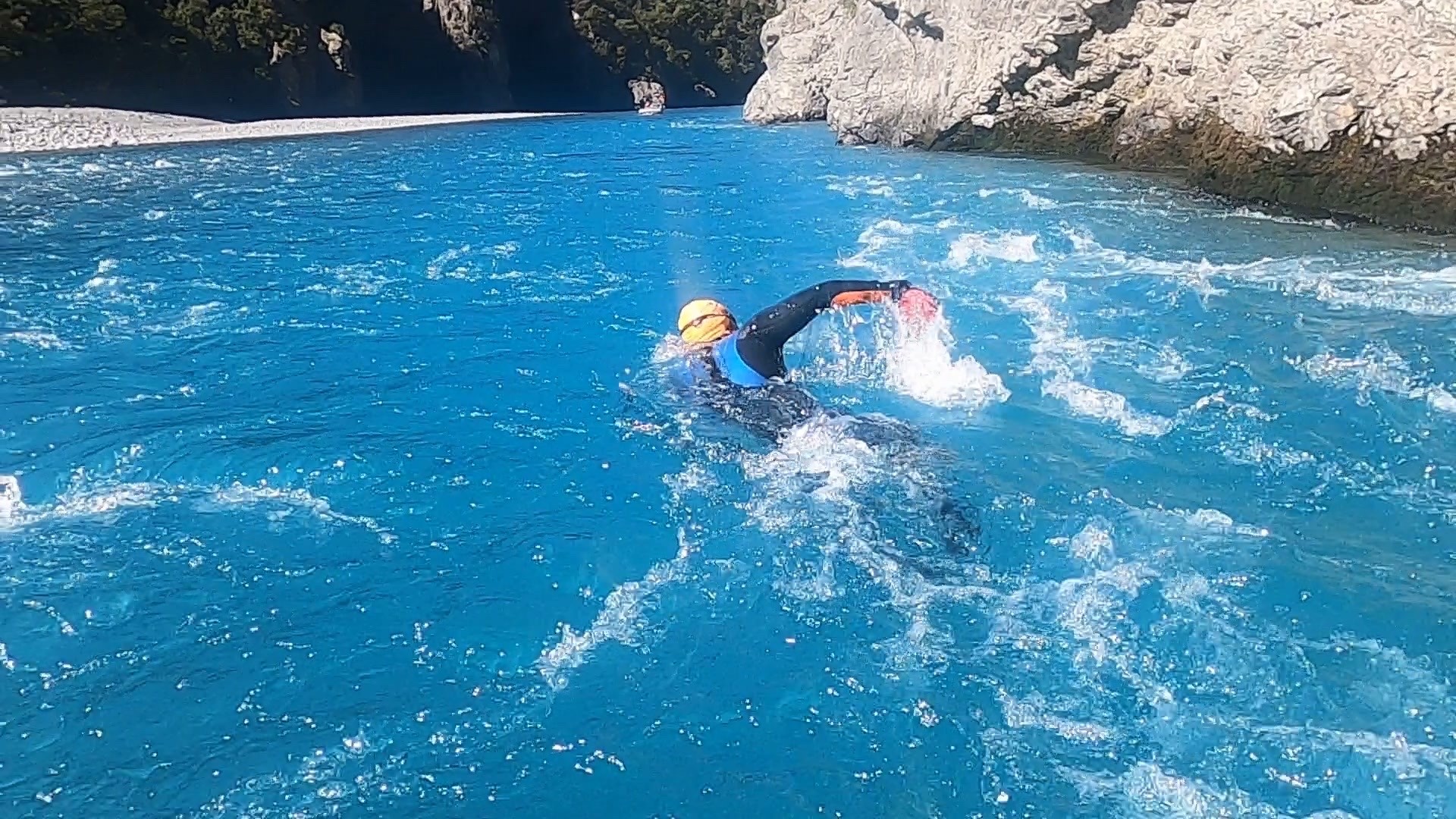 My hands sliced through the pristine and surging water of the Clutha River when Laura, my support kayaker, stopped me to prepare for the all-out sprint that was ahead. Devil's Nook was one of the sections of the Clutha I was most concerned about. A sharp, hairpin bend with fast-moving rapids and a rock wall cliff face on one side. It is the section of the river where many kayak tourists need rescuing. And I was without a kayak.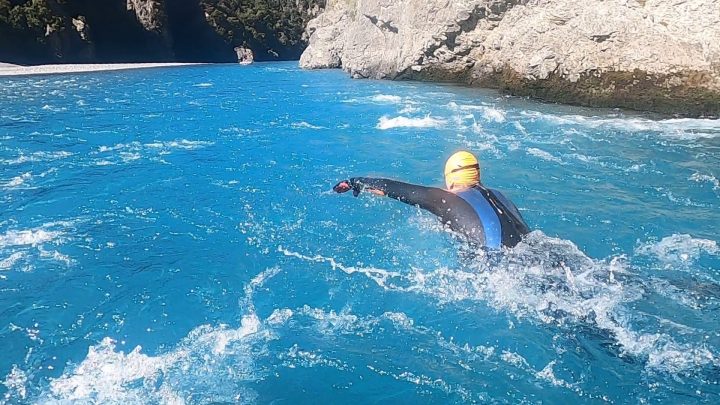 Sam, my other support kayaker, had earlier joked, "usually, the goal of white water kayaking is not to have people in the water." He and Laura had eagerly volunteered to support my unprecedented marathon swim—an attempt to swim the 256 km Clutha River from Wanaka to the Pacific.
In river swimming, unlike conventional marathon swimming, it is impossible to hold a steady pace. One of the most common remarks people made when they heard about my plan was that downriver swimming must be easy since you're going with the current. While obviously going faster with the current, the swimming is actually harder because your arm is going against the oncoming current as you do your stroke. On top of that, you have to be prepared to sprint at any given moment to get around a corner, through a rapid or dodge a rock. Feeding at regular intervals, as you would in most marathon sports events, becomes tricky as you may have to sprint or get through a challenging section of the river before feeding becomes possible.
Devil's Nook required a perfect line entry into the centre of the rapids, then a flat out sprint to get out of the rapids and into the relatively calm waters before potentially being swept into the rock wall. I'd already been swimming for close to two hours when I reached the Nook.
Laura guided me into the rapids perfectly; then the rest was up to me. With both my support kayakers ready to pull me away from the rock wall if necessary, the minute-long sprint was one of my favourite moments of marathon swimming in my 30 years in the sport. And nearly 250 km of the Mighty Clutha remained in front of me.
I dreamt up the February 2020 Clutha River Swim some ten months prior. I'd moved to New Zealand in 2018, the fourth time I'd moved countries in my nomadic life. In search of adventure, I'd been swimming, cycling and running over much of the South Island. I've ridden my mountain bike along the Old Ghost Road and St. James Cycleway. I've run Avalanche Peak and Mt. Somers, and the St. James Walkway. I'd swam across Lake Te Anau, down the Waiau River and across Lake Manapouri in a F.E.A.R. Society event. Three weeks after that, I completed the first known full-length swim of the 14 km Akaroa Harbour. Then, just a month before the Clutha River Swim, I'd become the first person to do a marathon swim in the Buller River, swimming 42 km in just over 7 hours, from Lyell to the end of the Buller River Gorge.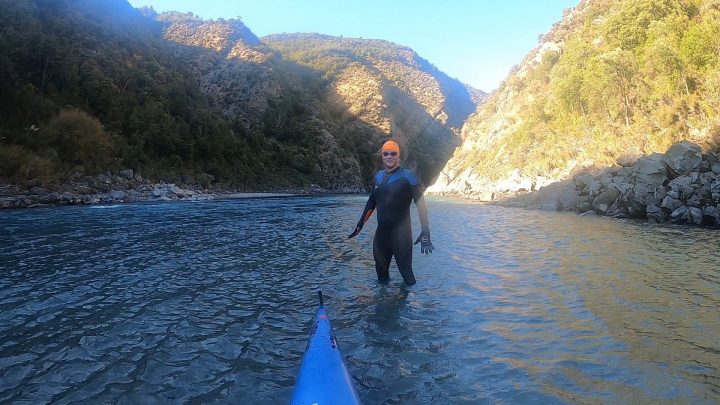 Despite my competitive triathlon background, by the time I moved to New Zealand, I felt that my interest in competition was waning. I'd never been an elite level triathlete or marathon swimmer, but I did manage to secure a spot on the 1998 Canadian National Triathlon team in the 20-24 age group. My best Ironman time was 10 hours and 17 minutes, and I'd performed well in age group races in Canada, England and Australia. Perhaps it was because I was getting a little older or could no longer chase personal best times. I believe, however, it was because most triathlons were urban-based events, and I was craving being out in nature. I still wanted to push the limits of my endurance, but I also wanted to stop and soak up the scenery of beautiful environments, either by myself or in small groups.
I began training for triathlons in 1989 and also marathon swimming in 1993. After failing miserably in baseball and basketball, unable to throw or catch a ball or do anything that requires aiming for a target, I started swimming because I was allowed to participate in the races, despite not being the best. I then took up triathlon and eventually trained myself not to trip over my feet as I ran. I eventually became a reasonably accomplished runner.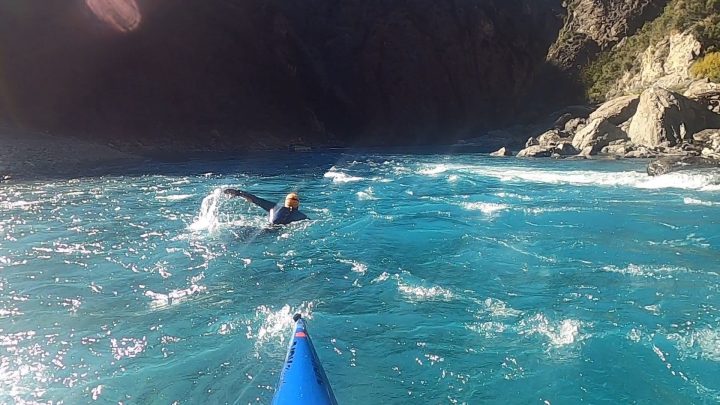 Triathlon and marathon swimming also became a sanctuary. My turbulent teenage years were spent either on the racecourse or fending off an alcoholic father. My decision to become a triathlete and marathon swimmer, coupled with the desire not to become an alcoholic, shaped my adult life. Despite not being elite, I formed an identity as a triathlete. And for a short while, I struggled with not feeling much of the competitive urge anymore. When I began creating my own marathon swimming and triathlon related adventures, I came to realise that my self-worth and identity wouldn't fade away if I mostly moved away from competition.
On Day 5 of the Clutha River Swim, starting about 4 km upstream of Balclutha, in a cow paddock, I headed towards the Pacific approximately 22 km away. The previous day I'd dodged rocks and sprinted through rapids over an 84 km distance, which took about 9 hours. On that final day, there would be no more whirlpools or rapids for me to contend with as I approached the ocean.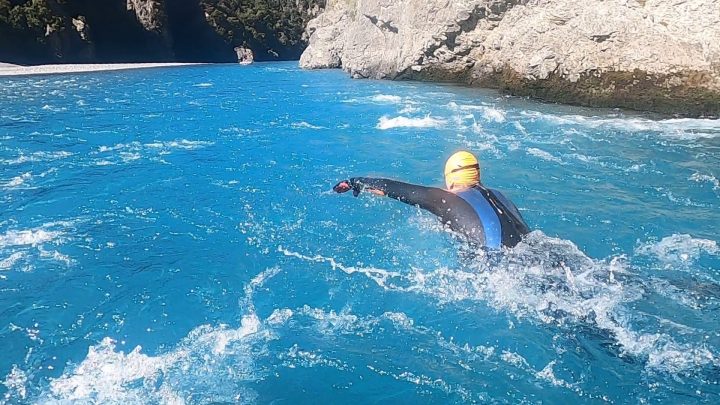 The Clutha River Swim wasn't a competition. And I didn't feel that I'd 'conquered' the Clutha. No, river swimming is a lesson in having no control over outcomes. Even if the weather cooperates, river swimming requires optimal conditions in the river, particularly in New Zealand, where the rivers are relatively short, and the levels can rise and fall in the blink of an eye. Just three weeks before the Clutha River Swim, a severe storm caused flooding of the Clutha, and the waters did not recede until a few days before I began. In other rivers, the problem can be that the water levels drop too much, to the point where the depth is not swimmable or too many rocks make swimming too dangerous.
When the Covid-19 lockdown hit in March 2020, just a month after I completed the Clutha River Swim, I began another endurance project that I'd always wanted to do—write an adventure memoir. In addition to enjoying more time in nature as opposed to competition, I also wanted to spend more time being creative. I'd been very creative in childhood but had largely neglected it in adulthood. The Clutha River Swim felt like an epic conclusion to such a book, and I unexpectedly had the time to write it. It took a lot longer than the seven-week lockdown to write, and I didn't finish the manuscript until February 2021, followed by dozens of edits.
I began writing my book, Downriver Nomad, knowing that it was mostly a project in self-exploration and self-reflection, not unlike how I'd come to view endurance sport and adventure. Like many endurance athletes, I'd had many gruelling races and adventures, no shortage of comedic mishaps, and my share of heartbreak and challenges. Despite not having broken any world records or winning an Olympic medal, I felt I had an entertaining journey to share with my fellow adventurers and endurance athletes.
The Clutha River Swim took 4.5 days and is not even close to being the longest multi-day swim ever completed. However, when I first spoke to anyone about attempting it, I was told, "Swimming the Clutha would be impossible. Only an idiot would try it." Realising that I might be physically capable and that it wasn't an adventure that would cost the earth, I decided to be the first idiot to try it.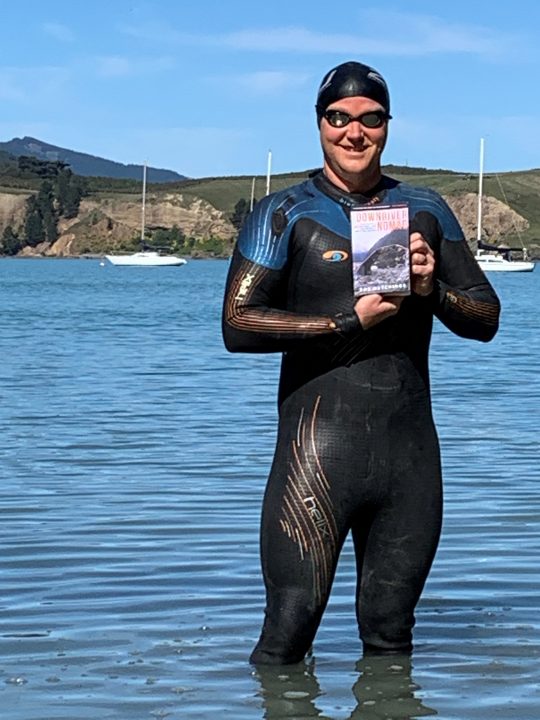 It has since inspired other adventures. Since swimming the Clutha, I joined Real Swim Adventures, managed by Dan Abel, a top Kiwi open water swimming coach, for a six day swimming adventure in the Fiordland. I became the first person to swim across the frigidly cold but breathtakingly beautiful Lake Coleridge. A few months later, I swam the 26 km Lake Tekapo, a swim I'm told had only ever been done once before. In March 2021, after being forced to postpone the swim four times because of unfavourable river conditions, with the aid of a jet boat and kayak supporter, I swam the Waimakariri river gorge in the wildest swim of my life. There's probably a good reason why nobody had ever swum the gorge! For four hours, I swam the approximate 35 km, sprinting like a madman around the bends to avoid being swept into the rock walls.
I'm now working on another unprecedented swimming expedition. In February 2022, on Waitangi Day weekend, I plan to attempt to swim the perimeter of the Banks Peninsula, from Sumner Beach in Christchurch to Akaroa Jetty, a distance of approximately 80 km over three days. I then plan to swim the 20 km Milford Sound fiord, followed by a full-day run of the Milford Sound track.
New Zealand offers an amazing playground for any adventurer, and for a competitive triathlete turned multi-sport adventurer, the opportunities are endless.
My book, Downriver Nomad: A Triathlete's Adventures and Adversities into the Rapids, is available here: https://adventuresoutsidethelanes.com/downriver-nomad/ and on all of the major online book retailers.