Events
AVAYA : Captains Report GODZone 2021,
EVENT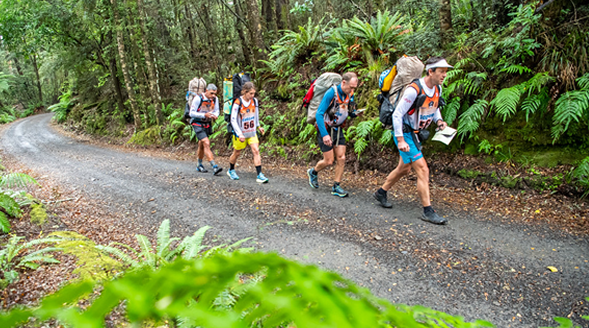 by Nathan Fa'avae, 15th March 2021
It's been 5-days since I crossed the finish line of GODZone 2021 and I haven't really stopped moving since. I had to get back to Nelson as soon as I could to deliver the Summer Challenge women's adventure race where we had 750-women participating. The event was hugely successful and today I get some time on the couch with my feet up, nursing a small race injury, coffee cup within reach. It's been a solid 2-weeks of adventure racing without question, from racer to race director.
Let's wind the clock back a few weeks.
The new language we've become quickly accustomed to, levels and lockdowns, threatened to disrupt the GODZone again, which would have been a cruel outcome given the event was already postponed with the aim of getting clear of such a scenario, but it serves as a reminder that while we mostly enjoy normal life in New Zealand, the world is still massively disrupted, and occasionally that disruption spills over into our little utopia.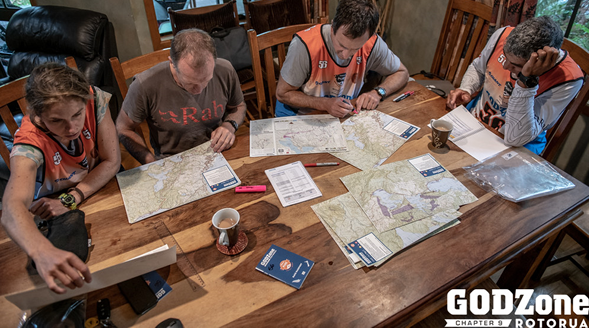 Thankfully GODZone was committed and determined to run in Level 2 which is hugely admirable and appreciated. I have been in the same situation with our Spring and Summer Challenge events, being faced with Level 1, Level 2 or postponed events literally means you have to plan for 3-events at the same time, the workload is immense and stretches limited resources beyond belief.  For that reason we'll forgive them for listing us as a UK team, most people know we're really from NZ. To push on and run the event with so much Covid uncertainty present was a herculean effort. To the GODZone staff team, take a bow, what you managed to do was simply exceptional. It's a commitment and service to the sport that is from the heart.
Somewhere in the build up we were informed we'd need a support crew. That was an easy decision for us, Mark Rayward who was our team assistant in Eco Challenge Fiji was our preference and he agreed to help us out once again. Mark likes to work alone so that kept things clean and simple, he wasn't interested in having committee meetings at TA's on whether to park the Hilux facing the trees or away from the trees, or discussions at 4-Square Murapara over buying 1 or 2 bunches of bananas, coke or pepsi. Mark has raced Southern Traverses, GODZones and has a diverse range of skills making him an extremely resourceful person to join our team. He had just completed the Tour Te Waipounamu bikepacking race so was looking forward to a holiday.
Fast forward to getting the course and maps. Our initial impressions was that the course looked great, interesting places to visit and explore, and plenty of diversity in the stages to keep things interesting. Starting on bikes is our least preferred stage 1 as you are at the mercy of so many other riders not to crash and damage bikes, there were a few occasions in stage one I was tempted to turn around and ask, 'can you please not ride so close to me, because I don't trust you', but we were in the last start wave which we were pleased about, we hoped it'd be less race hyped and we could ease into the day.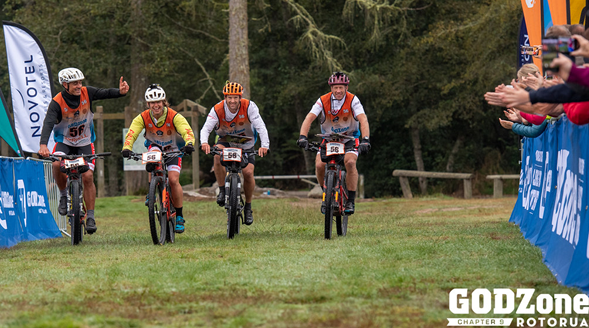 As team captain and the one who mainly focuses on the strategy and bigger picture, which allows Chris and Stu to focus on navigation, I sometimes see the race a jigsaw puzzle and it's who can solve the puzzle first that wins. Going through the course stage by stage it became obvious the Mohaka dark zone could be a race winning opportunity, the key piece to the puzzle. We did a number of calculations and believed we could clear the dark zone on the Sunday afternoon, all going to plan we reckoned we could start paddling at 1:00pm, which would give us ample time to complete the river stage (we also calculated we'd finish the course on Tuesday – later denied). We knew that the ultimate scenario would be for us to be the only team to clear it, certainly wishful thinking the night before a race but it couldn't be denied that'd be the ideal outcome from a racing perspective, but out of our control if other teams made it, all we could do was travel as best we could with the 8:00pm dark zone as the target. From that our strategy and plan evolved. We would have a crack at getting off the river on Sunday, we'd take the dark zone out of play so to speak, at least for us. We were well aware that there would be a multitude of things that could hinder such a goal. We had plenty of respect for the other teams so we had to be mindful that another team clearing the dark zone on Sunday and us being held up on the river would not be something we wanted to happen.
Our team has raced so many major events all around the world that the pre race build up was very relaxed and chilled. In fact, the challenge is more about trying to get engaged in what is about to happen. Racing in New Zealand is such a luxury as we have everything we need at our fingertips, and we don't have the travel issues associated with racing overseas. Unfortunately for Chris he turned up in Rotorua with a nasty cold, I began physical distancing as I knew the race was going to push me to the limit already, without some bug to battle with, meanwhile Stu was awaiting results from a Covid test, we're ready to race right? In many ways, knowing Chris wouldn't be at 100% was a quiet blessing, it'd mean the pace wouldn't be so hot. If we had any concerns going into the race it was Chris's health and the imminent bad weather approaching, with a few earthquake and tsunami risks thrown in.
Let's get into the course.
STAGE 1 : 40km Mountain Bike
Starting in the final wave 30-minutes behind the first teams on course felt relaxing and suited our approach to the race. Given we had a 5:30-hour mandatory rest after stage 2 there seemed little point pushing hard from the start, that said, we didn't want to concede any significant time to other teams either, but we weren't overly concerned about that truth be said, it was going to be a 4 to 5-day race and we know that it's easy to be lured into scrapping for minutes on day 1, only to pay the consequences for that on day 3 or 4 by which time you'll be throwing away hours. Experience has taught us that a 'stock take' on the morning of day 2, after the first night will show us who the contenders are for any given race. Races are not decided on Day 1 but often ruined. The stage 1 ride was fun, we rode steady but had quite a few delays as we got caught behind slower teams in single track sections, so we rode quickly when we could, otherwise just rode patiently with the teams around us. As always, it felt good being underway and it was fun seeing so many teams on course, many of them friends cracking jokes as we passed.
STAGE 2 : 68km Pack Raft
Starting the stage we were informed that the leaders were about 10-minutes ahead. That surprised us, it didn't mean much but it was promising that we'd reduced the gap without trying to do so, we just continued on doing what we were doing and it wasn't long when we made contact with the front of the field. For a few brief moments we saw the leading teams, it's always interesting for me to observe how the other teams are going, I always maintain that we should be working less than the teams around us, if we're working harder than they are on day 1 we're not pacing sensibly. From what I could tell, as a generalisation, I felt our team was idling along at a nice pace and most of the teams I could see were a gear up. This was probably a fairly accurate observation as we ended stage 2 with a small but comfortable lead, which meant at the restart we'd be off on our own, that separation is something we value. At the TA we enjoyed a nice meal that Mark had prepared and climbed into bed for some rest, luxury. Perhaps noteworthy is that about 50km into stage 2 was the last time we saw another team for the rest of the race, we raced 4.5 days without seeing another team.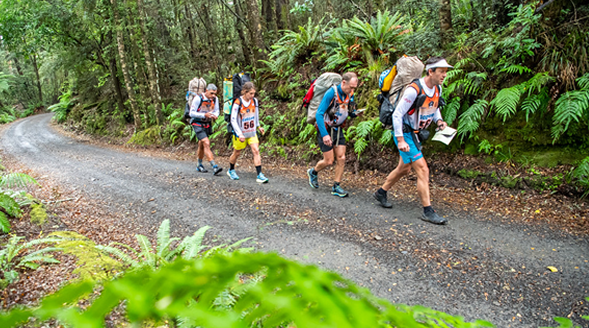 STAGE 3 :  138km Mountain Bike
Even more luxury when I was woken by the scent of brewing coffee, how good is life? real good. I was excited about the day ahead, I've been wanting to ride the Moerangi for years and today was the day. We mounted our faithful Blurs and started ticking away the km's, Santa Cruz owners will know that the bikes are a joy to ride anywhere, but ride them on a quality trail and the experience is heavenly. The ride was everything I hoped for, we had a stunning day as we enjoyed some genuine single track riding. We made it through the ride without any issues, almost, Sophie did have one crash landing in Ongaonga, she was yelling that she was getting stung, as I was helping her up I explained that what she landed in was actually Makomako, which doesn't sting, only then to realise my hand was in the Ongaonga bush, dam it.
STAGE 4 : 21km Rogaine
As much as we loved the ride, it was welcomed being on our feet and into the walking stage. On the bike it's not easy to eat what you wish and you can't just stop to adjust something as you could lose sight of the team, walking is always good for refuelling, chatting and doing other things, making up meals etc. Chris was ultra excited to have some navigation to engage and test him. So eager was he to get out on the stage he forgot his map. Sorry Stu, you're outranked in the navigation chain of command, you are ordered to hand your map to the superior. We had a few hours of daylight and we enjoyed moving through the forest, it was really pretty. We had a 20-minute delay at CP16 when it wasn't where it should be, we looked around for a while and finally decided to move on, it's never a nice feeling moving on having not found the checkpoint but we all agreed it wasn't where it should be. Once we got into the night the hardship began. It started to rain and the temperature dropped. We were lucky that RAB had fitted us out with brand new gear for the race, my only mistake was that I hadn't brought enough of it onto the stage. Other than being wet and cold, we moved smoothly through the stage, Chris was on target and everything was going smoothly until the descent from F towards H. What was on the ground was quite different to what was on the map and we had to move carefully to avoid getting caught in choked up windfall or wood choked stream bed. Arriving in the valley floor from a small spur, Chris wasn't 100% sure if the stream to H was east or west of our location. We all agreed it was likely west. Looking back, we think it was probably just a few metres to the east, but we started west and after a short while reached a significant stream bend which confirmed our location, we'd been moving away from H. It was really slow going so we had to decide to return to H or to get G instead. After a short discussion we opted to go for G, which didn't do us any favours, getting to G at stream level was a mongrel. From G it was straight forward to I and CP17, and onto TA4 to end the stage. We were in good shape but we were wet and had varying levels of coldness. We knew the bike was going to be biting cold so we layered up. An old mate of mine from school days was the TA manager, Wayne, he was cracking up as we put plastic bags on our heads and stuffed dry bags inside our shirts to trap heat. We didn't spend long in the TA.
STAGE 5 : 70km Mountain Bike
This ride was a mind game for me, from some reason I thought it was 40km, so after riding for a few hours I was surprised to hear we were approaching halfway. I was feeling the cold, it was dark and the riding wasn't inspiring. It felt like the ride went from bad to worse, for starters it all felt uphill, riding across farm paddocks then finding ourselves in an area of forestry slash with no obvious route out. Then we had about 5km in long grass next to the highway, dropping my front wheel into an unseen hole and going over the handle bars was probably my highlight of the ride. By the time we reached the end of the stage we were fairly beaten up. The weather more than anything had stripped us of whatever reserves we'd hoped to carry through into the next stage and Chris's cold was getting worse by the day. We were constantly doing the math on the Mohaka dark zone and it felt like it was starting to slip out of reach, the possibility of clearing the river. The TA at the end of the ride we had to make a smart call. We still believed we had a chance of clearing the river but we equally knew we needed to look after ourselves, it wasn't critical that we cleared the river, the risk of going to hard wasn't worth it, the race had days to go. We all agreed we needed a rest before loading up massive packs and climbing out of the TA. We debated having a 1 or 2-hour sleep. In the end we agreed that with a 1-hour sleep we could recover that time getting to the river, we'd go faster as a result allowing our minds, eyes and bodies to rest. While a 2-hour sleep would have been preferable, we weren't confident we'd recover that time and it was certain we'd get a good sleep that night, either at the Mohaka put in, on the river somewhere, or off the river and in a hut. We climbed into our beloved sleeping bags for an hour.
STAGE 6 : 54km Pack Raft
After the sleep we felt recharged, Mark had made us a hearty breakfast which we washed down with mugs of hot coffee. It was mission on, we reckoned we needed to be on the water by 4:00pm at the latest to have a shot at getting off the river. We were motivated. Climbing to the top of the hill was quite slow going in places, lots of bush and wind throw to contend with, it was slower travel than we hoped but we moved with intent. After a few hours of bush bashing we stumbled onto a good trail not marked on the map, then we started to move quickly. Any teams that located that trail earlier or from the start would have made quick work reaching the Te Iringa trail. It felt like we'd lost time getting to the trail so we needed to increase our speed to the river, which meant running, we tightened our pack straps and set off, it's difficult to think of anything more enjoyable on day 3 of an adventure race than a 3-hour trail run with a big pack. The whole afternoon was based around calculations, how far to the river, how much time have we got. The task though was simple, go as fast as we can until 8:00pm and see where we end up, we were aware that we didn't necessarily need to clear the river 100%, we could hike on the river bank after 8:00pm and there was a trail on river right that came 8km up the valley to meet us. Once on the river all we could do was paddle as fast as we could. It was easy to stay motivated as the river was so much fun, technical rapids and very pretty, every corner provided another incredible piece of stunning wilderness river, cheered on by the whistling Whio. The Frontier pack rafts come into their own downriver and we were making super good time, putting on shorty after 4:00pm, as each hour went by our progress was pleasing. There was a time that we felt we'd get to the end before 8:00pm but then we were slowed by a section of winding river and an hour went by with minimal distance covered it seemed. We weren't perturbed though as by this stage we were confident by 8:00pm we'd be next to the trail. About 7:45pm we passed Te Puia Lodge which was a huge relief, it meant we could continue unimpeded. Now it was just a matter of getting as many km's done from the comfort of the pack rafts. At 8:00pm we exited the river 2km short of the TA, so we had a short walk to the end of the stage. The staff there were shocked to see us, they'd been told no teams would be there until midday Monday, we turned up on Sunday night. It'd been a superb day of racing.
STAGE 7 : 88km Hiking
As much as it would have been nice to stop and sleep at the TA, especially given there were hot pools close by, we knew to maximise the benefit from the push we'd done we needed to move further through the course. While we couldn't be sure, we didn't think any other teams would have got onto the river so this was our chance to carve out a decent lead, and essentially move our rest location further along the course, with the aim of getting into a different rhythm to the chasing teams. This is an interesting strategy call in an adventure race. Part of me was keen to push further on to Venison Tops hut. Aware that the chasing teams were potentially having a 10-hour sleep, they would restart the race with almost a full recovery and we could in fact find ourselves vulnerable as we progressed with minimal sleep. That said, we knew if we had quality rest at Middle Hill Hut, by the time the chasing teams reached Middle Hill Hut the next day, they'd be fatigued from the days racing and it should balance things out.
At the TA we enjoyed some food, sorted our gear and started hiking to Middle Hill Hut. It was a lovely night and our spirits were high, we were in a very good race position and we were on a stage we all expected to be amazing. We reached the hut, cranked the fire up, enjoyed a meal and a 4-hour sleep. By now it was Monday, Sophie's birthday, great company, fire, food, sleep, what more could one ask for. Our rest break was prefect timing as not long after we started again daylight filtered into the sky, we had some excellent views into Hawkes Bay, it was treat to be up high and look around. Our first challenge of the day was high wind, climbing Whetu we had to use all our strength and balance to stay on our feet, the wind gusts were gale force, Sophie was blown over at least once that I saw, it was a battle to get back into the shelter of the forest. The trail was appreciated, I was treasuring the fact I could walk more than a few metres without having to climb over something, go under something or get tangled up in something. We cruised along enjoying the journey. At Harkness Hut we stopped for a decent break to do some foot care and eat solid food. It was here that we recalculated our overall progress on the stage, concluding that it was going to take about 10-hours longer than we anticipated, collectively we had enough food because we'd carried mostly freeze dried products given the stage had easily accessible water, so there wasn't any concern in that regard, plus we were picking up the occasional morsel left in the huts. It meant though that we'd unlikely to be able to stop in a hut for our next sleep, the huts were either to close or to far away, or a detour to get to. The huts were also starting to be occupied by hunters so there was less appeal to sleep in them anyway. We had another good break at Boyd Hut knowing that the next push would take us through until the early hours of the morning. The staff at Boyd Hut were so friendly it was hard to leave. We were all enjoying the hiking stage even though it was turning into the never ending walk. It was dynamic and always changing. In the Mangamingi Stream we hiked up the valley as the last of the light seeped away, spotting a few Sika deer on the edges of the clearings. Despite what the map looks like, we got held up in the Pawerawera Ridge for sometime, if there was a trail through there we couldn't find it or see it. It was quite a battle, it felt like it took us an hour to cover one kilometre.
Once released from the scrub, we were happy to find a camp and sleep for a few hours. We decided to stop when we located a tent site. That ended up being hours later when we reached the Rangitikei River. We didn't find a great campsite, understatement, but we didn't want to take on the Kaimanawa Mountains without a rest, we were starting to slow down and waste time. There was a scratchy little clearing where the tent could be pitched, but it wasn't shaping up to be a night in a hotel. I decided to leave the team to the tent and build a shelter to sleep in. We decided to be hiking again at 7:00am so that gave us 3:30-hours. It was bitterly cold and we didn't have much gear, I had a new RAB Mystic sleeping bag and a survival bag but in a freezing valley they wouldn't be enough to stay comfortably warm in the open, plus I had my pack and a large dry bag. I decided to allow myself up to 30-minutes building a bivouac to be sure I'd have a beneficial 3-hour sleep. I found a fallen log the right height to lie next to. I then filled my pack and dry bag with twigs and leaves to make an insulated mattress. I lay them next to the log, it was looking good. I then dragged some larger logs and built a frame over my sleeping area, creating a tunnel, once that was the right height I went crazy dragging any type of debris to my bivy and piling it on top, in the end I had what resembled an igloo made from branches and leaves, reaching 1.5 metres high from the forest floor. It looked impressive. Then came the moment of truth. I had all my clothing on already so I kicked off my shoes, then realised they'd make a great pillow, and I tunnelled into my bags and into the bivy, it was ultra comfy, I wriggled around in the nest and got into a primo sleeping position, it felt like I was inside a real structure, not a pile of forest matter. I lay there in anticipation and after a few minutes I could feel the heat radiate from all around me, bingo, thank you and goodnight. Unfortunately for the others, my bivy ruled over the tent in terms of sleep performance, so I had to keep pretty quiet on the climb leaving camp. We were all rested though and it wasn't long and we were over the range and down to Waipakahi Hut. The lovely hikers at the hut, who knew Sophie, made us coffee with fresh cream, served with toffee pops, who said adventure racing is hard? We'd finally reached a point where the end was in sight, we were chipper as we bounced along the Umukarikari Range, taking in glorious views to the volcanoes, freshly dusted in snow. It was a big hike and a great one. It was a welcome site to see the TA and make contact with Mark again, we took a few extra minutes at the TA to enjoy some fresh food, including KFC, hot coffee and Sophie's birthday cake.
STAGE 8 : 27km Mountain Bike
Enter the twilight zone. After 4-days of mostly wilderness travel, mainly with just the four of us, we were thrust onto SH1 with trucks hurtling along at 100 km/h, on a narrow road. It was weird. We got as close to being run off the road as you can get, one truck driver reminding us that 4.99 million people in New Zealand don't give a shit who team Avaya are. It was relief to get off the highway and onto the river trail, which was fun, until I clipped my handle bar on a tree and went over the handle bars for the second time in the race, it did provide Sophie a source to jokes for the rest of the ride. Arriving at Lake Taupō for the lake paddle I was surprised by the crowd gathered there, it was nice to see familiar faces and Sophie's family were there to offer belated birthday wishes. Mark had gone next level with TA food, adding Burger King to the KFC menu, topped off with some big bottles of Coke, whoever said adventure racing wasn't good for you?
STAGE 9 : 57km Kayak
Chomping on cheese burgers and sipping Coke, we made our way up the western shores. Paddling is my preferred discipline so I was happy to get my wing blade and be on the water paddling, Chris not so much, who complained how boring kayaking is and who'd want to be a paddler. Day turned to night as we made our way through the stage, until finally the lights of Kinloch emerged. Although we didn't have far to go to finish the race in the big scheme of things, we were keen to have another sleep before the final three stages. Had we needed to, we could have pushed on but given the lead we knew we had, the risk reward equation said the sensible thing to do was take some rest and avoid silly mistakes or crashes. Chris was suffering uncomfortably with his cold so it was an act of compassionate to allow him some rest. After exiting the kayak we opted for a 90-minute sleep, after some KFC and Burger King of course.
STAGE 10: 56km Mountain Bike
With health at the forefront, we woke to more steaming strong black coffee, ideal for washing down bacon and eggs chased by donuts. Then it was out onto the ride. We were all surprised how cold the air temperature was and we even had to stop to put more layers on. The ride itself was mainly a link ride on sealed road but we were pleased to see the km's clicking by quickly. We weren't in the mood for an epic bike stage, we were actually pleasantly surprised how quickly the ride went.
STAGE 11 : 13km Pack Raft
It felt like we'd been transported to the edge of Lake Ohakuri, Mark had the pack rafts ready for action. There wasn't much else to do other than hop in and go. It was cold air so we rugged up, knowing we'd likely get damp, or even wet. It was a breathtaking night sky, the stars were magical. In some sections fog clouds wafted by making staying in sight of each difficult. The other concern was submerged logs and trees, we had a couple of close calls paddling near spikes of wood that easily could have holed the pack rafts. Exiting the stage we were starting to get excited, we could smell the finish now.
STAGE 12: 38km Mountain Bike
On bikes for the final ride. I'm sure Mark was pleased too, his duties were complete. After not seeing us for days, he'd seen us five times in less than 18-hours, each time we went through the TA leaving a trail of gear to collect and clean up. We were all shivering after being on water so the ride was good to get moving and warm up. Daylight was close by which was ideal timing as the sleep monster was lurking roadside in the shadows ready to strike. It wasn't long and we entered the forest which meant the end of the race was close, it was time for us to enjoy the position we were in and saviour the victory. The energy and excitement in the team was buzzing, we were about to finish, about to win, about to stop, all good reasons to smile. Finishing an adventure race is always special, the journey from the start to the finish is intense and challenging, the minutes, hours and days all blend into an enormous experience shared intimately by members of the team.
THE END
4-days, 23-hours and 25-minutes, with 13.5-hours sleep in total. We had a strong race, I think one reason for this is that we know what's it is like to cross the finish line and know we didn't race to our potential, it's frustrating but also motivating. Out on course it means we're constantly asking ourselves are we racing to the best we can be, are we racing like champions. For me personally it is a privilege to be a member of this team. I'm not the racer I was at the first four GODZones (2012-2015) but while I can still make some contribution it's awesome to be with them on course. Sophie had doubts about her ability to perform at the level expected, it's been a long time since she raced GODZone competitively and despite chalking up an Eco Challenge in 2019, it's difficult to start a race with confidence when you're not regularly out there racing, plus she has work and two young children to raise. It's no surprise to most though that she handled the race just fine and continues to perform at the top level with apparent ease, smiling her way through the course. Chris struggled with a cold the whole race and wasn't his normal self in terms of banter and jokes, but is navigation was normal, precise, accurate and at high speed. I'm sure Stu was pleased to be back racing with Chris for a change too, for the past four GODZone chapters they have been in different teams and Chris has got the upper hand each time, so having our core team reunited for Chapter 9 and letting it rip was fun for all of us. Stu is always a very reliable racer and contributes hugely to the team in all areas, as well as being the support navigator.
I've seen a few comments since the event that we make the racing look easy. I wish it was easy, actually I don't really. Adventure racers are people that seek hard things, we want to be challenged, we want something that will test us and push us. That was a hard course. It was a spectacular course, as they always are in New Zealand. Despite what the tracker looks like, the little race bib icon moving through the course somewhat without falter, on the ground we're working, sweating, hurting, we get tired, we get sore, we feel ill, we fight sleep deprivation, we deal with the discomfort. Each of us has highs and lows, we're constantly looking out for each other as well as ourselves, each of us taking turns carrying more gear while we allow someone to recover, sharing food, treats and stories, encouraging and supporting each other. We're always thinking about what we can do to make the team move faster, which normally means burdening more load on yourself, but we do this for each other without hesitation. One thing I'm proud of our team is that collectively we are extremely disciplined not to get wound up in the race. It's my belief that in ultra endurance events such as these you have to race your own race, always do what is best for your team at any given time and focus on the big picture, getting your team through the 666km course as fast as you can. Most teams start adventure races to fast and pay the price later on. GODZone Rotorua highlighted that again with many teams who started off pacing conservatively and made their way through the field to finish in the top 10. Momentum is key and once a team loses that it's almost impossible to regain it. We managed to keep our momentum throughout the whole race.
I want to make special mention and thank our team sponsors. Sponsorship is not easy to find, to keep or to justify, so to have loyal supporters of our team makes us truly grateful. Our sponsors for GODZone were AVAYA, Santa Cruz Bicycles, RAB, Frontier Packrafts, Tineli, Absolute Wilderness Freeze Dried Meals, Pics Peanut Butter, Pure Sports Nutrition, Saltstick.
(I am personally sponsored by Toyota, inov8, suunto,Think Kayaks, Torpedo7, MSR)
I want to congratulate all the teams that started GODZone, whether you finished or not, the fact that you decided you wanted to be part of it is a statement of your character and you can be very proud, keep challenging yourself and seeking out interesting things to do. There's always another race and another challenge up ahead.
My final words are to the organisers, Warren, Adam, Neil and their team. To organise such an event is massive and I know that what you do is largely a service to the sport, helping to keep New Zealand at the forefront of adventure racing in the world by setting the standard of event management and providing kiwi teams an opportunity to compete, learn and develop. I hope you get enough reward from creating these epic adventures and seeing all the positive outcomes that reach far further than the event itself. A huge thank you from team Avaya.
For me personally the lead into GODZone was somewhat manic. Back in 2015 when our team last raced I decided to step back from GODZone, as much as I loved the event, March wasn't an ideal time for me to train and compete, it was out of sync with the ARWS and ARWC events that we focused on, I wanted to spend the summer with my family doing adventures and not have the pressure to train at the same time. That was successful until Jodie said she wanted to do GODZone Fiordland, the difference there though was I said I'd do the race with her but I wasn't going to train, I'd race with whatever fitness I gained from doing summer adventures with our children. I thought after Fiordland that the GODZone chapter of my life over. Then Rotorua was announced and Sophie emailed the team and said we're getting together again because the race is around her home region of Whakatane, adding that it was November so there'd be no excuses, so we signed up. Then the event was repositioned to March, practically landing on top of our Summer Challenge event. When it was to moved to March I thought I wouldn't be able to enter, but once I looked at the dates, provided our team finished in a reasonable time, there was every chance I could do both, and henceforth the juggle began.
Given the current state of the World, and within the sport of AR the fact that the previous two World Championships have been cancelled, and that Eco Challenge didn't allow sponsors, we felt very lucky when Avaya signed off sponsorship, making things significantly easier for all of us. It was then important for us to deliver them a world championship level performance.