Features
Joan Atherton – A legend of her time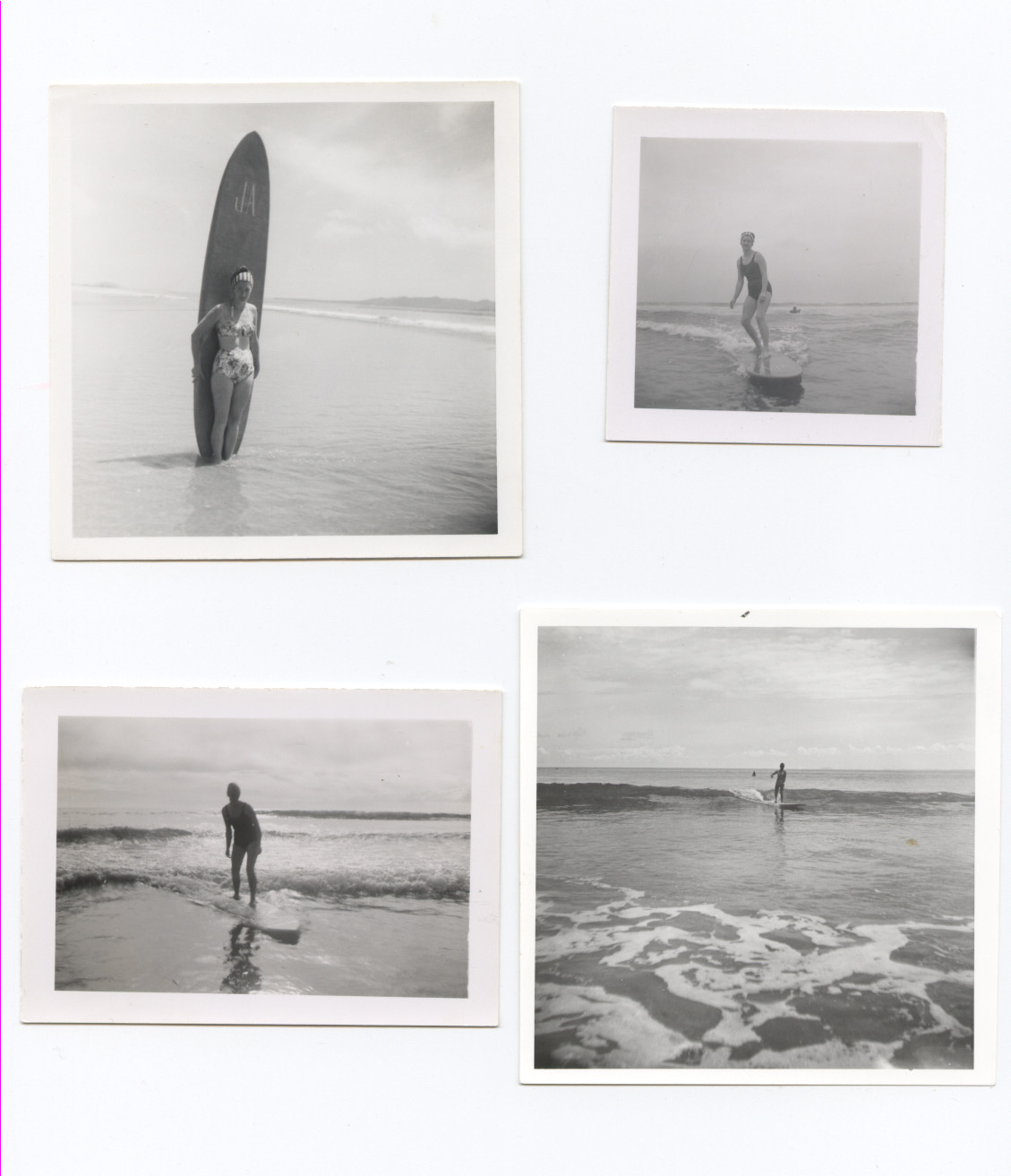 By: Fiona Pinkernell (A proud Far North surfer woman)
 About the time Gidget was taking off at Malibu, across the other side of the Pacific, the Far North's Joan Atherton was doing likewise at Shipwreck Bay. Joan who was born in Te Teko, near Whakatane, moved up north in 1956, after meeting up with her future husband Bob at a bike race on the North Shore. They set up home in Ahipara, where their son was born in 1957. Around 1960 Bob and Joan were given a surf magazine where they saw pictures of people surfing and an advertisement for a plan on how to build a surfboard. Bob, who came from a family of boat builders, was fascinated with the idea to make his own surfboard. After much searching for materials they finally sourced catalyst and foam, and Bob made a miniature 3-foot board just to see if the construction and the materials worked alright. It did and so he made his first real surfboard, a 9'6" longboard.
Bob and Joan were living directly on Ninety Mile Beach but had never seen a surfer before, so they tried to learn surfing out of a book! This is well before surf schools existed and also way before surfing became a popular sport. There was nobody there that they could watch and try to copy.  So Joan would stand on the beach with the book and show Bob pictures of what he should try next in the waves. They both had a go and began to master the basics of waveriding, so that after a while Bob decided to make Joan her own board, a 9' nose rider.
In those days they were among only a handful of resident surfers in the Far North and Joan was definitely the only woman who surfed. She was looked upon as a freak, going out there to surf. People shook their heads and usually commented with: 'One day the sharks will get you!' Joan and Bob often went surfing at Shipwreck Bay, Ninety Mile Beach, Rarawa, Taupo Bay or Tokerau, which was their favourite beach.
One day in 1966 they arrived at Shipwreck Bay and witnessed Bruce Brown filming Mike Hynson and Robert August for the most classic surf movie ever made, The Endless Summer. They were not aware that they were viewing an historic moment in surf film history, they were just surprised to see these strangers at their beach! In an unobserved moment they checked out the surfboards that the crew had brought from the USA, and were amazed by the flash equipment they saw lying on the beach.
Joan, a pioneer of women surfing, was not really aware of this fact at all until Luke Williamson wrote his book Gone Surfing, about the early surfing history of New Zealand. He did comprehensive research to find out that there was only one other woman who surfed regularly at that time, and that was on the South Island.
Joan and Bob and friends, like Neville Masters and Ken Clarke, enjoyed blissful times of uncrowded surf on both coasts of the Far North. They surfed from 1960 through to about 1979, when they began another ocean adventure by building a large trimaran. They reluctantly stored their surfboards away as they took on the new passion of sailing.
Last year Bob died and Joan spread his ashes at Tokerau Beach where they had the best times of their lives, noseriding endlessly on beautiful long and gentle waves. Joan hasn't forgotten about the special moments surfing gave her and she told me that she might have a go surfing again, just to see if she can still stand up, at 73 years of age! You go girl!
We, the surfer girls of the North and throughout the country are proud to follow in your footsteps, Joan! We'll keep the legacy alive!