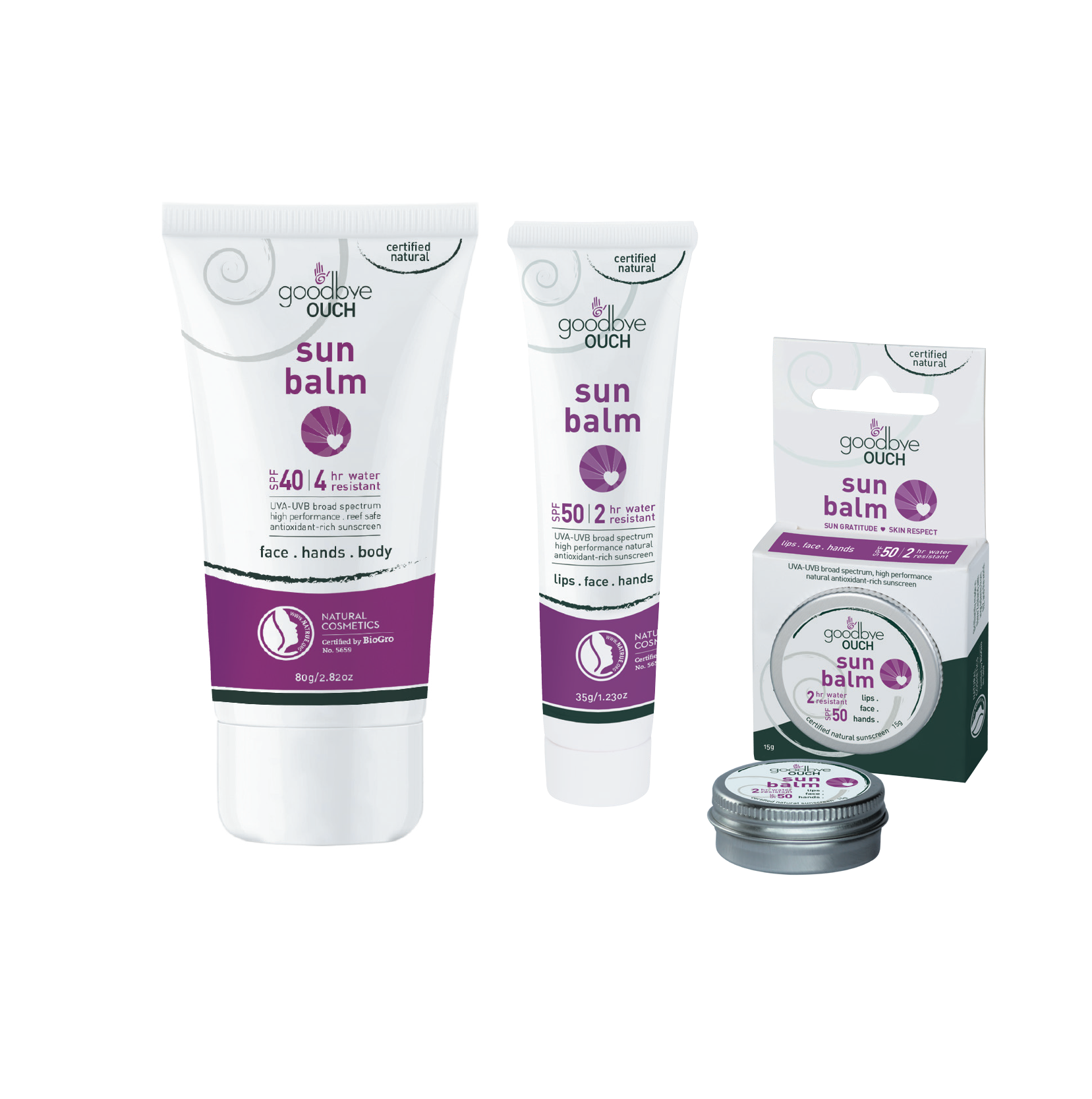 Goodbye OUCH Sun Balm, a New Zealand made, certified natural, high performance sunscreen, will take the pain out of worrying about sun protection this summer.
While the jury is still out on the accumulative effects of chemical sunscreens in your system, a USA  clinical trial[i] published earlier this year reported that six common chemical ingredients in sunscreens permeate the skin and enter the bloodstream in amounts high enough to require extra safety testing.  Levels of the chemicals, which included oxybenzone and avobenzone, increased with each subsequent day of use. Only two sunscreen ingredients – zinc oxide and titanium dioxide – currently meet US FDA GRASE (Generally Recognised as Safe) criteria.
Rigorously tested to Australasian sunscreen standards, Goodbye OUCH Sun Balm is also certified natural by NATRUE, administered in NZ by BioGro.  It is made from certified organic cocoa butter, beeswax, coconut, jojoba, olive, tamanu and peppermint oils which are combined with zinc oxide minerals to create a smooth, high quality, anti-oxidant rich blend with vitamins A, C and E to protect and soothe skin.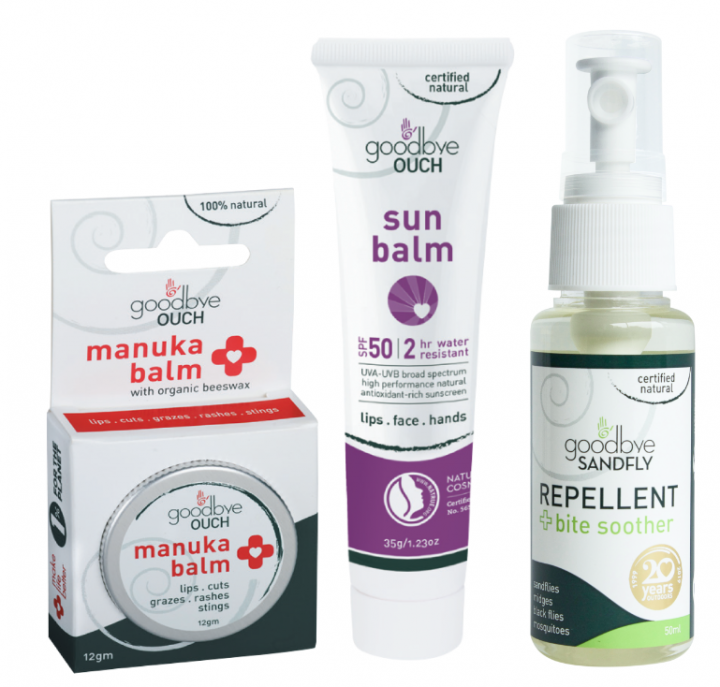 Goodbye OUCH Sun Balm is not only good for bodies, it's also healthy for the environment.  It is a water-free formulation that won't creep into eyes or slide off skin making it reef, waterways and ocean safe.
The range includes a 15g tin for lips, a 35g tube for the face and an 80g tube for the body.  All formats offer SPF 50 with two hours water resistance or SPF 40 with four hours water resistance.
Goodbye OUCH Sun Balm is available at Countdown, New World and Pak n Save, selected health food stores and pharmacies.  You can't miss it on shelf – it's the only purple one.  All products are also available online at www.goodbye.co.nz
For everything you ever wanted to know about sunscreen visit: https://www.goodbye.co.nz/goodbye-ouch-sun-balm-natural-sunscreen
[1] Journal of the American Medical Association; Effect of Sunscreen Application on Plasma Concentration of Sunscreen Active Ingredients: A Randomized Clinical Trial (Jan 2020); Murali K. Matta, PhD; Jeffry Florian, PhD; Robbert Zusterzeel, MD, PhD, MPH; et al https://jamanetwork.com/journals/jama/article-abstract/2759002