"Imagine riding a floating skatepark up in the sky." When BMX pro Kriss Kyle first dreamed up his Don't Look Down project, little did he know the level of aeronautical engineering that would be required to turn his fantasy into a reality.
Don't Look Down sees Kyle wearing a parachute and riding his bike in a Formula One-engineered BMX bowl suspended 2,000 feet in the air under a colossal hot air balloon.
By joining forces with Red Bull Advanced Technologies, Kyle is challenging conventional BMX boundaries by elevating the sport to staggering heights and aspiring to motivate up-and-coming generations to embrace BMX riding by demonstrating the sport's endless possibilities.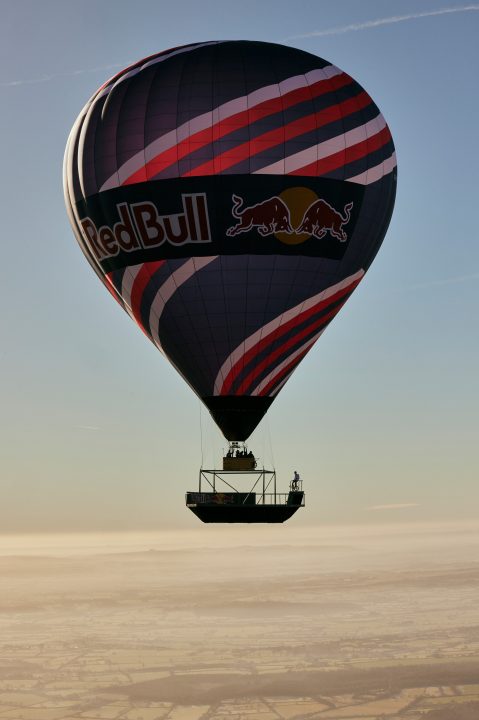 Revolutionary BMX Bowl Design: Kriss worked with Red Bull Advanced Technologies, the tech arm of the Oracle Red Bull Racing Formula One Team, to create a cutting-edge BMX bowl. Utilizing the same composite materials as a Formula One car, the team employed world-leading aerodynamics, simulation, and modelling expertise to bring this vision to life.
Giant Hot Air Balloon: Cameron Balloons, a leading hot air balloon manufacturer, designed and built one of the world's largest operational hot air balloons to lift the 1.7-tonne BMX bowl into the sky. This colossal balloon is six times larger than a standard hot air balloon.
Overcoming Challenges: The size and swing of the BMX bowl presented significant challenges for Kriss. Using his unique riding style, Kyle expertly navigated the compact space. Wearing a parachute was essential as he balanced on a metal rail over 2,000FT above the ground in -12 degrees Celsius conditions.
Facing Fears: Despite his fear of heights, Kriss has never shied away from aerial feats. In past projects like "Dubai Drop" and "One from Copenhagen" he demonstrated his fearlessness by jumping out of a helicopter onto the Burj Al Arab skyscraper and paragliding with his bike, respectively.
QUOTE: Kriss Kyle revealed how the dream began, saying "I was mountain biking up this horrible hill behind my house. It was a beautiful day – blue sky and pure sun. A thought popped into my head – 'imagine riding a floating skatepark up in the sky.'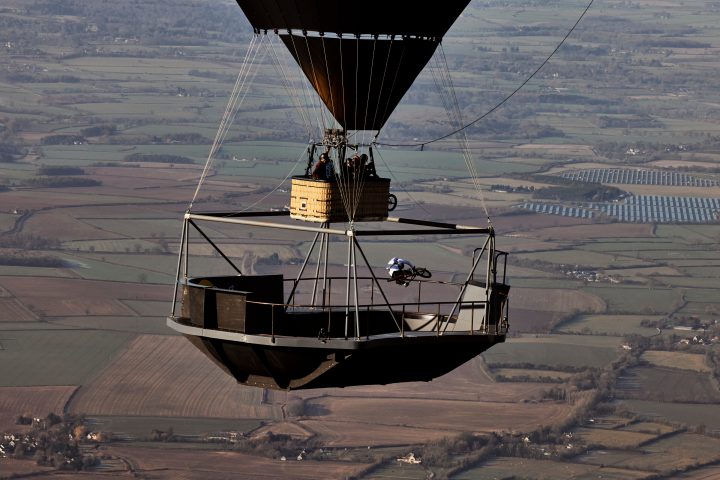 QUOTE: Kriss Kyle said: "I've been dreaming of this project for so long, but the height factor has always felt like a massive weight on my mind. I've had to push past my fears several times before, but nothing has compared to this. Having to climb over the edge of the basket to get down to the skatepark underneath was such a crazy experience. I wouldn't have been able to do it without the help and encouragement of my friends, who helped me down. At over 2,000FT you're so high up it almost doesn't feel real anymore."
QUOTE: Christian Horner – Team Principal and CEO of Oracle Red Bull Racing praised the project, saying, "It has been great to see this unique project come to life utilizing the same aerodynamics, simulation, and modelling expertise we use in Formula One."
Watch Kriss Kyle's groundbreaking BMX adventure, Don't Look Down HERE
Discover the engineering behind Don't Look Down HERE