Features
Summit up!
Story By Paige Hareb Images by Lauren Murray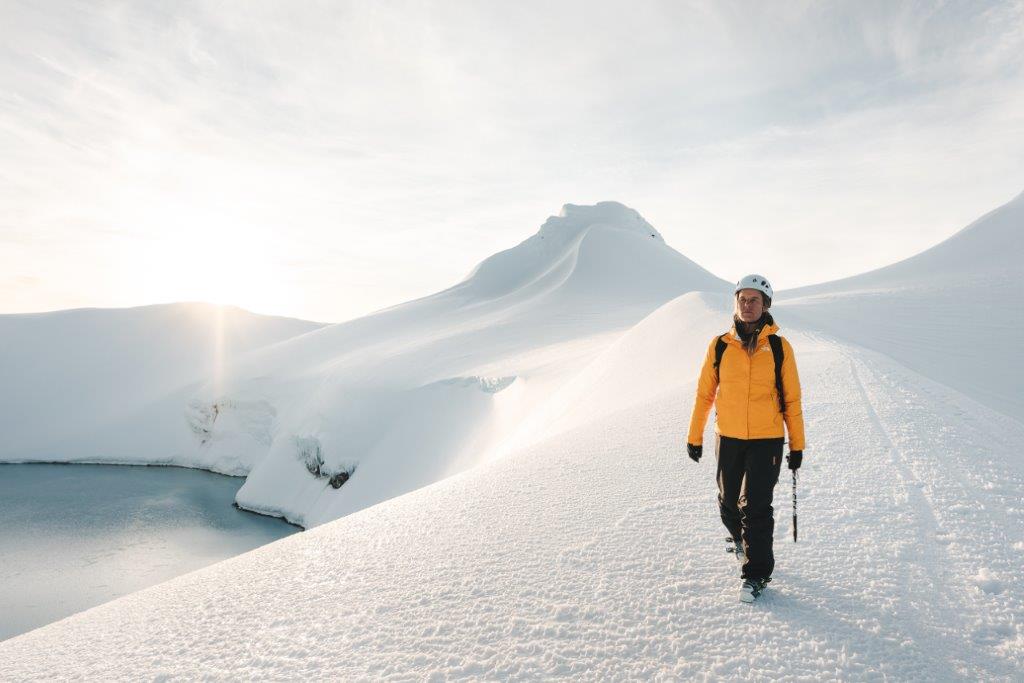 Being an avid skier and snowboarder since I could walk, I've always loved the mountains but as I grew older and became a pro surfer to follow the summer around the world for the past 14+ years, I naturally spent less and less time in the snowy hills. So something that I've had on my bucket list since I was a young tacker, now at the ripe old age of 31, I finally ticked the Ruapehu summit off.
T'was Labour weekend, the last weekend that Mount Ruapehu could possibly be open before the end of the snow season. Lauren and I were heading there no matter what to try and make the most of a skimpy snow season in between weather and yip, you guessed it, Covid levels. We were just hoping for the classic dodgy, four seasons in one day forecast to be wrong. To begin our great weekend mission, we drove halfway up Tukino field and decided to spend our very first night in our brand new Kiwi Camping tent 1200m+ above sea level. The 4WD road up felt like we were on a true adventure and waking up to desert-like views, no wind and the sun shining; we instantly knew today was the day!
Lauren Murray, a professional Adventure photographer who had also just finished her avalanche safety course was all in for this adventure with me. Feeling super confident with my skiing skills, I had done minimal hiking and mountaineering so did still feel a little like a fish out of water. Or should I say I felt like a surfer out of the ocean. Lauren's confidence and 'go-get-em' attitude made me more comfortable about this mission ahead of us. The only downfall about going with a professional photographer is they have a sh*t load of cameras and camera gear to carry but as you can see, it was well worth it for the photos we did get.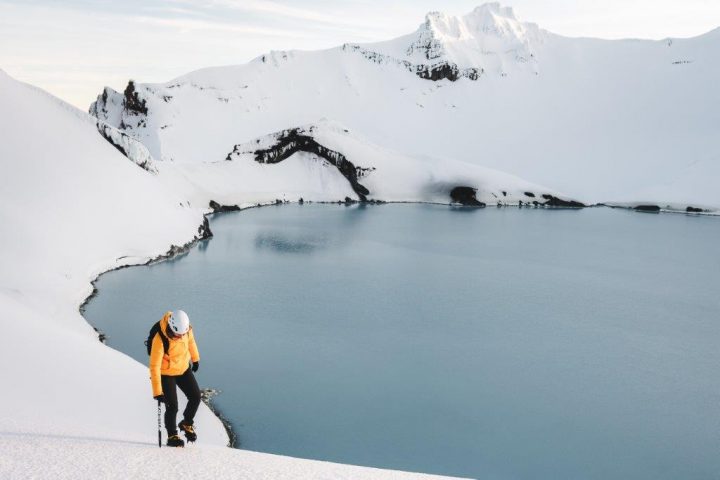 As well as cameras, we made sure we were extra prepared. Growing up with Mt Taranaki in my backyard, I've seen all it's flaws and heard of many hikers getting caught out because of the weather conditions changing within minutes or lack of gear. So with that in the back of my mind, we packed many thermal layers and jackets. As well as three sets of crampons (I had a set that fit my ski boots and a set that fit my hiking boots). Ice axes, snacks, as well as a gas canister to boil some water for our new favourite lightweight hiking food; a delicious vegetarian spaghetti bolognese made by LocalDehy.
We had heard mixed reports of whether Whakapapa or Turoa was the easiest way to get to the summit. After a couple of days snowboarding at Turoa during the season, we decided to head to Whakapapa purely because we hadn't been to that side this year. I'm so glad we decided that side though because apparently the gradient isn't as steep as the Turoa side and because I chose to skin up on my skis, it made it way easier. Lauren hiked the whole way in her crampons. Both great options. Before heading up we tried to do some research and studied a topographic map and talked to the Whakapapa Ski Patrol to plan our route up.
Hopping off the highest West T-bar at about 3:30pm we began our trek up and over the glacier knob ridge and towards the dome. After multiple stops for breathtaking views, snacks, layering clothes and facetiming friends halfway up the mountain, we finally thought we were there. Well, Lauren thought we were there. With a disappointed tone in her voice she said "Yip, this must be it but it's just still frozen over". I'm not sure if she was delirious after hiking for two hours with a 10kg+ backpack but I almost believed it too. In my head I was thinking, I can't have hiked all this way to not even really see it. We questioned our route up and had actually accidentally got side-tracked, veering to the left and going around the dome instead of up and over it. We ended up above the summit plateau, which to be fair, could quite possibly pass as a big frozen lake or crater. With sunset nearing, we both became adamant that we had to keep exploring to find the reason we were up there in the first place. 400 metres further, just over and around a little hill, with the light going golden we had finally made it to the crater!
With relief that we had not only made it to the top, but more importantly in time for Lauren to work her magic with the light and her cameras. After admiring our location, devouring our snacks and LocalDehy dinner we still hadn't finished our adventure. We raced the sun as it was quickly setting and nearly 8:30pm with us on top of Mt Ruapehu. With nerves and excitement we strapped our snowboard and skis to our feet and started  cautiously skiing down the mountain hooting and hollering with one another with a couple of stops to appreciate that we were the only two people on the entire mountain crazy enough to ski down by a phone torch. We managed to ski over three quarters of the way down before the spring snow changed to a rocky mountain trail. Quickly changing from ski boots to hiking boots and now carrying the extra weight of our skis, snowboard and boots; it was now pitch black but it was luckily a perfect starry night that made the last 30 minute trek down nicer but definitely not easier.
Making it back to our car at just after 9pm we were completely exhausted but so high on an adrenaline rush. We talked about it for days! To summit up (pun intended) both ticking it off our bucket list but we already want to do it all again!
Lauren Murray
www.Instagram.com/laurenkyliemurray
Paige Hareb