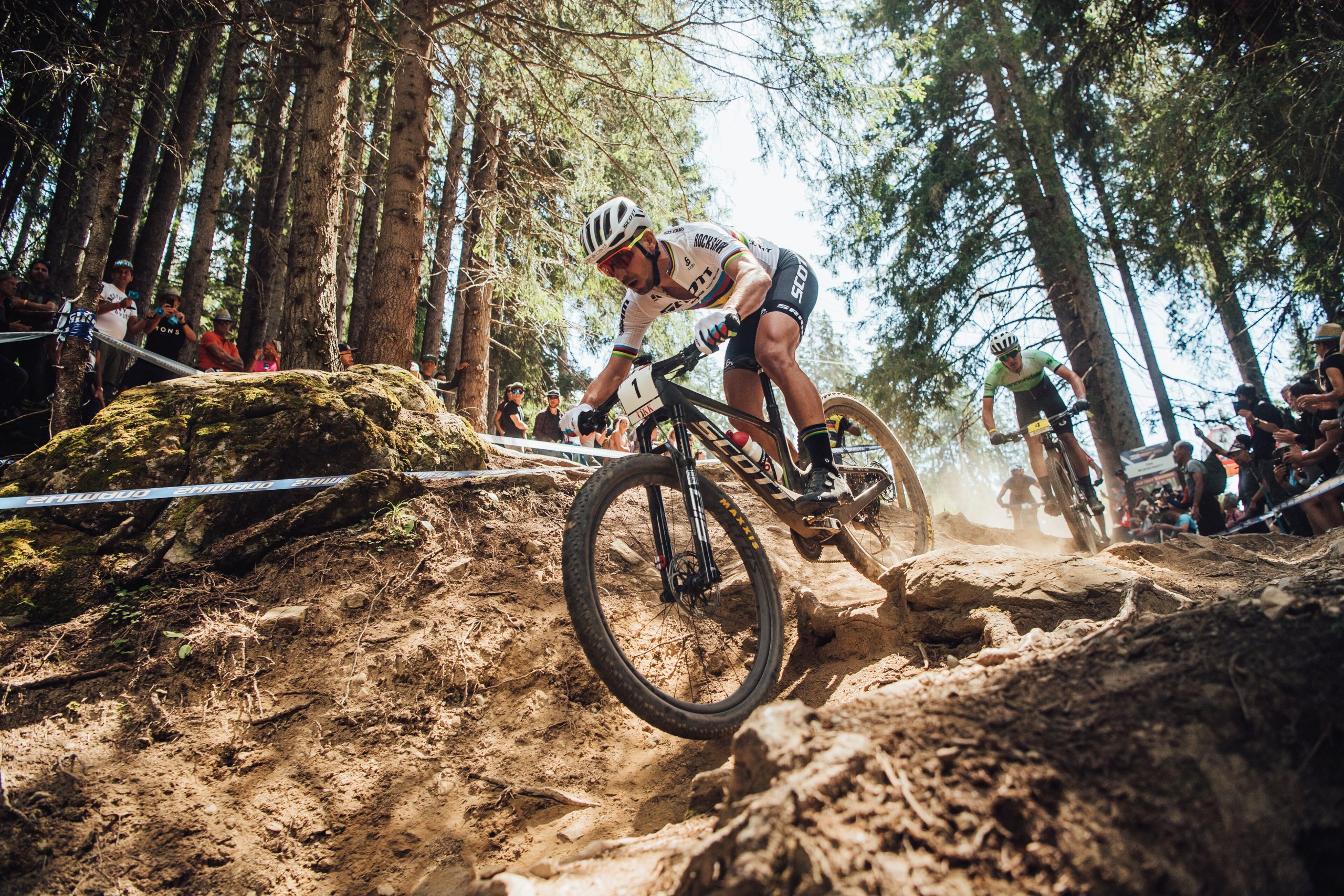 Loana Lecomte continued her impressive form on the UCI Mountain Bike World Cup cross-country circuit as she secured a hard-fought victory in Sunday's XCO race, while Luca Braidot triumphed in the most dramatic fashion in the men's race in Lenzerheide.

– Having secured victory last time out in Leogang, Lecomte was never in the running during Friday's XCC race, eventually finishing fifth as Jenny Rissveds won the fifth stop of the short track series.
– It was a very different story on Sunday, with Lecomte taking the lead during the first lap and never looking like giving up her advantage.
– Rissveds and home favourite Jolanda Neff were able to stay with Lecomte for the majority of the race, but with one lap remaining the French rider had a comfortable eight-second advantage.
– Lecomte then expertly managed the final lap to secure a seventh career win and take the lead in the overall cross-country standings, finishing well ahead of Rissveds in second and Neff in third.
– Lecomte, 22, said: "I'm very happy as I wasn't sure I would be able to win here today. I felt a bit tired at the start of the day so I just wanted to do my best and have fun, so to win was just perfect.
– In the men's race, home hero Nino Schurter was looking to create a piece of history by securing a record-breaking 34th win. However, he knew he would face a challenge from his fellow Swiss riders after Filippo Colombo was victorious in Friday's XCC race and Mathias Flückiger was second.
– After the first lap Schurter led his two compatriots, with South Africa's Alan Hatherly and Italy's Braidot also managing to live with the brutal pace being set at the front.
– Over the next few laps the lead changed on several occasions, but with just half a lap remaining it was Schurter who led the way and looked to be on track to eclipse Frenchman Julien Absalon's record of 33 victories.
– But with just a few corners remaining it was all change as Schurter and Flückiger collided, allowing Braidot to secure his first-ever World Cup win as Hatherly took a surprise second place.
– Braidot, 31, said: "It's amazing. I cannot believe it. I knew this was my shot on the last lap so I pushed and I can't believe I managed to get the win. It's incredible, it's very special."
Women's XCO result
1. Loana Lecomte FRA 1:17:31 seconds
2. Jenny Rissveds SWE +0.08
3. Alessandra Keller SUI +0.24
4. Pauline Ferrand Prevot FRA +2.06
5. Anne Terpstra NED +2.23
Men's XCO result
1. Luca Braidot ITA 1:17.32 seconds
2. Alan Hatherly RSA +0.01
3. Mathias Flückiger SUI +0.04
4. Nino Schurter SUI +0.12
5. Filippo Colombo SUI +0.32
2022 UCI MTB World Cup women's cross-country standings
1. Loana Lecomte FRA 1204 points
2. Rebecca Ellen McConnell AUS 1203
3. Jenny Rissveds SWE 975
4. Anne Terpstra NED 890
5. Alessandra Keller SUI 832
2022 UCI MTB World Cup men's cross-country standings
1. Nino Schurter SUI 1154 points
2. Alan Hatherly RSA 942
3. Mathias Flückiger SUI 946
4. Vlad Dascălu ROU 882
5. Maxime Marotte FRA 691