Features
Trending
Central Otago River Journeys
Upper Pomohaka: Junction Hut to Aitchison Runs Road
Dingleburn: Top Dingle Hut to Lake Hawea
North Branch Motatapu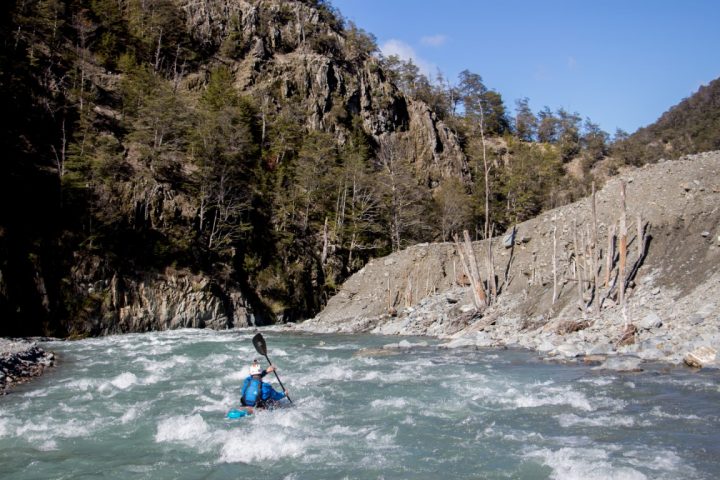 There are Graham Sydney paintings on walls throughout the country portraying the rolling tussocked hills of Central Otago. It's known for wine, fruit, the rail trail, and stunning summer days. However the high plateaus hide other gems and in amongst them you can find a network of New Zealand's best wilderness rivers.
A cold winter brings snow to the mountains and hills. When this starts to melt and run off the area becomes a whitewater kayaking destination with rivers such as the Nevis, Waikaia, and Shotover, being established spring classics. Whitewater kayaking in New Zealand can be a fickle sport, requiring specific river levels, and complicated access plans. This has left many areas unexplored and new adventures to be found. With vision and a well timed Saturday evening phone call Will Martin and Shannon Mast roped myself and Max Rayner in to take a look at the Upper Pomohaka River.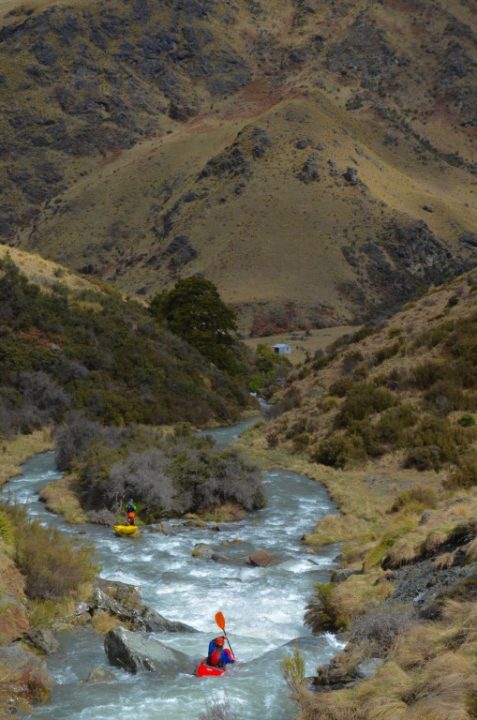 Sunday started with a flat tyre, snow beside the road after a late spring storm, and then two hours of four-wheel driving to the top of the Old Man Range where a snowdrift stopped us in our tracks in the heart of Central's rolling hills with no river in sight. An hour of hiking with our boats saw us exploring the gold mining relics at the historic Junction hut, and relieved smiles on our faces as the river had enough water to float our kayaks.
It was 1pm and we had 20km of unknown wilderness river in front of us, so we promptly pushed off to enjoy the first few kms of stunning alpine country. A few boulder choked rapids kept us on our toes, until we came around a bend to see a horizon line in the river and a lone ancient beech tree far below us. With the river looking like it dropped off the edge of the world we expected a big portage and got out to inspect the rapid, to be pleasantly surprised to find a clean 3m waterfall and boulder gardens. This was our entry into the beech forest, and a section of amazing whitewater. We made quick ground until encountering a more technical and consequential rapid. By this point it was late in the day, and our margin for error was disappearing along with the sun. We opted to bushwhack our boats up and around the rapid. I made an unfortunate misstep and gathered some cuts and bruises from a gravity assisted descent at one point, but we all made it back to the river safely. Our stoke came back with just a few paddle strokes on the river, and we all shared high fives half an hour later when we popped out of the beech forest and could relax and watch the sunset as we floated the few kilometres of flat water.
We loaded our boats onto the waiting vehicle as it got dark. Satisfaction levels were high, but the trip wasn't done yet with our other vehicle still parked way up in the hills where we'd left it that morning. A layer of low cloud had moved into the Teviot valley, and we crawled our way up through the mud and the murk onto the top of the Old Man Range once more. It was 11pm at night and we were above the cloud for a stunning moonrise, while crossing all fingers and toes that we didn't get a vehicle stuck in the snow or mud. The cards fell our way, and I made it back to Wanaka at 1am thoroughly exhausted but stoked on exploring a new part of our backyard.
A couple of weeks later conditions aligned once more, and five of us found ourselves at the Aspiring Helipad at midday on a Monday. It had rained the day before, and we hoped that the North Branch of the Motatapu River would now be at an ideal water level. As the heli gained elevation it was odd to gain a new perspective of our local area, Glendhu bay, Treble Cone ski area, and Wanaka itself. Only a few minutes later we found ourselves very much alone, high in an alpine valley with no marked access. Our friend Ben Young had done his chopper pilot training in Wanaka, and regularly flew this route as he gathered his hours. This river was his project, and after taking a moment to appreciate the snow capped mountains, we set to our task of discovering what the river held downstream.
It was low volume and bouncy to begin with, much like a poorly shaped water slide. The alpine setting was spectacular though, and the moody afternoon light painted a stunning picture as we found a few bigger rapids and drops to really get our hair wet. It was not long until the river grew in size and became consistently steeper. The quality of the whitewater increased, however the opportunities to stop were slim and margins for error low. We took our time, settling into an efficient leap frog style where one person would get out and scope the line through the next rapid, and then if things looked positive wave us through. In this method we moved at a solid pace, with periodic interruptions to stretch our legs by walking around a rapid that was not going to leave a kayaker in a healthy state.
Distance wise we began to get close to the confluence of the North and South Branches of the Motatapu, however we were conscious that the valley still looked a long way below us. We weren't wrong, a particularly long section of tight continuous whitewater awaited. This section would've required linking consequential move after move for almost 500 m, and while it seemed each move was possible we were conscious of the dwindling daylight and the fact we were still a long way from home. In the best interests of leaving our future selves something to aspire to (and more honestly our own self preservation in the moment) we opted for the tramping with kayaks option. Our portage put us back on the river at the top of another steep rapid, however we could see a pool at the bottom and too many great moves to ignore so we took turns at paddling the best rapid of the day. After emerging from this mini gorge thankfully the river did finally ease, and we popped out at the confluence with the South Branch.
The sun was low in the sky, and floating through the far mellower whitewater we had ample time to appreciate the revegetation work going on around the Motatapu river. This was highlighted with one more mini gorge and two harder rapids amongst the beech forest. We emerged to a stunning sunset over Glendhu, rather thankful for going two from two and again escaping nightfall on the river.
Spring had a kick in it's tail though, and another weekend rain event lined up the Otago headwaters. This time my friend Cam Kerr and I had our eyes on another close-as-the-crow-flies Wanaka river, the Dingle Burn. Our ambition was to paddle from its source below Highlander Peak where it starts life as a small stream and follow it 30 km out to Lake Hawea.
The weather was clear and sunny as we left Wanaka, but got steadily more gloomy as we approached the Ahuriri. A flooded river and muddy 4wd access into Ahuriri Base Hut boded well for our kayaking, but not so much for the uphill grunt to come. Our planned access route was to tramp 600 m up onto the crest of the mountain range separating the Ahuriri valley from the Dingle Burn, and then descend to Top Dingle Hut. The climb was a proper slog, but we were able to move surprisingly quickly on the old farm track. Standing at 1450 m with our kayaks looking across to the snowy peaks of the Barrier Range was a stunning and surreal moment of 'why did we think this was a good idea?'.
The rain turned right back on for our descent, which was to prove more technical and scary than the kayaking to come. The track was muddy and slippery, and our kayaks were acting like anchors trying to drag us to the bottom of the hill by the fastest route possible. There was a real sense of relief when we reached the friendly fishermen and warm fire of Top Dingle Hut. The crux of the trip was now in front of us; how good had our weather forecasting been, and was there the right amount of water in the river for our kayaks?
The river was banks full but still running clear and blue, and so we pushed off into the flow to see what was downstream. We quickly found ourselves in a grassy hydroslide, watching the mountains recede behind us. The paddling was amazing; scenic, and continuous whitewater with a couple of mini gorges to add a little spice. Far earlier than we expected we found ourselves beaching the kayaks and tramping up to Cotters Hut. The cosy hut was to be our home for the night, and we settled down for dinner and desert while watching the deer emerge onto the flats.
The next 6km of river entered a gorge, and we were excited to see what was to come. We quickly had big smiles on our faces, it was fun non-stop rapids, underneath a spectacular beech forest tunnel. A few fallen trees in the river kept us on our toes, but we made steady progress and emerged from the beech forest into the home stretch towards Lake Hawea. Lunchtime saw us at Dingleburn Station, feeling thoroughly content with the trip.
With New Zealand's borders closed our eyes have been forced to look inwards, and it's apparent once again that there is plenty of adventure right here close to home. We're blessed with an abundance of wilderness, suiting exploration by all manner of people and methods. The takeaway from our spring first descents, and a silver lining of the last twelve months of upheaval, was a renewed appreciation of the people and places that we have here in our home.