Events
Johansson ties Crankworx record with Cairns Slopestyle victory
READ 📖 🚲
Swede Emil Johansson just edged out Poland's Dawid Godziek to win the Crankworx Slopestyle event in Cairns, Australia on Saturday and tie Brandon Semenuk's record of 11 Crankworx Slopestyle wins in the process as home hero Harriet Burbidge-Smith picked up two wins and a second place this week.
– After a crash in Run 1 forced Johansson out of competition in Cairns last year, the 23-year-old from Trollhättan found redemption as he put down a run good enough for 91.50 points, clinching yet another victory and tying Canadian legend Semenuk's record of 11 Crankworx Slopestyle wins.
– Looking effortless with his precision from top to bottom, Johansson rolled out 360 downside tail-whips (in both directions) and a topside double-whip in the quarter pipe during his winning run.
– He revealed: "It feels awesome! Last year I didn't really get to do what I was looking to do here, it's definitely been haunting me a bit ever since. So, to be able to put a run down, despite struggling with the weather conditions with the sun and stuff, feels awesome!"
– In terms of the record, he added: "Semenuk is a phenomenal rider, he is one of the most influential riders in the legacy of our sport. Growing up looking up to him and many other riders thinking that one day I would be in the same position as they were with the medal count for Crankworx, it's too big to grasp, honestly. It's a big accomplishment for me."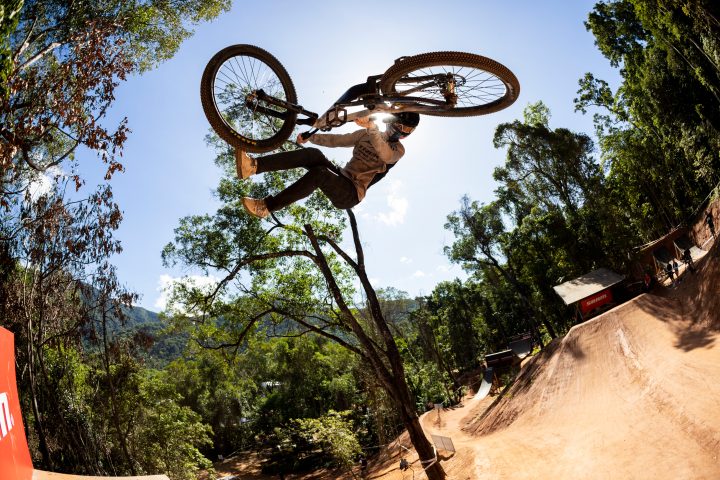 – Godziek's first run of 90.25 included opposite tail-whips to no-handed twisters, but his attempt to overhaul Johansson in his second run with the world's first cash-roll (360 front flip) windshield wiper (tail-whip to tail whip back) failed as the back tyre slid out from underneath him.
– The 28-year-old said: "Couldn't be more stoked to almost stomp both runs, super stoked to try the world's first on the last run. I tried it a few times at home and it looked like it was ready to go to contest, but it is a different situation at the contest when you go to the last jump and your legs are super tired and you can't even pedal to get the speed."
– Ending up in third place was France's Tim Bringer, who impressed the judges with a double backflip over the on-off box and his backflip double-whip to double barspin to record an impressive score of 87.75.
– In Saturday's Pump Track event, Aussie riders took home five of the six top spots with Jayce Cunning and Caroline Buchanan both winning from Ryan Gilchrist, Kiwi Wade Turner, Jenna Hastings and Sacha Mills.
– In Sunday's downhill, Australian Mick Hannah and Hastings finished the week on a high with victories from Jackson Frew and Tuhoto-Ariki Pene in the men plus Louise Ferguson and Aussie Ellie Smith in the women.
– Friday's Dual Slalom saw Burbidge-Smith add to her growing reputation with victory in front of a raucous Queensland crowd from Briton Martha Gill and compatriot Buchanan as Ryan Gilchrist got the better of Canadian Bas van Steenbergen and New Zealand's Pene in the men.
– Burbidge-Smith, 26, said: "Feeling pretty good and stoked to perform how I wanted to. It was one lap at a time this week and it has worked out well. It's sick that I'm doing well in the overall and I'm still going to be at all the stops but I'm just having a blast, so we'll see what happens."
– Thursday's Speed & Style event also saw another win for Burbidge-Smith from Buchanan and Kiwi Hastings with American Garret Mechem holding off Van Steenbergen and Australian Mike Ross in the men.
– Burbidge-Smith celebrated her 27th birthday in true "HAZ-NATION" fashion as she threw down huge, floaty backies and blazed down the fast 285m track to improve her 2023 Queen of Crankworx title hopes.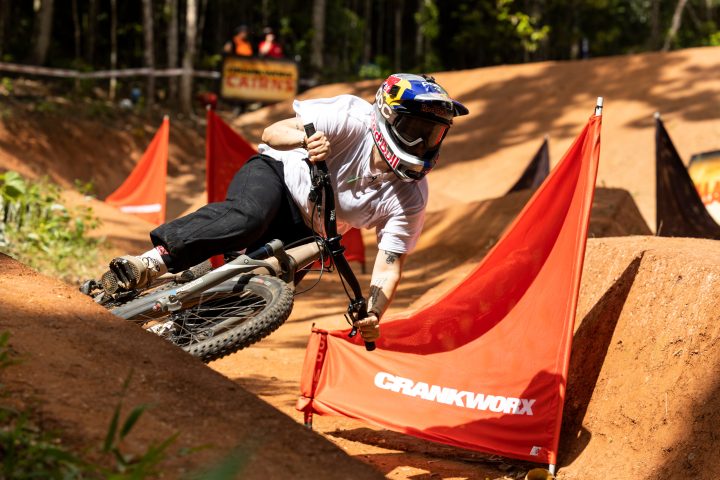 – She declared: "Doing flips on my birthday is probably my favourite thing. The course was a bit slow and inconsistent on some sides (yesterday), but it got faster throughout the day."
– Buchanan, who became the first woman in Crankworx history to put down a superman-seat grab in competition, said: "Pretty stoked that I got it in practice. It feels incredible."
– Wednesday saw Mechem and Kiwi Robin Goomes win the Official Australian Whip-Off Championships from New Zealand's Alex Wayman, Burbidge-Smith, Australian Dave McMillan and Briton Ferguson.
– Burbidge-Smith enthused: "I had heaps of fun riding with Lou and Robin – we had a good little jam. I did it on the little bike for once so that was fun and different for me to adjust with the whips."
– The battle for the 2023 King and Queen of Crankworx titles sees Hastings' Sunday second bringing her within 26 points of Buchanan, while Pene's third-place finish inched him 72 points behind Van Steenbergen and his men's crown heading into Crankworx Innsbruck on June 21-25.